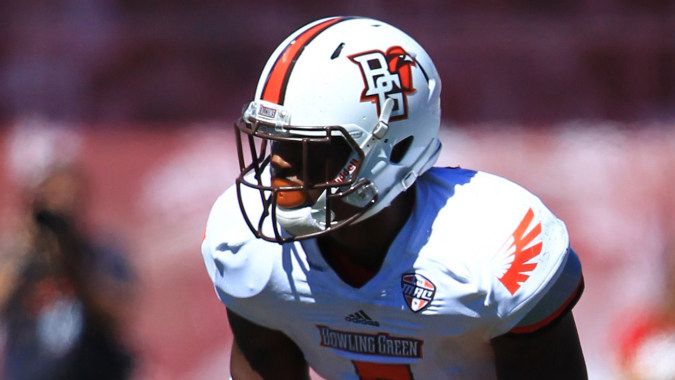 Tuesday, November 20
*Ball State at Miami, 7:00 pm ET (ESPN+)
*NIU at Western Michigan, 7:00 pm ET/6:00 pm CT (ESPNU)
Friday, November 23
*Akron at Ohio, Noon ET (CBS Sports Network)
*Buffalo at Bowling Green, Noon ET (ESPNU)
*Central Michigan at Toledo, Noon ET (ESPN3)
*Eastern Michigan at Kent State, Noon ET (ESPN3)
*Mid-American Conference contest
Friday, November 30
2018 Marathon MAC Football Championship Game
Northern Illinois vs. East Division Champion-TBD
7:00 pm ET (ESPN2) from Ford Field in Detroit, Mich.
MAC QUICK NOTES:
• The final week of the 2018 regular season will continue midweek MACtion with two midweek games on Tuesday and four games on Friday afternoon during Thanksgiving weekend. Week 13 begins on Tuesday, Nov. 20 with Ball State at Miami at 7:00 pm ET (ESPN+) and Northern Illinois at Western Michigan at 7:00 pm ET/6:00 pm CT (ESPNU).
• On Friday, Nov. 23 at Noon ET features Buffalo at Bowling Green (ESPNU), Akron at Ohio (CBS Sports Network), Central Michigan at Toledo (ESPN3) and Eastern Michigan at Kent State (ESPN3).
• NIU (7-4, 6-1 MAC) has already clinched the MAC West Division title. NIU has won the MAC West Division in seven of the last nine years. Buffalo can clinch the MAC East Division with a win at Bowling Green (ESPNU) on Friday. Both Ohio and Miami are still in contention for the East Division title.
• Toledo (6-5) joins Buffalo (9-2), Northern Illinois (7-4), Ohio (7-4), Western Michigan (6-5) and Eastern Michigan (6-5) as six MAC programs are bowl eligible. Toledo became bowl eligible with a 56-34 win at Kent State on Nov. 15, as the Rockets are bowl eligible for the ninth consecutive season. Miami (5-6) needs one more win to reach bowl eligibility.
• In MAC crossover games this season, the East and West Divisions are tied, 8-8. In each of the last eight consecutive years (2010-2017), the MAC West Division has topped the East Division in regular season head-to-head crossover games.
MAC EAST AND WEST DIVISION CLINCHING SCENARIOS
The 2018 Marathon MAC Football Championship game is Friday, Nov. 30 at 7:00 pm ET at Ford Field (ESPN2). NIU has already clinched the MAC West Division title as the Huskies have won the West for the seventh time in the last nine years. The East Division comes down to Buffalo, Ohio and Miami in contention for the East title. Buffalo controls its own destiny, while Ohio and Miami need assistance.
MAC East Division Clinching Scenarios:
Buffalo: Buffalo win at Bowling Green (11/23) OR Ohio loss vs. Akron (11/23)
Ohio: Ohio win vs. Akron (11/23) AND Buffalo loss at Bowling Green (11/23) AND Miami loss vs. Ball State (11/20)
Miami: Miami win vs. Ball State (11/20) AND Ohio win vs. Akron (11/23) AND Buffalo loss at Bowling Green (11/23)
* In a three-way tie with Buffalo (6-2), Miami (6-2) and Ohio (6-2), the multi-team tiebreaker is head-to-head record among tied teams. All three are 1-1 in head-to-head among the three teams (Buffalo beat Miami/lost to Ohio; Miami beat Ohio/lost to Buffalo; Ohio beat Buffalo/lost to Miami); then the tiebreaker goes to fourth-place Akron as all three teams defeated Akron. Then to fifth-place Bowling Green, as in this scenario Buffalo would have lost to Bowling Green and both Miami and Ohio won. Therefore the tiebreaker comes to Ohio and Miami — as Miami defeated Ohio on Nov. 7, 30-28. Note: all three teams defeated Kent State.
MAC WEEKLY NOTES
• Ohio (7-4, 5-2) posted a 52-17 win over Buffalo as the Bobcats rushed for a season-high 437 yards and added 646 yards of total offense. It marked the fourth time this season Ohio has rushed for over 300 yards and the fifth time to score 50 or more points in a game. Ohio senior running back A.J. Ouellette rushed for a career-high 196 yards and two touchdowns for his 12th career 100+ yard rushing performance. Ohio has outscored its opponents 240-89 in the last five contests.
• Toledo (6-5, 4-3) rushed for a season-high 384 yards in a 56-34 win at Kent State as freshman running back Bryant Koback had a season-high 192 yards and two touchdowns, the third-highest total by a freshman in program history. Toledo eclipsed 50 points in a game for the fifth time this season, the most in Toledo history.
• Miami (5-6, 5-2) defensive back Ja'don Rucker-Furlow returned an interception 28 yards for the decisive play in a 13-7 win at Northern Illinois on Nov. 14.
• Bowling Green (3-8, 2-5) won its second straight MAC game with a 21-6 win at Akron on Nov. 17. Falcons quarterback Jarret Doege was 19-27 passing for 178 yards and two touchdowns. Doege connected on 15 consecutive passes in the win.
• Ball State (4-7, 3-4) posted a 42-41 (OT) win over Western Michigan on Nov. 13. Cardinals quarterback Drew Plitt threw for 258 yards and a career-high three touchdowns, as his 80.8 completion percentage was the best since 2013.
MYRTLE BEACH BOWL TO BEGIN IN 2020 BOWL SEASON
The MAC announced on Nov. 13 the creation of a newly created bowl game in Myrtle Beach, S.C. for a six-year period (2020-2025), which will be owned and operated by ESPN. The Myrtle Beach Bowl will be televised nationally on ESPN networks and will be played at Brooks Stadium, an open-air stadium opened in 2003 which seats nearly 21,000 fans on the campus of Coastal Carolina University. The creation of the Myrtle Beach Bowl is an agreement with ESPN Events and the Mid-American Conference, Conference USA and the Sun Belt Conference, with each Conference participating in the bowl game four times during the six-year span.
"Myrtle Beach will be a great addition to the Mid-American Conference bowl line-up, and a destination we have been actively pursuing to develop a bowl game," said Dr. Jon Steinbrecher, Mid-American Conference Commissioner. "A family-friendly destination with outstanding facilities for competition, entertainment, and lodging, Myrtle Beach is very accessible by ground or air transportation from throughout our geographic footprint. I have no doubt our student-athletes, staff, and fans will have a unique and exceptional experience at the Grand Strand. The Mid-American Conference is appreciative of the efforts of ESPN Events and the Myrtle Beach Area Convention and Visitors Bureau in bringing this exciting new bowl game to fruition."
With the addition of the Myrtle Beach Bowl, the MAC has expanded its bowl opportunities during the next six-year cycle beginning in 2020. The MAC will have a minimum six guaranteed bowl opportunities. At future date to be determined, the MAC will reveal its complete bowl partnerships for the next bowl cycle (2020-2025).

NEO Sports Insiders Newsletter
Sign up to receive our NEOSI newsletter, and keep up to date with all the latest Cleveland sports news.