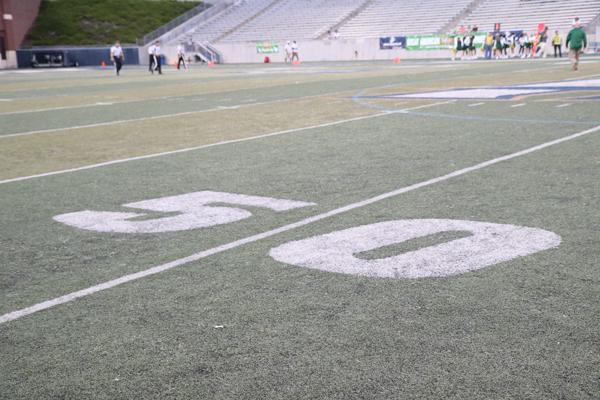 It was an amazing season locally for high school football, and there's still plenty of great action on the gridiron as we enter the third round of the playoffs this Friday and Saturday all around Northeast Ohio.
Today we take a moment to look back at the great year that was, and celebrate with our 'NEOSI High School Football Player of the Year' award.
This award is a celebration, as last year we named the award after our first editor of NEO Sports Insiders – Matt Medley
Matthew was our top and original editor at NEO Sports Insiders before his tragic passing in August of 2017. Not a day goes by that we don't miss Matt, and attempt to honor his name in some form. "Matty" as we called him, was the driving force behind the early days of NEOSI and will forever be in our hearts.
We are naming this award after him because of how much high school sports, and Cleveland area sports meant to him.
With that, here's this year's nominees for the 'Third Annual Matthew Medley High School Football Player Of The Year.'
The voting for the award will be open for a week, and the winner will be announced on Wednesday, November 27th, the day before Thanksgiving.
Garret Clark RB Strongsville – The 5'11 195-pound running back was the workhorse this season for the Mustangs, who went 5-5 this season, but were in the playoff mix at 5-3 before losing their final two games of the year.
Clark was a stud, rushing for 1782 yards this season scoring 28 total touchdowns. Clark was also part of the Northeast Lakes District all-star football team.
Joey Formani RB St.Edward – The Eagles leading rusher had another stellar season for St.Ed's, scoring over 20 times this season.
At 5'11, 205 pounds Formani was tough to bring down, and it showed as he put up over 1,500 all-purpose yards on the season as the Eagles continue to march towards a state title.
Drew Schiano QB Perry – The Perry quarterback got the season off to a record-breaking start, as on September 1st he threw nine touchdown passes in the Pirates' 63-54 win against Riverside.
Perry went undefeated this season and their playoff march continued with wins over Girard and CVCA.
The senior became the all-time leader in touchdown passes at Perry with 67, breaking the former record of 64 held by Kolston Brewster. He threw for 3,036 yards and 41 touchdowns with just four interceptions.
Brian Trobel RB Mentor – The junior back was named a member of the 2020 1st Team All-Ohio and earned it with a huge season on the ground.
On the year Trobel has run for 1,554 yards, and also has grabbed 15 passes for 277 yards and scored 21 touchdowns.
He has put together some huge games, including a 220-yard effort on the ground with three catches and 60 yards and three scores against Canton McKinley in a regional semifinal.

NEO Sports Insiders Newsletter
Sign up to receive our NEOSI newsletter, and keep up to date with all the latest Cleveland sports news.