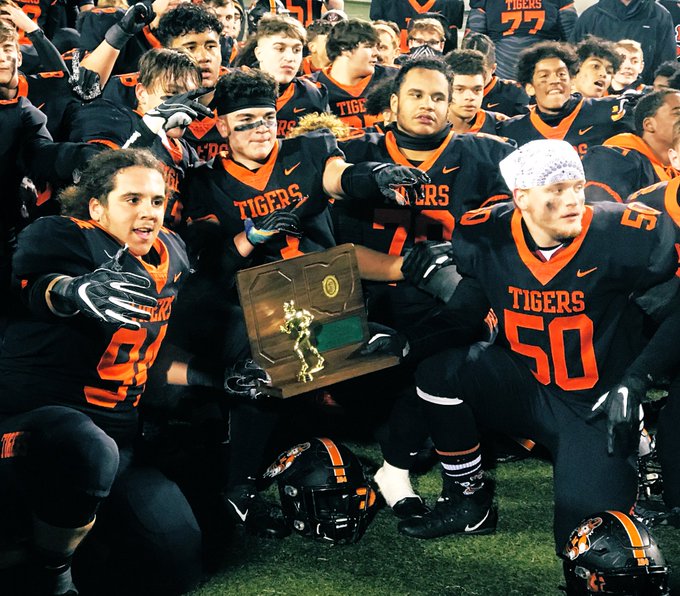 AKRON, OHIO – It was a year in the making, but Massillon finally got the revenge that they had been craving since their 2018 state championship defeat.
The Tigers would use a stellar defensive performance in the second half to hold off the four-time defending state champions by a final score of 17-14.
Early on, it was a roller coaster of emotions for the Tiger faithful. Quarterback Aidan Longwell threw two interceptions, but was able to counter that with a pair of touchdowns. One to Andrew Wilson-Lamp, the other to his backup running back Zion Phifer.
Hoban would tie up the game twice in the opening half. Junior quarterback Shane Hamm connected with Big 10 recruit Brayden Fox for a 40-yard touchdown, followed by a 4-yard touchdown carry by Victor Dawson.
A 30-yard field goal by Massillon's Alex Bauer would give the Tigers a 17-14  lead heading into halftime. Little did anyone know that the kick would be the final points scored in this ballgame.
Both defenses stepped up in a major way in the second half, putting together big stop after big stop.
The biggest of those stops came late in the fourth quarter, with Hoban facing fourth down just outside of the red zone.
Rather than kicking a game tying field goal, head coach Tim Tyrell elected to go for the conversion. This wasn't a surprising decision, considering that Hamm had thrown a touchdown in a similar situation last week against Mayfield.
Unfortunately for the Knights, Hamm wouldn't get a chance to recreate the magic, as he was sacked by linebacker Preston Hodges to put an end to Hoban's four game title streak.
Hoban wraps up their season at 11-2, as they lose their first playoff game since 2014. Nate Moore and his Massillon Tigers advance to 13-0, and will face Avon next Friday in a battle of unbeaten teams, with a state championship game bid on the line.
Scoring Summary
1st, 6:30- Aidan Longwell 53-yard touchdown pass to Andrew Wilson-Lamp (7-0 Massillon)
1st, 4:39- Shane Hamm 40-yard touchdown pass to Brayden Fox (7-7 Tie)
1st, 1:02- Aidan Longwell 9-yard touchdown pass to Zion Phifer (14-7 Massillon)
2nd, 6:30- Victor Dawson 4-yard touchdown run (14-14 Tie)
2nd, 0:07- Alex Bauer 31-yard field goal (17-14 Massillon)
Top Performers
Massillon Tigers
Aidan Longwell: 4-12, 80 Yards, 2 TD, 2 INT, 57.6 QBR
Terrance Keyes Jr: 17 Carries, 87 Yards
Andrew Wilson-Lamp: 3 Receptions, 71 Yards, 1 TD
Luke Murphy: 7 Tackles
Archbishop Hoban Knights
Shane Hamm: 13-21, 153 Yards, 1 TD, 1 INT, 80.0 QBR
DeaMonte Trayanum: 18 Carries, 79 Yards
Jared Mealy: 6 Receptions, 58 Yards
Mike Hayden: 8 Tackles