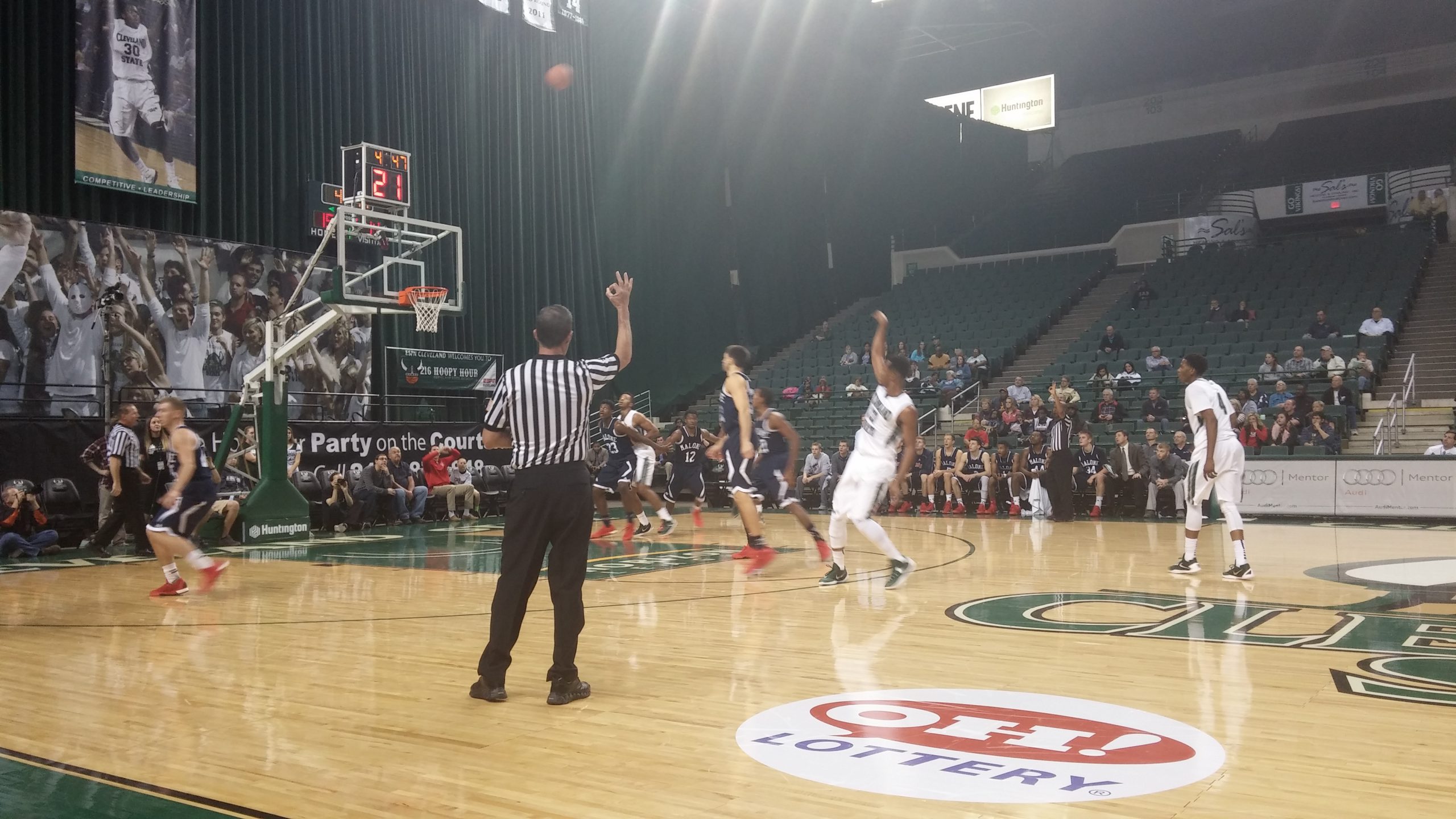 CLEVELAND – For the first half of Tuesday's 2015-16 Cleveland State men's basketball home opener, the Vikings played like a team that lost all five starters, including leading scorers Anton Grady (Wichita State) and Trey Lewis (Louisville) via transfer.
The second half was a different story.
With juniors Demonte Flannigan and Andre Yates and sophomore Vinny Zollo stepping up in the scoring department, the Vikings (1-1) outscored Division II Malone, 40-23, in the second half en route to a 62-46 non-conference victory in front of 1,331 fans at the Wolstein Center.
Malone, which led CSU 23-22 at the half, fell to 2-1 overall.
Flannigan, who had 14 points and 10 rebounds in what was a rough first half for the team, wound up finishing with 22 points and 17 rebounds Tuesday. He was 9-for-12 from the floor, 4-for-7 from the line and had five offensive rebounds in a team-high 28 minutes.
"I thought out kids played hard in the second half," CSU coach Gary Waters said. "This is the second game in a row where we played well in the second half but struggled in the first half. We've got to put it together for two halves, especially on the offensive side of the ball. We're just not scoring.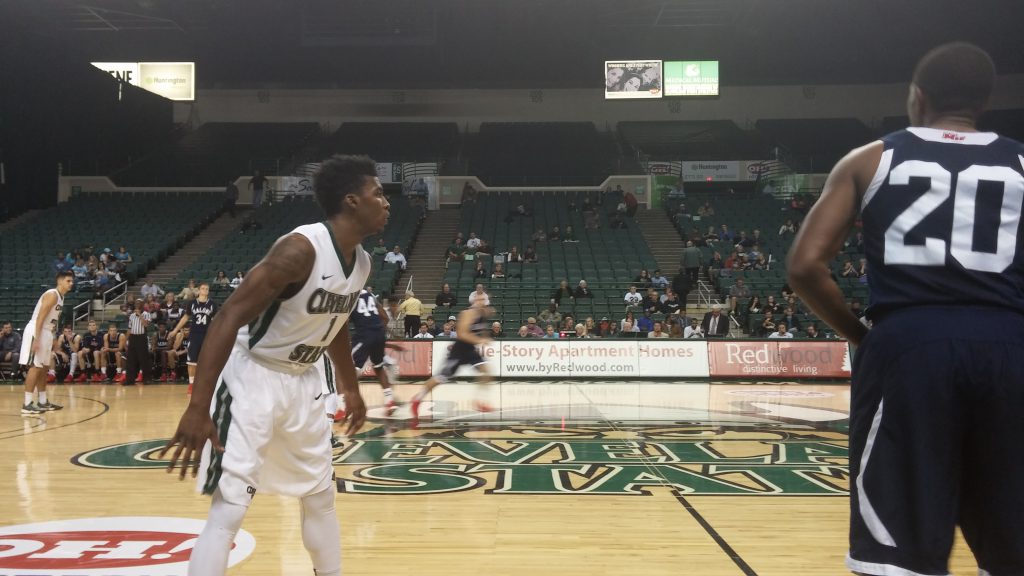 "After a period of time, I believe they will get better and better at this. Once they start understanding what to do and the offense better, I think we're gonna surprise some people. I did like that we had 43 rebounds, and when we got the ball inside to Demonte, I thought he did a great job scoring in there. Those are things that give you an opportunity to win basketball games."
Flannigan attributed his performance to posting up more.
The last game, I barely posted up – even though (Akron) was 6-10, I still could have posted up more," Flannigan said. "I decided to post up more in this game and I just attacked the glass. Every time the ball went up, I ran at it and tried to get a rebound.
"I've been working a lot on my jump shot, but if they're going to let me dominate in the paint, that's what I'm gonna do. If they give me an open shot, I'm gonna take it."
Malone opened up a 29-24 lead with 16:47 left in the game – its largest lead of the night. However, Yates hit a 3-pointer, then stole the ball at midcourt and found Zollo for a big dunk for a 5-point swing in 27 seconds to tie the game at 29.
After a missed 3-pointer from Malone, Yates converted a layup to put CSU ahead, 31-29, and it never looked back. Those points led to runs of 11-0 and 19-1 that pushed the Vikings ahead, 43-30, with 10:43 left in the half.
"Hat's off the Malone – they're a good team," said Zollo, who finished with 12 points in 20 minutes and added three assists. "They're not just a bunch of scrubs we were playing, and if you let them play comfortably and get into their offense and run their sets and get open shots, they can play with just about anybody.
"The change, I thought, in the game was around the 11-minute mark. We really got the pressure going, we forced two of three straight turnovers and we were able to convert those and get a little hot streak going. But they're a good team."
Waters said the main halftime adjustment was turning up the full-court pressure on defense.
"I think in the first 10 minutes (of the second half), we turned the over 9 times and I think that got us back in the game," he said. "Our goal is to force 20 turnovers a game. We forced 17 and that's not quite good enough.
"We had to increase their energy level as well. We were going after them, but we were following them as opposed to us dictating. I thought we did much better job of that in the second half."
Yates finished with 10 points, giving the Vikings three players in double-figures. Reserve Jibri Blount added seven rebounds. Waters was able to play 12 guys in the game and go deeper into his bench.
"It's paramount to win the home opener," Waters said. "Just imagine if we had lost today. We just lost to Akron at Kent, and Akron's the No. 2 mid-major program in the country so I can't complain. I thought our guys fought back in the second half of that game I thought they would carry that over to the first half tonight.
"Our nemesis is our offense. We're still trying to find out who's gonna do what. Demonte stepped forward today, but you have that guy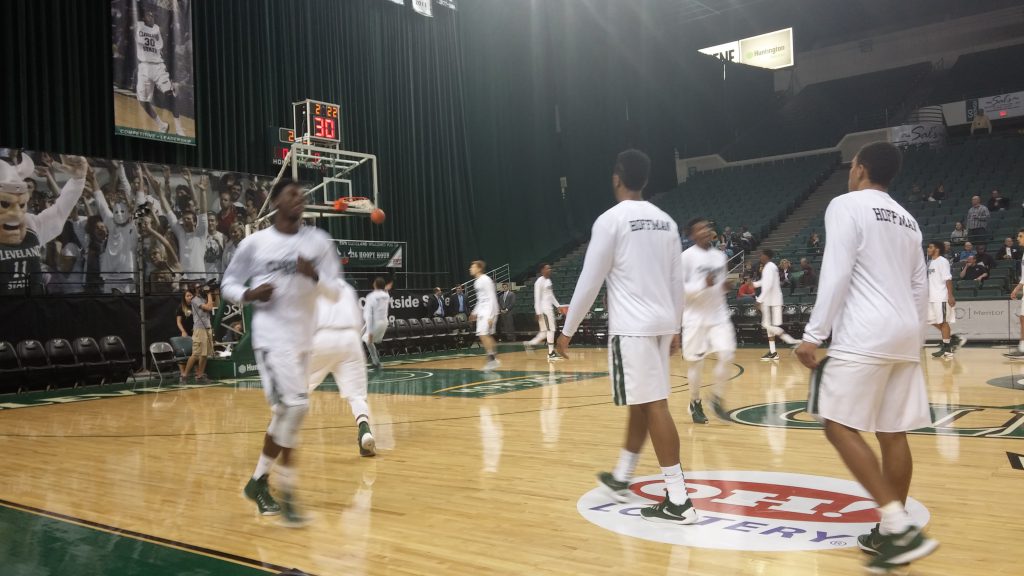 inside doing it, but you still have to hit some shots from the outside if they double that to open the game up. They work hard at it, but we've got to do a better job in games."
Added Zollo: "I don't think anyone was excited when (Lewis and Grady) left, but I think when opportunity shines on certain people when they put in the work and you know you're gonna be relied on ahead of time, it changes your perspective of the program that you're in. A lot of this is relied on me and 'Tae, but the mentality is next man up and go out there with incredible effort."

NEO Sports Insiders Newsletter
Sign up to receive our NEOSI newsletter, and keep up to date with all the latest Cleveland sports news.