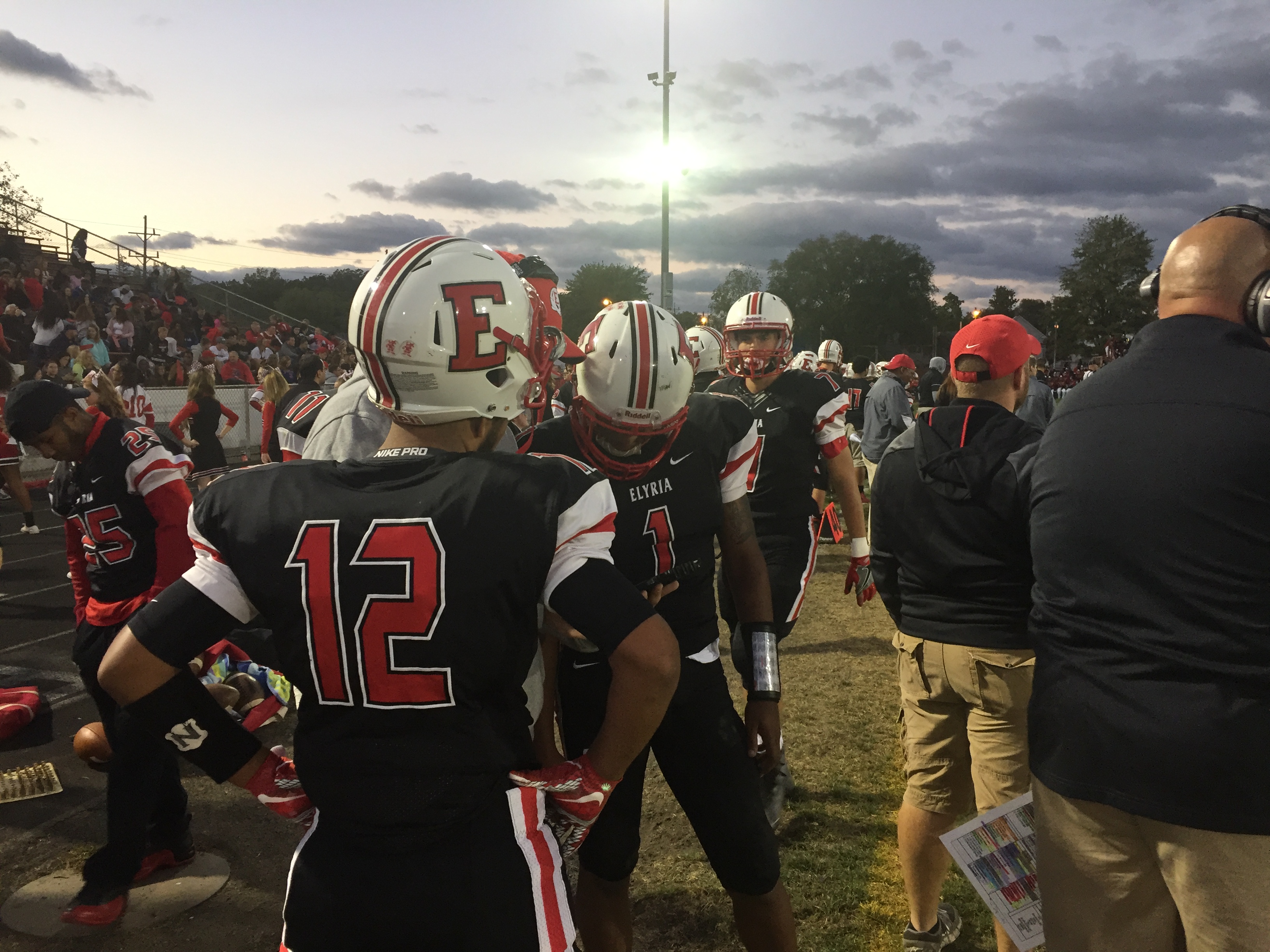 ELYRIA, OHIO – The Elyria Pioneers sideline was quiet Thursday as Micah Hills crossed the goal line for a third time, giving the Shaker Heights Red Raiders a commanding 20-0 lead with 1:26 left in the second quarter of their matchup at Ely Stadium.
The Pioneers, already sitting at 0-5, had seen this script play out before, but on this night they wrote a comeback story they wouldn't soon forget.
All Elyria did was put up 31 straight points over the next two plus quarters, including 14 in that final 1:26 of the first half, rallying to stun Shaker and take home a 31-28 win for their first victory for head coach Sean Arno.
There was plenty to celebrate on Thursday for the Pioneers and their fans, and below you can see all of the big plays via video on Twitter provided by our own Matt Loede from the huge win for the Pioneers.
@raidersofshaker w/ a TD for WR Micah Hills and they lead @ElyriaAthletics 6-0 w/ 9:05 left 1st Q @NEOSportsInside @FOX8FNTD pic.twitter.com/HHyrAGW9aq

— Matt Loede (@MattLoede) September 28, 2017
@ElyriaAthletics kicker Caleb Lewis misses a 32-yard FG – 1st miss of 2017 and @raidersofshaker lead it 6-0 w/ 2:20 left 1Q @NEOSportsInside pic.twitter.com/GiZTvEQpNn

— Matt Loede (@MattLoede) September 28, 2017
@raidersofshaker driving as 1st Q ends up 6-0 on @ElyriaAthletics – big 3rd down conversion @NEOSportsInside @FOX8FNTD pic.twitter.com/IOcdwCwM6K

— Matt Loede (@MattLoede) September 28, 2017
Dismukes to Hill 2nd TD & @raidersofshaker lead it 12-0 over @ElyriaAthletics w/ 11:17 left 1st half @NEOSportsInside @FOX8FNTD pic.twitter.com/Tpb2vHBdKG

— Matt Loede (@MattLoede) September 28, 2017
@ElyriaAthletics w/ a big sack on @raidersofshaker to stop a drive down 12-0 w/ 7:16 to play 2nd Q @NEOSportsInside @FOX8FNTD pic.twitter.com/hLllWSXE3I

— Matt Loede (@MattLoede) September 28, 2017
@ElyriaAthletics driving at the @raidersofshaker 25 following a first down run – 5:27 to play 2nd quarter @FOX8FNTD @NEOSportsInside pic.twitter.com/vV8fnGnvEB

— Matt Loede (@MattLoede) September 28, 2017
@ElyriaAthletics can't convert a 4th down and @raidersofshaker stay up 12-0 w/ 4:48 left 1st half @NEOSportsInside @FOX8FNTD pic.twitter.com/VEz0pVIQm9

— Matt Loede (@MattLoede) September 28, 2017
Dismukes to Hill 3rd TD & @raidersofshaker go up 20-0 over @ElyriaAthletics w/ 1:26 left 1st half @NEOSportsInside @FOX8FNTD pic.twitter.com/M55KhgCzow

— Matt Loede (@MattLoede) September 28, 2017
Deviian Williams w/ the sweet TD catch for @ElyriaAthletics & they trail @raidersofshaker 20-7 w/ :32 left 1st half @NEOSportsInside pic.twitter.com/LLqRAZXADW

— Matt Loede (@MattLoede) September 29, 2017
@ElyriaAthletics onside kick and quick score trail @raidersofshaker 20-14 w/ :09 left 1st half @NEOSportsInside @FOX8FNTD pic.twitter.com/6zRjXBK9ZO

— Matt Loede (@MattLoede) September 29, 2017
Dontae Beckett TD and @ElyriaAthletics go up 21-20 on @raidersofshaker w/ 9:34 to play 3rd Q @FOX8FNTD @NEOSportsInside pic.twitter.com/1Tjob8wfaZ

— Matt Loede (@MattLoede) September 29, 2017
@raidersofshaker fail on 4th down at the @ElyriaAthletics 14 and the Pioneers lead it 21-20 w/ 4:49 to play 3rd Q @NEOSportsInside @FOX8FNTD pic.twitter.com/5PaiTw978s

— Matt Loede (@MattLoede) September 29, 2017
Scott Ethington 15 yard TD catch and @ElyriaAthletics goes up 28-20 over @raidersofshaker w/ 10:17 left @NEOSportsInside @FOX8FNTD pic.twitter.com/Ft6MRxcb44

— Matt Loede (@MattLoede) September 29, 2017
@ElyriaAthletics goes up 31-20 on @raidersofshaker w/ 5:01 left after Lewis 23-yard FG @NEOSportsInside pic.twitter.com/Potl0txAYx

— Matt Loede (@MattLoede) September 29, 2017