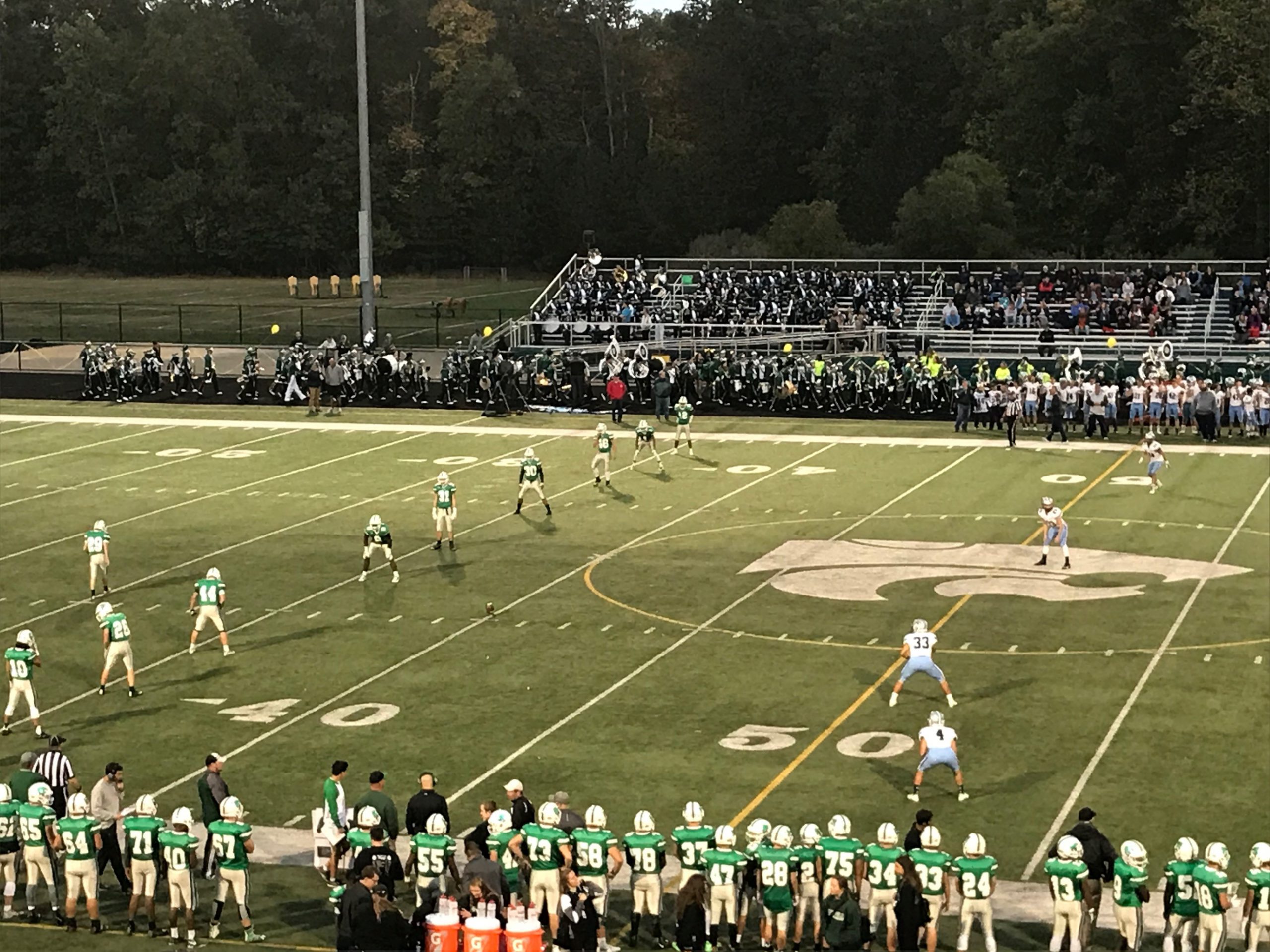 By Michael Trivisonno
MAYFIELD, OHIO – Prior to the game Thursday night, the Bombers and the Wildcats played each other 24 times. Mayfield won 13 of the 24 games in a series that started in 1983.
Thursday night it was the Wildcats that ended up winning the game, putting up an impressive 38-12 win.
The first drive for Kenston didn't last long as they were forced to punt early. It was Mayfield's turn next as freshman starting quarterback Michael Huss led a solid first drive that resulted in a seven yard touchdown pass to Bobby Casey.
Huss was forced to make his Wildcat debut Thursday night as original starter Jake Dostal was held out of the game due to an injury.
The defense from the Wildcats came to play early on. The first three possessions for Kenston resulted in Mayfield getting the ball back quick.
On two of those possessions, Mayfield stripped Kenston and forced a fumble in which the Wildcats recovered both fumbles. The defense has stepped up big not just during this game but over the course of the season.
"We are very happy with our kids efforts." defensive coordinator Mike Verdi said after the game, "They worked hard in practice and it showed out there tonight. As a team effort, our defense got after their quarterback pretty well. Our defensive line did a nice job and our linebackers did a good job of getting to the quarterback."
The first half was all Mayfield, both on offense and on defense. Huss led Mayfield to each of their first three scores in the first half.
The freshman looked like a natural starter out there as he was patient in the pocket and threw balls right where his receivers could catch them.
Joshua Appling was a wrecking force running the ball against the Bombers. He had several runs where he bursted through the defense and found holes for gains that would move Mayfield in scoring position.
Senior wideout Casey had himself a good game. On the second possession early in the first quarter, Huss threw Casey a pass in which he has his defender burned but dropped the pass. Two plays later, Huss found Casey again, this time he caught the pass and ran it back for a 59 yard touchdown pass.
All night Bobby Casey was Huss' go-to man and that paid off for him. It's uncertain whether Dostal or Huss will start next week, but the future definitely looks bright for Huss as the franchise quarterback for this program.
"He was amazing tonight." head coach Ross Bandiera said about his performance after the game, "For a freshman to come in like that, its everything we expected from him so it doesn't surpriser me because we know what the kid is capable of doing."
Mayfield started off the second half right where they left off. Just 18 seconds into the third quarter, running back Jonathan Tomcufcik broke lose and ran a 78 yard run into the end zone.
That made the lead rise to 22 points. Approximately four minutes later, the Mayfield offense was back at it. This time it was Huss connecting with Joey LoPiccolo for a 37-yard touchdown pass.
Mayfield dominated the Bombers from the start. The offense never really got going for Kenston after the sloppy start. Them trailing by 14 points as the first quarter was winding down really put them in a deep hole in which they would never even come close to gaining any ground.
The defense from Kenston was sluggish as well. Many miscommunications in the secondary led to a number of deep passing plays that resulted in touchdowns. It was a nice night for Michael Huss and the Wildcats after rebounding from last weeks loss to Chardon.
Mayfield will travel to Madison next Friday night to take on the Blue streaks. Kenston will look to rebound after the loss this week. The Bombers will travel to play Riverside next week.
| | | | | | |
| --- | --- | --- | --- | --- | --- |
| Team | 1 | 2 | 3 | 4 | Final |
| Mayfield | | 7 | 14 | 3 | 38 |
| Kenston | 0 | 6 | 0 | 6 | 12 |
Michael Huss 7-yard TD pass to Bobby Casey 8:26 left in 1st Q 7-0 Mayfield
Michael Huss 59-yard TD pass to Bobby Casey 2:01 left in 1st Q 14-0 Mayfield
Joshua Appling 1-yard TD run 4:11 left in 2nd Q 21-0 Mayfield
Jonathan Tomcufcik 29-yard TD pass to Kee-Shaun Merrill (PAT blocked) 1:02 left in 2nd Q 21-6 Mayfield
Jonathan Appling 78-yard TD run 11:42 left in 3rd Q 28-6 Mayfield
Michael Huss 37-yard TD pass to Joey LoPiccolo 7:42 left in 3rd Q 35-6 Mayfield
Andrew Curl 37-yard FG 10:33 left in 4th Q 38-6 Mayfield
James Burg 13-yard TD pass to Jonathan Abbarno 1:57 left in 4th Q 58-12 Mayfield
Player of the Game: Michael Huss, QB, Mayfield
It was the freshman's first varsity start Thursday night but you wouldn't have noticed that with the way he played against Kenston. Huss went on to complete 13 of 18 passes for 157 yards and three touchdowns

NEO Sports Insiders Newsletter
Sign up to receive our NEOSI newsletter, and keep up to date with all the latest Cleveland sports news.