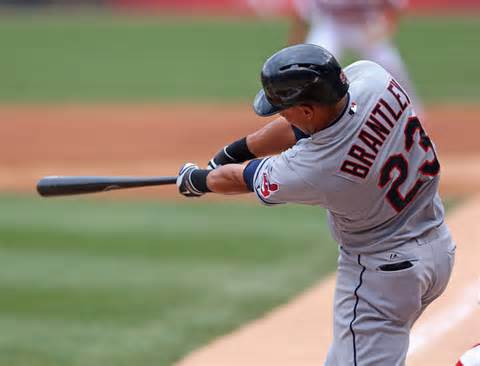 Entering Monday's three game series with the Kansas City Royals, the Cleveland Indians hold a three game lead in the Central with a record of 35-27 and most of that success this season has come without their most productive hitter in Michael Brantley.
Brantley has missed all but 11 of the Tribe's games so far this season after undergoing arthroscopic surgery to repair a small tear in his right labrum (shoulder) on November 9, 2015.
During the games he did play, Brantley hit .231 while driving in seven runs.
It was apparent that the 2014 Silver Slugger winner wasn't quite himself so the club sent him to be reevaluated which lead to Brantley being shutdown for a couple weeks following an anti-inflammatory injection into the shoulder. There is still no timetable for his return.
Depending on the ways you'd like to look at this situation there is good news and bad news, both of which happen to be the same, the injury happened in Brantley's right shoulder.
The left fielder makes a name for himself defensively with his rocket left arm as opposed to his glove and the range that comes along with it, meaning his defense shouldn't suffer all that much from the injury.
While the injury may not cause damage to his fielding ability, it's the offense side of the ball that may worry some people.
Brantley is a left handed hitter that strives on his approach at the plate and hard, solid contact to all parts of the field. As a hitter, all of (well, most of) your power comes from your front shoulder, in this case Brantley's right.
Throughout the couple weeks he did play, Brantley wasn't striking out at an alarming rate (just six times in 39 at-bats), rather it was the contact he was making that was getting attention.
When Brantley hits a baseball, nine times out of ten he's going to hit it hard, and that just wasn't happening.
He slugged only .282 in his limited time and had just two extra base hits, both doubles.
This time around the Indians are in no rush to get Brantley back on the field and have been strong in their stance to bring the 29 year-old back only when he is at the point where he can have a meaningful impact on the remainder of the season.
Last week, Jeff Passan of Yahoo Sports tweeted out there is "serious concern" from the Indians that Brantley is "going to miss a significant amount of time."
Indians General Manager Chris Antonetti followed up that report by saying there is "nothing really new" to report about Brantley's shoulder and reaffirmed the club's stance to bring him back when they see fit. He also noted that they are "encouraged by the progress" their All-Star continues to make.
The Tribe has seen Jose Ramirez and Rajai Davis pick up the slack nicely in left and really couldn't have asked for a better start while being down one of the premier hitters in the game.
The question becomes how much longer can the Indians afford to be without their most valuable asset on the diamond?
We're all in wait and see mode when it comes to Brantley's rehab process and who knows when or even if he will come back to full strength this season.
Luckily for the Tribe, they don't need to rush him back to play solid baseball.

NEO Sports Insiders Newsletter
Sign up to receive our NEOSI newsletter, and keep up to date with all the latest Cleveland sports news.