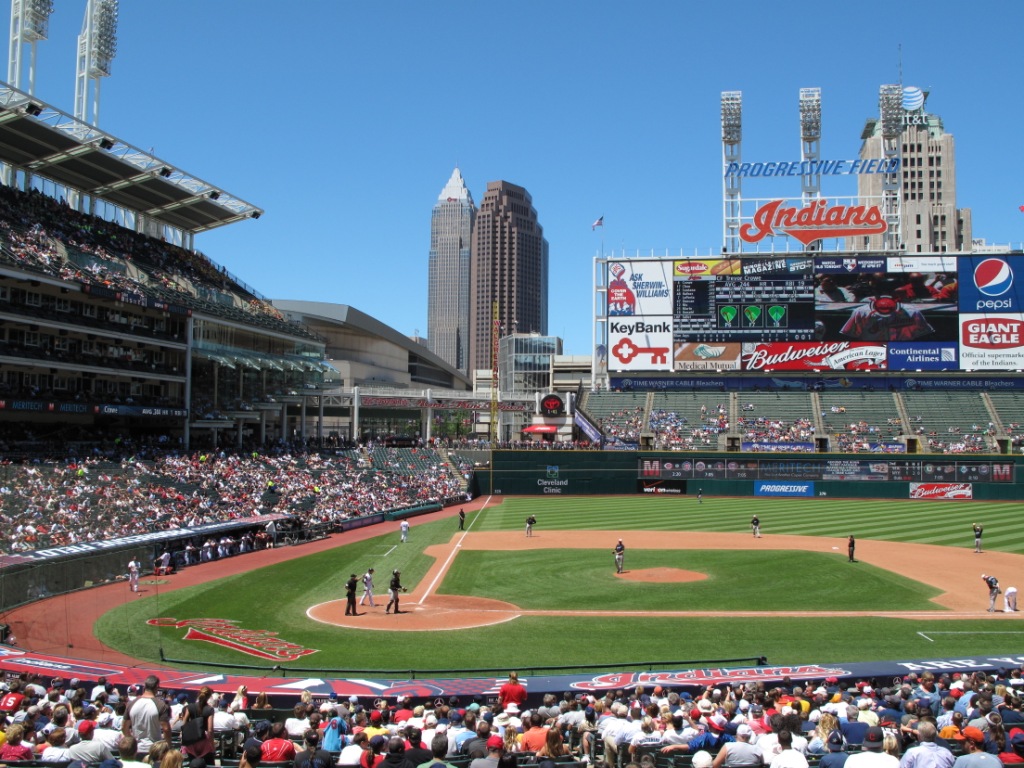 CLEVELAND – As they continue to climb back to the .500 mark, the Indians start their 11-game homestand tonight. A loss from the Rangers earlier today means a victory from the Indians would put them just 4 games out as they continue the hunt for the second wild card spot. The Tribe have now claimed the series from 4 of their last 5 opponents.
Matchup: Indians (68-70) vs Detroit Tigers (64-75) 7:10 at Progressive Field – Game #139 Home Game #64
Pitchers: Indians – Danny Salazar (12-8, 3.54) vs Tigers – Alfredo Simon (12-9, 4.86)
Media: TV – SportsTime Ohio Radio – WTAM, WMMS, IRN
The Tigers have had their way with the Indians since the start of 2013, posting a 36-17 record. The Indians did take the series from them during their last meeting winning two out of three, losing the game which coincidentally was also Salazar vs Simon.
Today's lineups:
DET: Davis 7, Kinsler 4, Cabrera 3, Martinez 9, V. Martinez DH, Castellanos 5, McCann 2, Romine 6, Gose 8
CLE: Kipnis DH, Lindor 6, Brantley 7, Santana 3, Chisenhall 9, Almonte 8, Gomes 2, Ramirez 4, Urshela 5
7:11pm- First pitch, 73 degrees.
Salazar walks Rajai Davis on 8 pitches.
7:17pm- Ian Kinsler sends a high-towering fly-out to right, one down. Kinsler currently has a .303 avg.
7:18pm- Miguel Cabrera singles to left, Davis moves up to second.
7:19pm- J.D. Martinez flys out deep to left, Davis tags and moves to third. Two Outs.
7:20pm- Salazar gets Victor Martinez to ground out to end the inning. The Tribe escape without damage, but Salazar will need to come out sharper if he wants that to last.
DET pitcher Alfredo Simon shut down the Indians for 7 innings and only allowing 2 hits in their last meeting when the Tigers won 6-0.
7:27pm- Simon strikes out Jason Kipnis after a 10-pitch at bat.
7:28pm- Francisco Lindor gets first on a strike-out wild pitch. Lindor is batting .309 coming into tonight's game.
7:29pm- Michael Brantley grounded into a fielder's choice, Lindor out at second. I wish Brantley would have been more patient at the plate, and took advantage of the Tiger's mistake letting Lindor on.
7:31pm- Carlos Santana shoots one down the right field line, advancing Brantley to third.
7:32pm- Lonnie Chisenhall comes up swinging and flys out to center, end of inning. Again, need more plate patience if they want to beat the Tigers tonight.
7:36pm- Lindor bobbles a roller right to him, but still manages to throw out Nick Castellanos at first for out number one.
7:48pm- Salazar walks James McCann and Andrew Romine follows with a single to right. Anthony Gose singled to right, McCann scored, Romine to second, Romine scored, Gose thrown out at second attempting to advance on play. Romine originally called safe, Cleveland challenge overturned it. 2:52 official time for the review. Cleveland out of the inning, Tigers strike first, 1-0.
7:54pm- Quick 1-2-3 inning for Tribe offense. Would have been nice to answer there. Defense comes out for the top of the 3rd.
8:01pm- Salazar works through the 1-3 hitters with no problem. He's currently at 49 pitches on the night.
8:03pm– Giovanny Urshela, who was batting .133 in the month, leads off the inning with a double high off the wall in center. He really needed that. Kipnis followed with a walk.
8:07pm- Lindor's sacrifice back to the pitcher moves the runners up and give the Indians their first out. I never like the idea of playing "small ball" with an offense like the Tigers, who we know can pile on a five-running inning at anytime. Let's see how this plays out.
8:10pm- Right on cue, Brantley popped out to first. Two outs, and still no one crossed the plate. Remember, they had first and second with a guy hitting over .300 just a few moments ago. Santana pops out to end the inning. A disappointing ending to that inning, the Indians still have no answer and the Tigers lead 1-0 as we head to the 4th.
8:17pm- Salazar caps off the inning with his first strikeout of the night.
8:24pm- Abraham Almonte sends one deep over the wall in right to tie the game up 1-1. Make that his fourth home run of the year. Estimated 428ft.
8:27pm- Ramirez doubles, Urshela HBP. Kipnis can't come through as they leave two stranded to end the inning, tied 1-1.
8:56pm- Bottom of the 6th here at Progressive Field, still knotted 1-1.
9:01pm- Almonte bunts for base hit, steals second. Ramirez walks, just one down. Really need Urshela to come through here.
9:06pm- The crowd erupts as Urshela doubles to center, scoring Almonte and Ramirez. The Indians take the lead 3-1. Great job from Gio getting the hit they have needed all night.
9:21pm- McCann and Romine with back-to-back singles followed by a walk from Gose ends the night for Salazar. Bases loaded, just one out for Indians RHP Brian Shaw as he takes over. Top of the lineup for Detroit.
9:23pm- Very first pitch thrown from Shaw skips right by Gomes, McCann scores. Not a good start at all for Shaw, who has a lot of work left to do in this inning. The Indians cannot afford any more damage.
9:28pm- Just after getting the second out, another close play at the plate was overturned after a Cleveland challenge. It's been a tough night for home plate umpire Ed Hickox. 1:57 was the official review time. What appeared to have happened was Kinsler singled to right, and the Tigers tacked on two more. Thanks to another strike out of right from Chisenhall, he saves another run from being scored, and they only get one. The players were so confident they had actually all made their way towards the dugout during the review. We have a game here, 3-3.
9:32pm- On the second pitch he saw, Brantley crushes one over the right center fence, lifting the Tribe up 4-3. Wow, do we have a ballgame here or what? Mark that down as number 14 on the year.
9:38pm- Chisenhall singles and steals second. Gomes singles off the left field wall to put the Tribe up 5-3. Alex Wilson in to relieve Simon, gets out of the inning. Excellent job by the Tribe to answer there.
9:49pm- Rough night for Shaw after back-to-back singles from J.D. and V. Martinez, and a double from Castellanos plates another Tigers run, cutting the Indians lead to just 5-4. Terry Francona makes his move and in comes Cody Allen with runners on second and third, one out.
10:01pm- A big strikeout for out number two just wasn't enough for Allen as Romine singled to left scoring V. Martinez to once again tie up the game, 5-5. Just when you might start to think you got the Tigers off your back they attack again. Do the Indians have it in them tonight? They have continued to answer throughout the evening and have six outs left to do so.
10:14pm- A two-out walk from Lindor could not have come at a better time as Brantley knocks his second ball of the night out of the park, giving the Indians the 7-5 lead. This is his fourth career multi-homer game.
10:23pm- Allen closes out the game by striking out Miguel Cabrera for the 11,166 fans in attendance, one of which shouted, "Four games out of the wild card, baby!" Right you are, sir. Right you are! The Indians improve their record to 69-70. Good night, Cleveland!

NEO Sports Insiders Newsletter
Sign up to receive our NEOSI newsletter, and keep up to date with all the latest Cleveland sports news.