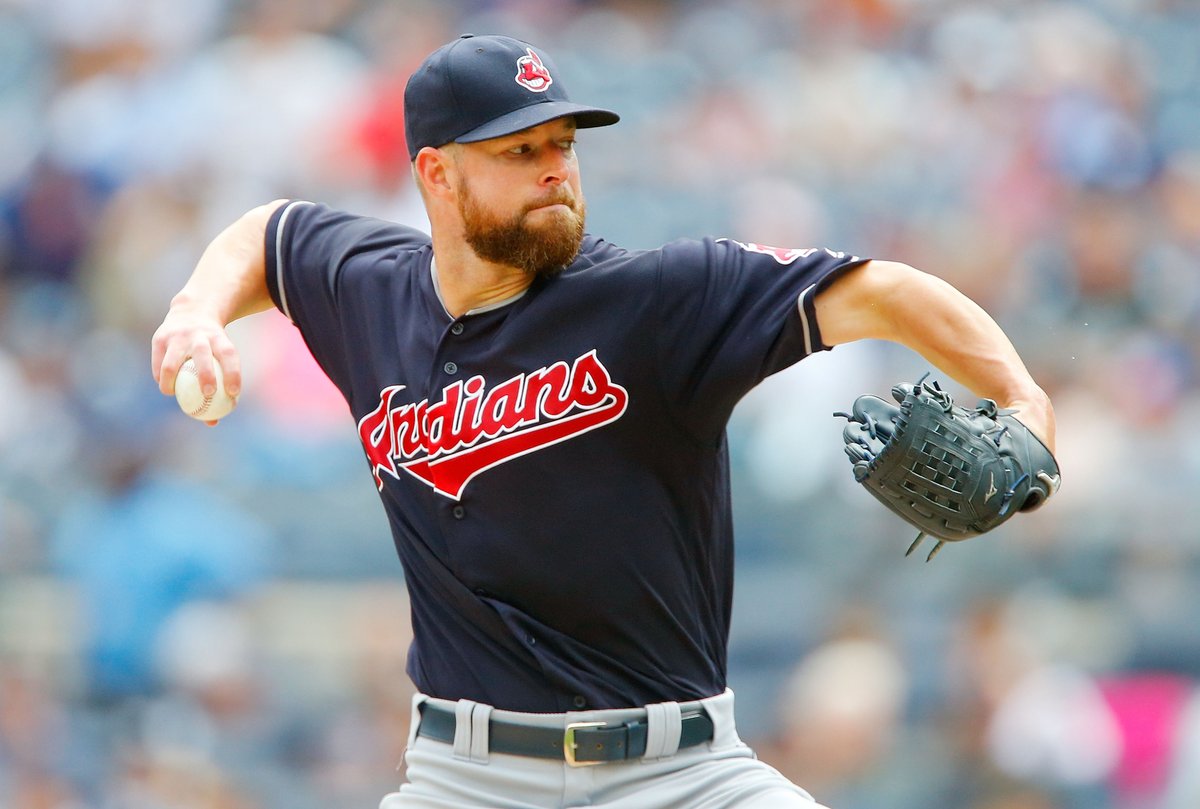 It's set. The Cleveland Indians have secured a spot in the American League divisional round for the first time since 2007 and now it's known the Tribe will work with a three-man rotation in their divisional series. My first thought was really what other choice do they have? Then I completely convinced myself that it could work.
All anyone could talk about during the first half of the season was the three-headed monster of Corey Kluber, Carlos Carrasco and Danny Salazar and how the Indians might have the best rotation in baseball, at least in the American League anyway.
Welp, Carrasco is out for the season and Salazar is working his way back to try and help the team anyway he can in October, there's just no way it can be in a starting role with how much time he's missed recently.
At the same time that the rotation was getting hyped up, the big question was could the Tribe produce enough offense to help out the staff and I think that question has been answered thanks to one of the more balanced lineups in the league.
The team is second in runs scored and WAR while being the best base-running team in the league by a landslide, and not just due to leading the league in steals. The Tribe has proven they can put up runs consistently all year and their ability to get on base and manufacture runs in other ways besides the long ball will help them when the weather cools off.
They can hit righties. They can hit lefties. Terry (Tito) Francona has done a fantastic job this season giving players specific roles and you have to credit the guys for stepping up and filling said roles. The outfield platoon situation has worked out better than anyone could have imagined while Mike Napoli and Carlos Santana have blasted homers left and right. One through nine this team can chip away and make things happen.
Now that the pitching staff has encountered so many hiccups they have no choice but to go to a three-man rotation. If the rotation had carried the Tribe to this point there would be a lot more cause for concern but that hasn't been the case.
Here's the thinking.
Name me a better starting pitcher in the American League than Corey Kluber. Wait, you can't? Who's a better reliever in the AL than Andrew Miller? Oh yeah, there isn't one. So, first things first. In a five game series you could potentially have the best starter and best reliever in the league pitching upwards of 40% of the innings. And if you're worried about the workload for those two, don't. Kluber is a freaking workhorse and I'm pretty sure Miller could throw at least an inning a night.
While Kluber had to exit his last start dude to a quad strain everything points to him being ready for Game 1 next Thursday. He'll be ready. The guy has been waiting for his shot in the postseason since becoming one of the elite pitchers in baseball during the 2014 season and I don't want to speak for the man but I'm fairly certain he'd have to be in a body cast to not take the mound. Plus in every elimination game scenario he'd probably go to Tito and say give me the ball (while Tito would say no, I truly believe he'd try).
The other pitchers in the roation are going to be Trevor Bauer and Josh Tomlin. I know there's been talk about Mike Cleveinger but I just don't think you can trust him in the postseason with his command issues so I'm saying it's Kluber, Bauer and Tomlin.
With Bauer it's all about getting through the first inning then getting him out when the order comes around for the third time. It seems when Bauer gets through that first inning unscathed he goes into cruise control until the fifth or sixth inning. Countless times this year Tito has left Bauer in just a tad too long and they've paid the price. I think come October he'll have a little shorter of a leash. Add in the fact this dude is always ready to pitch until his arm falls off and short rest shouldn't be a huge factor (at least mentally).
When you talk about Tomlin the dude is just a gamer. He has all the respect in the world from his manager and teammates and you know what you're going to get from him every time he toes the rubber, everything he's got.
I think the time off in early september really helped him. The past two seasons he has barely pitched due to injury so he just wasn't used to the workload of a full season. He was gassed. He's not a guy who's going to blow it by you so accuracy is everything for him and when you're dragging, your accuracy is the first thing to go. Since the time off, in his last three starts he's pitched 18.1 innings while allowing only three earned runs. He's a guy who's been around and knows what it takes to win.
When the lights shine bright I think he'll be ready. The thing I worry about with him is the ability to pitch on short rest (something that wouldn't come into play until the championship series) which is where Clevinger might come in to play, we'll see. If he's hitting his spots, he'll give the team a chance.
Back to the bullpen. Is there going to be a better unit than the Tribe's in the playoffs? I mean you have Brian Shaw who's been lights out since July but for some reason fans still view him as incompetent.
Cody Allen has been much of the same and this is were Salazar can help the team immensely pending how his command is coming back from injury. I already mentioned Miller and you still have Dan Otero who's sporting a sub-two ERA on the season. You get to the sixth or seventh inning with the lead and you're feeling pretty good about your chances but I guess that's where the concern can come from, getting late into the game with a chance to win.
Since the team has locked up the division this group has been able to get some rest thanks to expanded rosters so fatigue shouldn't be an issue with any of the top four relievers.
It's fitting that the biggest question heading into October was one that no one was thinking about at the beginning of the season. The offense has carried this team through the second half and may very well have to do so when postseason play begins but with a Cy Young caliber ace leading the way, the pitching staff could be a whole lot worse off.

NEO Sports Insiders Newsletter
Sign up to receive our NEOSI newsletter, and keep up to date with all the latest Cleveland sports news.