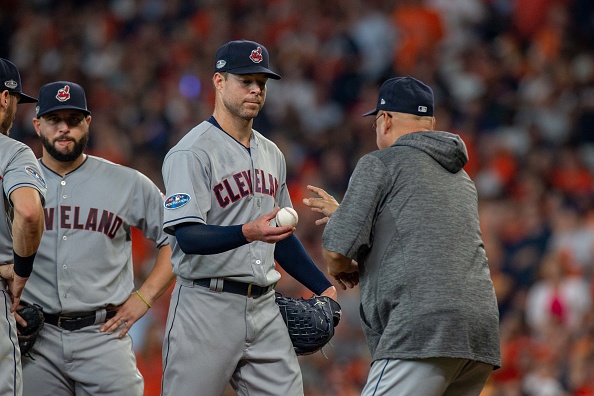 By now, you've likely heard rumors that the Cleveland Indians may still be shopping Corey Kluber and Trevor Bauer, specifically with the San Diego Padres.
#Padres in continued discussions with #Indians on starting pitching, sources tell me and @dennistlin. Interest primarily in Bauer or Kluber, but asking price – while lower than before – remains beyond SD's comfort level. Trade not close, unlikely to occur before Opening Day.

— Ken Rosenthal (@Ken_Rosenthal) March 18, 2019
Both starting pitchers spent the winter hearing their names tossed around the rumor mill. However, until recently, said trade talks appeared to die down as Opening Day neared.
While this may be yet another rumor which never develops, there was one note in Ken Rosenthal's update which continues to concern me. This would be his claim that the Indians' asking price is "lower than before."
To me, such an update raises all sorts of questions, especially when it comes to how the front office feels about the upcoming season.
One key thing we've learned whenever a rumor surfaces regarding an Indians starting pitcher is the fact the asking price is always sky-high. The team is notoriously miserly when approached with offers for a starter. The front office may float the availability of a pitcher or two, but interested clubs soon find out they'll have to offer a ton to get a deal done.
It appeared said approach was being used this past winter. Sure, we heard Kluber and Bauer were indeed being shopped, yet no deals ever came to fruition, reportedly due to the price tag the Tribe placed on each. Cleveland's trademark sticker shock was a big reason why I assumed Kluber specifically wouldn't be going anywhere this offseason.
In general, it seemed safe to think both pitchers would be staying put come Opening Day. This will likely still be the case, as Rosenthal noted no deal was close.
Still, the biggest takeaway here is the Indians' willingness to walk their asking price back a bit, something they've never indicated they'd be open to before. Yes, it's reportedly still high. At the same time, the fact they're lowering it in general indicates there's more to this than the Padres just constantly bugging them.
Maybe I'm over-analyzing here, but why would the Indians suddenly be willing to lower their demands? By all accounts, they've spent more than a few offseasons standing firm with their asking price for starters no matter what. Now, just a few days from the regular season kicking off, we're hearing Cleveland isn't demanding as much for Kluber or Bauer as it was a couple months ago.
To me, this latest update carries with it a hint of desperation.
The Indians spent all winter assuming they could land a haul in exchange for one of their starters. Should no deal come to fruition, they'd be fine, as indicated by their insistence on patching their outfield together with younger players instead of solving said issue through free agency.
Yet, here we are, watching Cleveland make a last second signing of veteran Carlos Gonzalez, likely inspired by the fact much of the youth the team was banking on has under-performed during spring training.
It doesn't feel like a leap to connect this with word Cleveland is now willing to lower its demands for Kluber or Bauer.
Another concern from this update is the fact the asking price for Kluber or Bauer should be high. The Indians shouldn't be in a place where they feel willing to accept a handful of good prospects in exchange for one of two extremely talented pitchers. Such a deal would be a catastrophic loss for Cleveland, and certainly wouldn't do much to increase the team's World Series chances.
Knowing this, the Tribe's reported willingness to lower demands certainly comes off as questionable to say the least. A trade of Kluber or Bauer may be the most logical way for the front office to make roster upgrades, but this won't be the case if the team starts asking for less in exchange.
Again, this may just end up fading away like many of the other rumors we heard this offseason. The current plan is still to have Bauer and Kluber on Cleveland's roster when the new campaign kicks off next week.
That said, opposing clubs now know it's not impossible to push back on the Indians' asking price for a star pitcher. It doesn't feel crazy to assume this is due to Cleveland's front office starting to get anxious about its roster heading into what could be its final year of contention.

NEO Sports Insiders Newsletter
Sign up to receive our NEOSI newsletter, and keep up to date with all the latest Cleveland sports news.