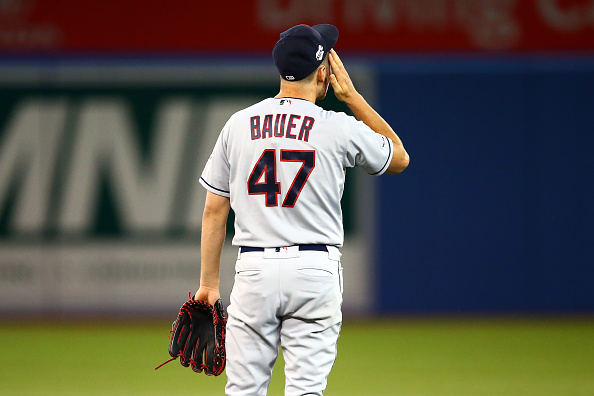 Let me clear one thing up before diving in here – I love the trade the Cleveland Indians pulled off last night.
Realistically facing only a few more months of service from starting pitcher Trevor Bauer, Cleveland found a way to swap him for five players, two of which will be adding a massive power boost to a questionable offense. It felt like nothing short of robbery.
With that said, this deal does create one significant concern.
Now that Bauer is out the door, Cleveland's rotation carries much more question marks than what we're used to. An area of the roster which once appeared to be flawless now has much fewer certainties than before.
To start with the good news, the Indians know what they have in Mike Clevinger and Shane Bieber.
Despite looking a little shaky when coming back from the injured list in June, Clevinger has settled down and appears to have returned to form. His ERA has been decreasing with each start, as he now looks ready to step in as Cleveland's current ace.
As for Bieber, it's tough to complain about how things have gone for him. All he's done since making his big-league debut last season is increase his strikeouts by 47% year-over-year, make his first All-Star appearance and finish as the game's MVP for good measure.
While that's all well and good, the doubts start to creep in from there.
This certainly isn't a shot a Zach Plesac, Cleveland's rookie standout who's having himself quite a debut season. That said, the small sample size makes it difficult to know for sure if he can be counted on as the team's third starter should it make the postseason.
After that, the Indians are essentially pinning their hopes on two starters preparing to return from injury.
Don't get me wrong. The idea of saying "Trevor Bauer is expendable because both Danny Salazar and Corey Kluber will soon be back in the rotation" isn't even remotely crazy on paper. When both starters are on their game, they can be untouchable.
The problem is each pitcher's return comes with a fair share of concern.
While Kluber's resume is nothing to scoff at, the fact is he was struggling early on this year. A rocky playoff outing from last October appeared to follow him into this season, where he generated a 5.80 ERA and his highest WHIP since 2011 before getting shelved with a fractured forearm.
As for Salazar, his start this Thursday will be the first time he's stepped onto a big-league mound in two years. While his rehab appearances ahead of his 2019 debut have been encouraging, it's been quite a while since he's shown an ability to stay healthy consistently.
This isn't to say neither Kluber nor Salazar can come back and effectively fill the void left behind by Bauer. It is, however, highlighting how risky it is to bank on such a thing.
That's what the Indians did when dealing Bauer. Said move turned their rotation into two sure-things, a budding rookie and a lot of uncertainty.
Sure, there are other players to consider. Logan Allen – a left-handed starter included in the Bauer trade – had shown a lot of success in the minors heading into this year. There's also always a chance Carlos Carrasco makes huge strides in his fight against leukemia and returns to the mound before the season ends.
That said, Allen's time in the big-leagues this year was shaky to say the least. As for Carrasco, his health is a much higher priority than making a return to the rotation, and the Indians have to give him whatever time he needs to address this.
Starting pitching has been the Indians' bread and butter for a while now. Dealing from this area of strength was really the only way they were going to pull off the kind of additions they made last night. From that perspective, the Bauer trade remains a great move for Cleveland.
However, if the team is going to follow it up with a deep playoff run, it's going to need eliminate a lot of the uncertainty it just created with its rotation.

NEO Sports Insiders Newsletter
Sign up to receive our NEOSI newsletter, and keep up to date with all the latest Cleveland sports news.