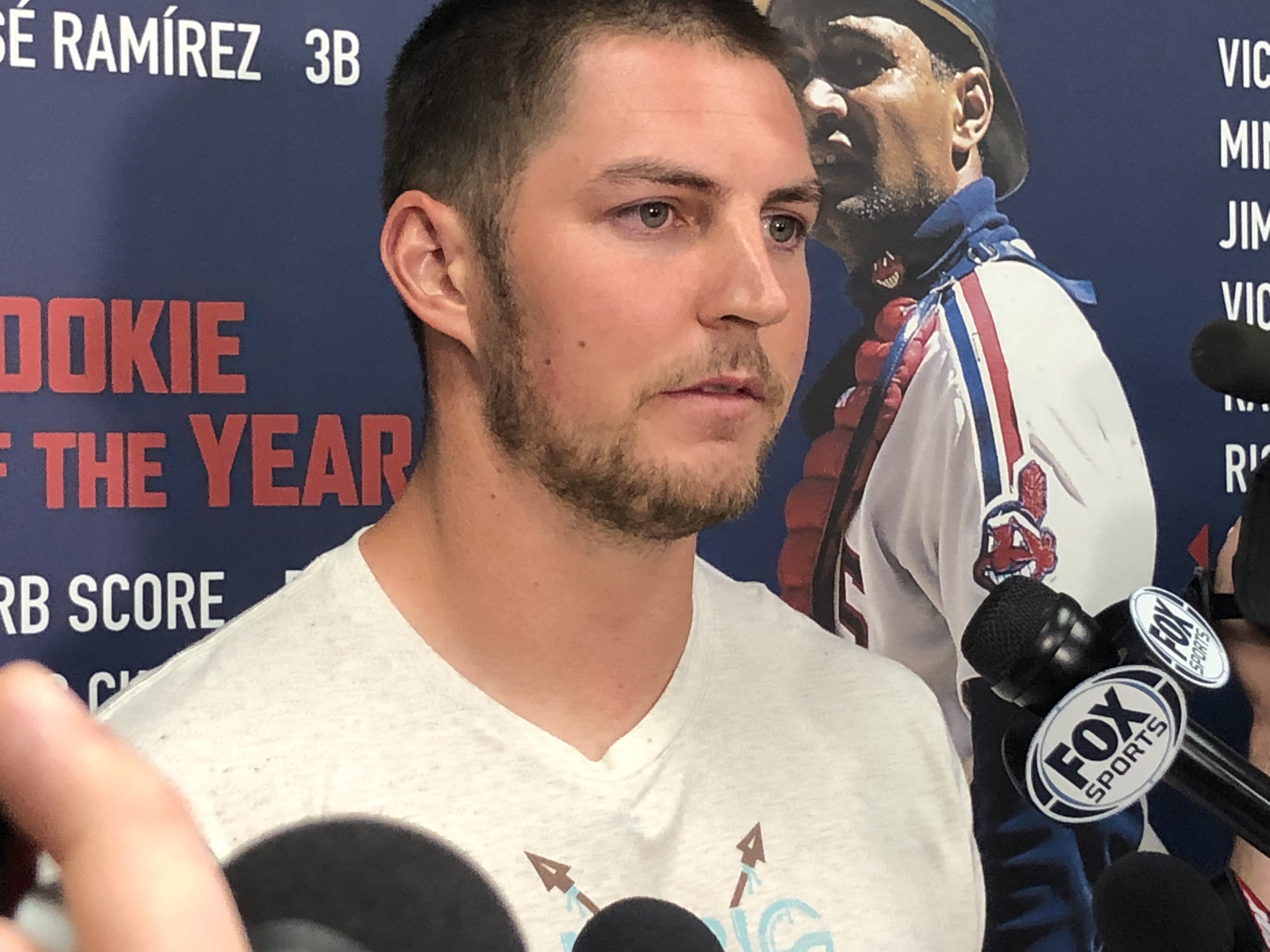 CLEVELAND – In the backdrop of the dining room that belongs to the media, now former Indians pitcher Trevor Bauer set up a surprising impromptu press conference right in the middle of the Indians matchup with the Houston Astros.
Bauer was dealt Tuesday night to the Cincinnati Reds as part of a three-way trade that saw the San Diego Padres get involved and send the Indians outfielder Franmil Reyes, Victor Nova and Logan Allen, and the Reds sent the Tribe outfielder Yasiel Puig and Scott Moss.
Likely stunned by the emotion of the deal that will send him out of Cleveland, Bauer declined to speak to the media on Tuesday while saying good-bye to his teammates, but surprisingly spoke at length on Wednesday.
Here's some video clips via Twitter of Bauer's final meeting with the media.
Here's Trevor Bauer taking his final walk to talk to the media this evening – in of all places – the media dining room #Indians #Reds pic.twitter.com/2TH2fQluy3

— Matt Loede (@MattLoede) August 1, 2019
Trevor Bauer says he's got a message coming for the fans via video after being traded #Indians pic.twitter.com/VH8ctFjTaN

— Matt Loede (@MattLoede) August 1, 2019
Trevor Bauer talks about his ongoing issues this season – says in start four injured his ankle & has struggled since #Indians #Reds pic.twitter.com/ePKCgj3fkT

— Matt Loede (@MattLoede) August 1, 2019
Trevor Bauer asked if he was surprised about the trade and the lead up to it #Indians #Reds #MLBTradeDeadline pic.twitter.com/4HDkL9sTsK

— Matt Loede (@MattLoede) August 1, 2019
Trevor Bauer on knowing his name was mentioned over and over in trade rumors – but still having to go through the moment of being traded #Indians #MLBTradeDeadline #Reds pic.twitter.com/Mb2NNvEUwj

— Matt Loede (@MattLoede) August 1, 2019
Trevor Bauer on going to the National League and facing a whole new set of batters on the other side #MLBTradeDeadline #Indians #Reds pic.twitter.com/HjYk1dkreF

— Matt Loede (@MattLoede) August 1, 2019
Trevor Bauer asked what he thought of the players in the deal that sent him from the #Indians to the #Reds #MLBTradeDeadline pic.twitter.com/Clkp7lhW5W

— Matt Loede (@MattLoede) August 1, 2019
Trevor Bauer on what he'd like to be remembered as and for as he leaves the #Indians organization for the #Reds #MLBTradeDeadline pic.twitter.com/vx2U00j6jy

— Matt Loede (@MattLoede) August 1, 2019
Trevor Bauer asked if he'd be "lost" without baseball #Indians #Reds #MLBTradeDeadline pic.twitter.com/NKA0IGixKp

— Matt Loede (@MattLoede) August 1, 2019