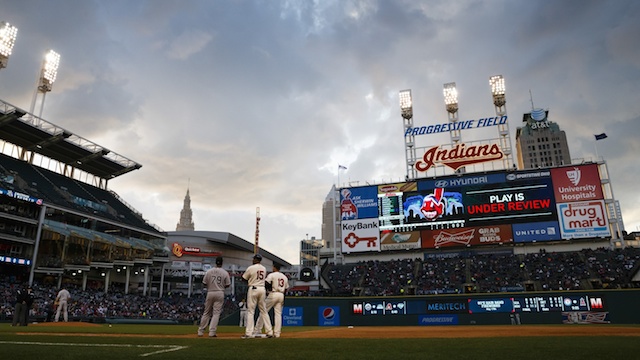 The Indians enter the final two weeks of the season with a chance, slim as it may be, to earn a wild card playoff spot.
Despite being as average in results as a team can be, having won exactly half of their 148 games going into Tuesday night's opener of a three-game set at Minnesota, the Tribe is still playing games in September that matter.
It's a scenario that shouldn't be taken for granted. For nearly three and a half decades of uninterrupted futility, the Indians played virtually no games of any team significance during those seasons' Septembers.
From Sam McDowell, Luis Tiant and Max Alvis, to Ray Fosse, Gaylord Perry and Buddy Bell, and on to Andre Thornton, Mike Hargrove (the player) and Joe Carter, Cleveland's best players were never in a realistic playoff chase as autumn neared. (Carter, of course, famously went on to slug a World Series-winning home run for the 1993 Toronto Blue Jays)
Radio/TV announcers such as Harry Jones, Joe Tait and Nev Chandler tried their best to instill some drama into their calls of late-season Tribe games. It couldn't have been easy.
Worst of all, Indians fans couldn't experience the excitement of their team having any chance to get to the World Series. The only games that counted for much as steely old Cleveland Stadium began its September cool were Browns' home openers.
This year's Indians, after Sunday's win over the White Sox, were four games behind the Astros for the second American League wild card playoff berth. The Twins and Angels also stood ahead of the Tribe.
Older Indians fans would have considered this season a bonanza of thrills, had it occurred in decades long past. Cleveland never finished fewer than 11 games out of first place from 1960 through 1993, except for the odd "two-half" season prompted by the 1981 players strike.
And, during those years, baseball did not have the wild card format, though the Indians would have seldom, if ever, been in legitimate contention for the one or two extra playoff spots.
The past 20 years have heightened the standards for interesting baseball seasons in northeast Ohio.
The media and fans have many complaints — some understandable and others arguably not — about how the Indians have been run over the last dozen years or so. But, look at what the team has achieved, especially in comparison to what had gone before, and let alone the recent struggles of many other franchises around baseball.
It began in 1994. The Indians were 66-47, one game out of first place in the Central Division, when the players went on strike on Aug. 11. That was it, denying longtime Tribe rooters and new ones jumping on the bandwagon the first legitimate Indians' pennant chase since 1959.
Ironically, and multiplying the disappointment, it was scheduled to be the first season in which one team each from the American and National leagues would qualify for the postseason as a wild card. The Indians were ahead in the wild card race when the campaign came to its end.
Then, the Indians began a seven-year stretch of excellence rivaled in Cleveland history only by the teams of 1948 through 1956. Tribe lineups featured players now in the Hall of Fame, others who are candidates and others who played like the greats for a few years.

NEO Sports Insiders Newsletter
Sign up to receive our NEOSI newsletter, and keep up to date with all the latest Cleveland sports news.