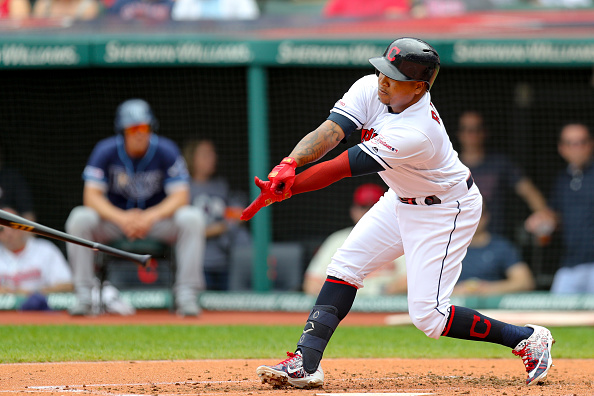 As the Cleveland Indians left Memorial Day weekend with a below .500 record, staring at a ten-game gap between themselves and the first place Minnesota Twins, two thoughts immediately came to mind.
One, this season is officially a wreck. Two, this is exactly the kick in the pants this front office deserved.
The struggle Cleveland has endured is a result of many things. Injuries, an ineffective lineup and a brutal slump for Jose Ramirez are all playing a factor in the miserable start to the year. However, nothing has had more of an impact on the awful performances we're seeing than the front office's hubris.
It was this unearned sense of confidence which convinced ownership it could shed significant production over the winter, replace it with unknown youth and assume another AL Central crown was in the bag. The front office saw the talent in Indians' rotation, along with the success seen from Ramirez and Francisco Lindor over the past few seasons, and just assumed that was all it needed to clinch another postseason berth.
As we know, it's not exactly panning out that way.
By forcing five starting pitchers to operate under the slimmest margin of error, Cleveland was ill-prepared to handle injuries to Mike Clevinger and Corey Kluber. By assuming its star middle infielders could carry the load offensively, the Indians found themselves with no answers for slumps occurring at almost every other position in the lineup.
These decisions were questionable back in December, and are even more so now. That said, it's remarkably easy to see why the front office took an approach which turned a contending team into a toothless mess.
Truth be told, there were reasons to be concerned at this time last year. The Indians spent the bulk of 2018 playing uninspired ball, never quite looking like a clear contender. While a few winning streaks would come along every now and then, the team spent majority of the year in cruise control.
Of course, none of this matters if you have a sizable cushion atop the standings. The Indians may have looked underwhelming, but they never paid for it, as not one other AL Central team even remotely threatened to knock them out of first.
It was this misreading of the 2018 season which convinced Cleveland's front office it could still waltz to the postseason despite shedding salary over the winter. The Indians saw the gap they won the Central by last year as proof of their talent, not as a result of playing in a miserable division. If an expensive (by their terms) roster could win the Central by 13 games, clearly this team could be great even if it lost some pricey production.
There were obvious holes in this line of thinking.
It didn't account for the strain the veterans on the roster would feel when having to overcompensate for lost production.
It didn't account for what could happen if the star-studded rotation dealt with an injury or two.
It didn't account for Minnesota, watching a division rival confidently sit on its hands, seeing this as a time to strike and improve its roster.
So, while injuries and cold bats are behind Cleveland's continued drop in the standings, this is only the case because the front office saw the 2018 season as a dominant success, and not a result of playing in one of the least competitive divisions in the history of the sport.
Which brings me back to my initial point. The fact is the Indians needed a season like this.
They needed to be shown pinning your postseason hopes not on your own team, but on the struggles of division rivals is a faulty plan.
They needed to realize that you can't shed significant production, replace it with next to nothing and expect to contend.
They needed to have the flaws in their strategy exposed immediately.
It may not make for a pleasant viewing experience for fans, but the hope is this will make the team better in the long run. The longer the front office misinterpreted the success it was seeing, the more it was going to steer into its ill-fated plan of cutting salary while in a window of contention.
In a season as miserable as the one we're watching, that's about as much positive thinking as I can offer right now.

NEO Sports Insiders Newsletter
Sign up to receive our NEOSI newsletter, and keep up to date with all the latest Cleveland sports news.