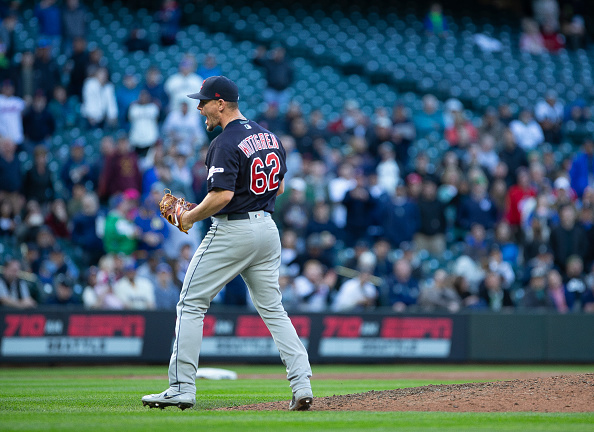 I've spent enough time discussing the Cleveland Indians' curious approach to this past offseason. By now, everyone knows slashes were made to key areas of the roster, under the assumption the rotation could mitigate any side effects to this.
One of those areas was the bullpen. The Indians watched key relievers depart in free agency, making little effort to replace them. It wasn't a leap to assume the 2019 campaign would start with its fair share of bullpen implosions.
That hasn't happened yet.
In fact, Cleveland's relief corps has had a great start to the year. Personally, I don't think there's a bigger early season surprise than this.
Much of the concern regarding the front office's passive approach to adjusting the bullpen came from the fact we saw it take the same route the previous season.
Back then, key relievers Bryan Shaw and Joe Smith found new teams in free agency. Instead of looking to replace the two of them, Cleveland instead decided to promote from within and assume no major fixes were needed.
Unsurprisingly, said plan didn't work out. The Indians' bullpen struggled out of the gate, and while mid-season adjustments helped put out some fires, the unit as a whole wasn't nearly as dependable as we had gotten used to.
As a result, watching Cleveland take the same approach one year later, especially after losing both Andrew Miller and Cody Allen, was certainly bewildering.
Equally so is the fact that, right now at least, it's working.
To date, six different Indians relievers have allowed no more than two earned runs. Two of them – Nick Wittgren and Dan Otero – have yet to allow a single run in a combined ten appearances. Despite some being a bit shakier than others, Brad Hand has locked down a save in all six of his opportunities.
Simply put, the bullpen isn't just less chaotic than last year, it's actually proving to be reliable.
Some of this is a little easy to explain. Otero had been one of Cleveland's better relievers in his first two seasons with the team, but struggled last year when tabbed as Shaw's replacement as the high-leverage reliever. Hand is a two-time All Star, so his strong showings shouldn't come off as surprising.
That said, there are a couple candidates who nobody honestly could've expected to step up, yet are doing just that.
Jon Edwards was out of baseball for two years thanks to Tommy John surgery, finally getting a minor league deal from the Tribe late last season. While he's still working around his issues with walks, Edwards has only given up four hits and one earned run in six appearances.
Even more stunning is what the Indians are getting from Wittgren.
The Marlins castoff represented one of Cleveland's "low-key" offseason pickups, as they grabbed him after Miami designated him for assignment in January. While Wittgren's career numbers were decent, I doubt anyone immediately tabbed him as one of the Indians' key relievers.
They wouldn't be wrong to think that right now.
In four appearances, Wittgren has allowed two hits and zero earned runs, striking out eight. Said two hits also represent the only instances where he's allowed a base runner, period.
Late in yesterday's game against Seattle, with the Indians clinging to a 1-0 lead, manager Terry Francona leaned on Wittgren for the final two innings. All he did was get six straight outs, never once allowing a Mariner to even sniff first base.
Wittgren, Edwards and the rest of the aforementioned relievers have all helped ensure Cleveland's bullpen didn't open the season as a liability. It's hardly what anyone would've expected after watching the team only make small tweaks to this unit despite key offseason departures.
To be fair, there are still a couple relievers with work to do. Neil Ramirez (5.19 ERA) and Oliver Perez (7.71 ERA) have had a little trouble replicating the success seen in 2018.
At the same time, with the rotation still working on both its consistency and its ability to survive Mike Clevinger's injury, what the Indians are getting from their bullpen is beyond crucial.
It's also incredibly shocking. Though this needs to be maintained throughout the season, it goes without saying one of the most questionable areas on the roster is off to a great start when it comes to easing offseason concerns.

NEO Sports Insiders Newsletter
Sign up to receive our NEOSI newsletter, and keep up to date with all the latest Cleveland sports news.