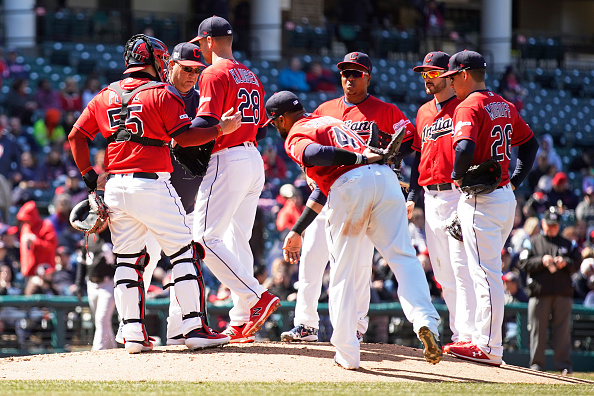 It's early. I know it's early. A baseball season is not made in April, something I'm fully aware of.
So, when discussing the struggles we've seen from the Cleveland Indians coming out of the gate, I'm not doing so to play doomsayer before the season is even a month old.
What I'm doing here is not writing the article version of a panic button. I'm merely pointing out two things.
One – there are concerns with this Indians team.
Two – they're concerns the front office willingly created.
It's this last part that I've had trouble shaking as I watch 90% of Cleveland's lineup flail at the plate. Or see a three-run deficit be treated as insurmountable. Or assume this team will be unable to win if its starters don't pitch perfectly.
The simple fact is the margin for error with the Indians in 2019 is razor thin. More often than not to start the year, Cleveland's starting pitching has needed to be near-flawless just to give the rest of the team a chance to win.
Again, though, the margin of error isn't what's frustrating. It's that the front office willingly designed it.
Proven hitters were dumped in the offseason through an attempt to drastically cut salary. The reliable bats remaining are now forced to carry a heavier load, and can also be singled out far easier by opposing pitchers.
This was all done with the assumption that, as long as the rotation is intact, with Francisco Lindor and Jose Ramirez in the lineup, the AL Central is in the bag.
What we're seeing, though, is what happens if this design encounters even the slightest hiccup.
When starters have rough days, like Corey Kluber's ugly showing against the Chicago White Sox or Carlos Carrasco's drubbing at the hands of the Minnesota Twins, the game is over. The offense just isn't good enough to overcome a significant deficit.
Likewise, with Lindor on the shelf for at least the next month, the offense is severely crippled. Only Carlos Santana has proven reliable so far, as the Indians have collectively generated the fewest hits in the majors.
While you could choose to see this as "no worries, they aren't full strength yet," I see it as a team which needs to be at full strength in order to succeed. A team which can't generate runs unless every key player is 100% healthy.
You can point to Lindor's absence and say things will get better when he returns. To me, though, if an offense's success hinges on the presence of one player, it's not a good offense.
Likewise, while the team is awaiting the availability of Jason Kipnis and Carlos Gonzalez, assuming either is going to provide drastic improvements feels lofty. The former hasn't hit above .232 since 2016, while the latter will have to adjust to not playing in the hitter-friendly, mile-high air of Denver.
Even if all three missing hitters do create a boost in offense, it will only provide further proof Cleveland is in big trouble if any one of them struggles at staying healthy or at the plate.
Unfortunately, this is the situation the front office has manufactured this season, a year where the Indians are expected to contend. A team with playoff aspirations was saddled with a roster which needs to play flawlessly to increase their chances of winning.
A valid response would be noting there's no guarantee this roster looks the same later in the year. This certainly feels like a fair take.
At the same time, it's just as fair to wonder just how much the front office is willing to take on when it comes to trade deadline additions. After all, we've spent the past few months hearing ownership hammer home how important it was to significantly reduce payroll heading into this year.
Knowing there will likely be more than a couple needs for the team to address, it's hard to imagine they'll be willing to tackle all of them.
Again, though, the season is very young. For all we know, the Indians may shake off this funk and start generating more offense.
That said, in order to do so, the Indians are going to have to rely on players without a proven track record when it comes to reliability. They're going to need rough appearances from starting pitchers to be rare occurrences. They're going to have to hope Lindor can stay healthy all year long.
None of these statements should come as a surprise to anyone. After all, they're concerns that were glaringly apparent all offseason long.

NEO Sports Insiders Newsletter
Sign up to receive our NEOSI newsletter, and keep up to date with all the latest Cleveland sports news.