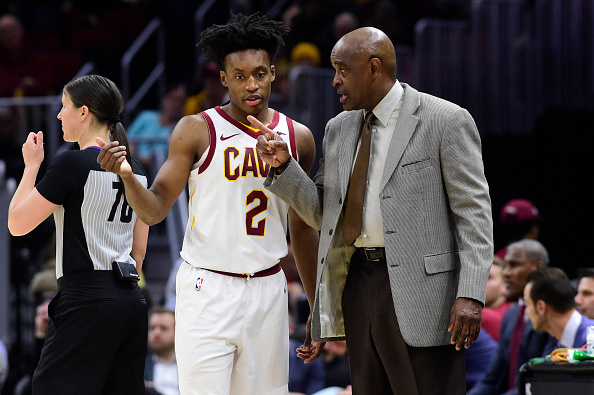 "I don't know if I ever want to be a head coach again after this year."
We're just under two months removed from Larry Drew uttering the above quote. Back then, said comment from the Cleveland Cavaliers' interim coach wasn't too surprising. After all, the team only had nine wins at the time, while Drew was basically a band-aid after Tyronn Lue was fired just a couple games into the season. The idea of he and the Cavs parting ways at season's end felt beyond predictable.
It doesn't quite feel that way now.
Cleveland has looked like a different team since the All-Star break, something for which Drew deserves his fair share of credit. So much so that the Cavs may be having second thoughts about searching for a new coach at season's end.
To be fair, Cleveland has in no way transformed into a playoff contender. The team still owns the third-worst record in the NBA. The roster is still a bit misshapen. The focus of the year remains on getting the best lottery pick possible.
That said, you can't ignore the fact the Cavs look significantly improved when compared to how bleak things were in January.
Wins are coming far more frequently, as Cleveland is taking the court with much more confidence. Young players like Cedi Osman and rookie Collin Sexton appear to be developing right before our eyes. Instead of getting ripped to shreds by playoff-bound teams, the Cavs are often putting up a solid fight until the final buzzer.
Knowing this, and knowing the hell Cleveland endured before getting to this point, how can you not begin to wonder if Drew is the right fit for this team moving forward?
The Cavs had every right to tuck their tail in when this season became a lost cause (i.e. November). Players were dropping like flies, fans started cheering for blowout losses. By January, Sexton's rookie campaign looked like a disaster, as he was struggling miserably on both sides of the court.
Instead of rolling over, Cleveland is instead playing some of its most inspired basketball of the year. While there are many factors to this, Drew's coaching is playing a big role. Getting these players to look this motivated is surely no easy feat, especially considering the mess they've all slogged through.
Of course, if the Cavs really were open to retaining Drew beyond this year, there are a couple hurdles they'll need to deal with.
For one, Drew got off to a rocky start with the front office this year. The team announced he'd be taking over for Lue, and then asked him if he'd be up for doing so. The two parties got into a lengthy salary dispute, as Drew wouldn't accept an interim role until he felt he was fairly compensated.
On top of this, word was the Cavs were already doing their research on coaching hires just a few months into the year, further indicating Drew was nothing more than a temporary fix.
Toss in this column's opening quote, with the Drew insisting this season may have forever turned him off on the concept of being a head coach, and you can see how this wouldn't be as easy as Cleveland offering him a new deal.
Despite this, you could argue the team still needs to keep an open mind with him as opposed to sending him off when the season ends. The Cavs appeared completely derailed just a couple months ago, with signs of hope appearing to be nonexistent.
In the time since, Drew has coached them up to play competitively despite there being nothing to actually play for. Under his watch, Sexton has begun to turn the corner despite starting his pro career looking lost in the woods. While Cleveland's rebuild still has a long way to go, things are looking far more promising than what we saw during its last attempt to survive life without LeBron James.
It's because of this, because of his ability to keep the Cavs afloat during an injury-plagued, LeBron-less and at times absolutely woeful campaign, that Drew may have earned himself a serious look as this team's full-time head coach.
The front office can start its work by convincing him not to completely walk away from the concept of coaching again.

NEO Sports Insiders Newsletter
Sign up to receive our NEOSI newsletter, and keep up to date with all the latest Cleveland sports news.