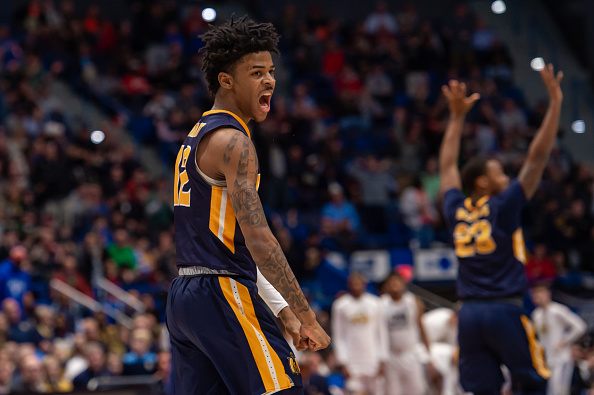 As fun as it's been to see the Cleveland Cavaliers finish a rough season in such entertaining fashion, fans are still understandably focused on the upcoming draft lottery. The current roster is showing glimmers of hope, but Cleveland still needs another top-tier rookie to help speed up this rebuild.
Who said rookie will be depends on how high Cleveland lands in the lottery. While netting the top pick would likely lead to the Cavs drafting Duke superstar Zion Williamson, things get interesting if they land at second or third overall.
Frankly, should it come to that, Cleveland would be wise to consider Murray State's Ja Morant. While the team is already a year removed from drafting a starting point guard, Morant might still be the best fit moving forward.
On the surface, such a strategy sounds counterintuitive. Why draft Morant when you just selected Collin Sexton last summer? Taking a player in the same position one year later could understandably open Cleveland up to criticism.
Said critique can be defended with two counterpoints. First, Sexton may be better served moving over to shooting guard.
While he's spent the entire season playing at the point, Sexton's score-first mentality has left many within the organization wondering if that's truly the best position for him. He's been making progress lately when it comes to getting teammates involved. Still, averaging just 2.9 assists per game, it's clear Sexton's court vision may not be best suited for a point guard.
The second reason Morant would be a fit in Cleveland is far simpler – he's extremely good.
You could call this a prisoner of the moment statement considering it's coming one day after he recorded the ninth triple-double in NCAA tournament history against Marquette. However, doing so would be ignoring the season he's had at Murray State.
Not only has Morant proven to be one of the best scorers in college basketball, he may also be the best play-maker in the nation. He averaged an astounding 10.0 assists per game this season, which pairs quite nicely with the 24.4 PPG he logged this year. He's essentially an opposing defense's worst nightmare, as he has a genuine ability to burn you no matter what look you throw his way.
If the Cavs truly do believe Sexton is playing out of position at point guard, it would make perfect sense to pair him with Morant, a player who can thrive with or without the ball.
This isn't meant to disparage Sexton, who has been putting more effort towards creating looks for his teammates. Still, he thrives as a score-first guard. Establishing a backcourt with two guards who need the ball to excel could create issues for Cleveland.
To instead pair him with Morant, who takes pride in his ability to set his teammates up, seems like a much more ideal situation for the Cavs.
Ja Morant (@igotgame_12) was asked what part of his triple-double made him most proud. He said, "The 16 assists. That's one of my favorite things to do. Just to see smiles on my teammates faces and being able to make plays and build their confidence." pic.twitter.com/dx7fMXRzt6

— Michael Scotto (@MikeAScotto) March 21, 2019
It appears the team's front office feels the same way, considering how much time and effort has been put into scouting Morant in person this season.
All that said, Morant doesn't come without his fair share of concerns.
While the tournament provides a great opportunity for him to prove he can put up the same numbers against stronger competition, his size could become an issue in the pros. Weighing 175 lbs, Morant may spend his first season in the NBA getting bullied by stronger guards on defense. Considering the fact Sexton is already dealing with the same problem, pairing them together could create some growing pains on that side of the court.
Additionally, Morant's freewheeling passing style leaves him susceptible to turnovers. He had seven in yesterday's tournament game, and logged 168 total on the year.
Despite this, Morant is still seen as a clear top three pick in this summer's draft, as the good aspects of his game far outweigh the bad.
As for the Cavs, the goal remains to land no lower than the third overall pick. With Morant, Williamson and RJ Barrett representing the three best prospects entering the draft, Cleveland can come out a winner if it's in a place to nab any one of them.
Still, if given the opportunity to choose, don't be shocked if the Cavs lean towards Morant. While some may see him as repetitive playing next to Sexton, we're seeing plenty of proof he'd instead be a perfect complement.

NEO Sports Insiders Newsletter
Sign up to receive our NEOSI newsletter, and keep up to date with all the latest Cleveland sports news.