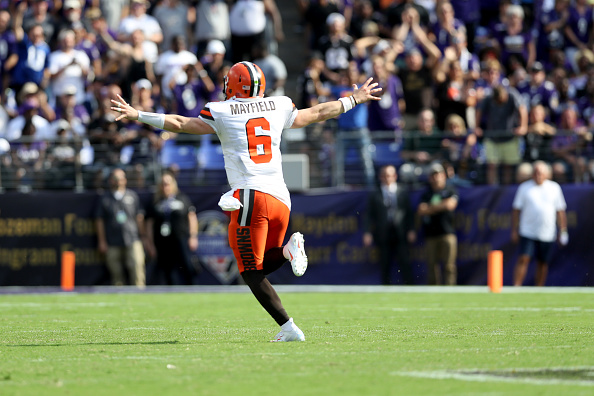 It goes without saying the past week has been a tumultuous one for the Cleveland Browns.
What happened? Oh, nothing crazy. Just a team facing nationwide doubt, led by a rookie coach everyone determined was in over his head and a quarterback whose talent was suddenly in question.
Outside of that, the past seven days have been pretty quiet in Cleveland.
As a result of this drama, the Browns' match-up against the division-leading Baltimore Ravens was much bigger than your usual Week 4 contest. It goes without saying the end result of said game may have saved their season.
Sure, that feels a bit dramatic. However, considering the talk outside of Cleveland, said statement really doesn't feel like a stretch.
The Browns had opened a much-anticipated season with a 1-2 record. Their one win was against the lifeless New York Jets, and wasn't exactly as dominant as you'd expect. Their two losses were a 30-point beat-down in the home opener and a tight loss to the Los Angeles Rams which created several question marks.
More specifically, rookie coach Freddie Kitchens suddenly found himself under fire. His questionable play-calls against the Rams had many already suggesting he hand the keys to the offense over to Todd Monken. Critics began wondering if he was the right man for the job.
On top of this, doubt was beginning to creep up around Browns quarterback Baker Mayfield.
Once seen as the franchise quarterback Cleveland had been seeking for the last two decades, Mayfield's play through the first three games of the year had many deciding he actually wasn't as talented as we thought. He was looking unsure in the pocket, overthinking passes and missing reads. Calling him "overrated" suddenly became a popular take.
So, yes, the Browns had a lot to deal with heading into this week's game. That said contest took place at Baltimore against a Ravens team everyone tabbed as the favorite to win the AFC North hardly made the match-up a favorable one.
It also made the end result that much more surprising.
Despite the drama, despite the doubt, despite the unlikely odds, Cleveland came into Maryland and thumped the Ravens 40-25. A garbage time touchdown made this look a whole lot closer than it really was.
Mayfield, who spent the week under the microscope, threw for 342 yards on 20-of-30 passing.
Kitchens, who dealt with questions about his ability to get the job done, simplified the Browns' offense and focused on running back Nick Chubb. He rewarded his coach with 165 yards and three touchdowns on 20 carries.
The offense ended up collecting 530 yards. The defense forced three turnovers against a potent Ravens attack.
All in all, it was the kind of game you'd never expect from Cleveland after the noise we heard over the past week.
It's also the kind of game which prevented this season from careening off the rails.
Sure, today's result makes the hot take tsunami we dealt with all week seem like a massive overreaction. That said, had the Browns come up short again, things only would've gotten worse.
The criticism would've reached deafening volumes. Kitchens would be hit with more questions about his ability to handle the task at hand. Mayfield would've faced yet another round of scrutiny. The team, in general, would deal with another week of being asked if it was truly ready to handle the spotlight.
It sounds trivial, like something the Browns should just be able to tune out. That said, it's also the kind of thing that can eat at a locker room. Players can only fend off doubt and frustration for so long, and a 1-3 start to a much-hyped season wouldn't have helped the cause. It's easy to see how a loss to the Ravens could've been a tipping point for Cleveland.
Instead, the Browns finally got the confidence-inducing win they so badly needed. They outplayed a team many thought would manhandle them. The offense ran wild after spending three straight weeks stuck in the mud.
Most importantly, Cleveland leaves Week 4 with a share of first place in the AFC North.
No, divisions aren't won in September. However, you can argue seasons can be saved that early.
A Cleveland loss today could've sent this team reeling. A victory, and a sound one at that, may be the spark this team has been desperately seeking for the past month.

NEO Sports Insiders Newsletter
Sign up to receive our NEOSI newsletter, and keep up to date with all the latest Cleveland sports news.