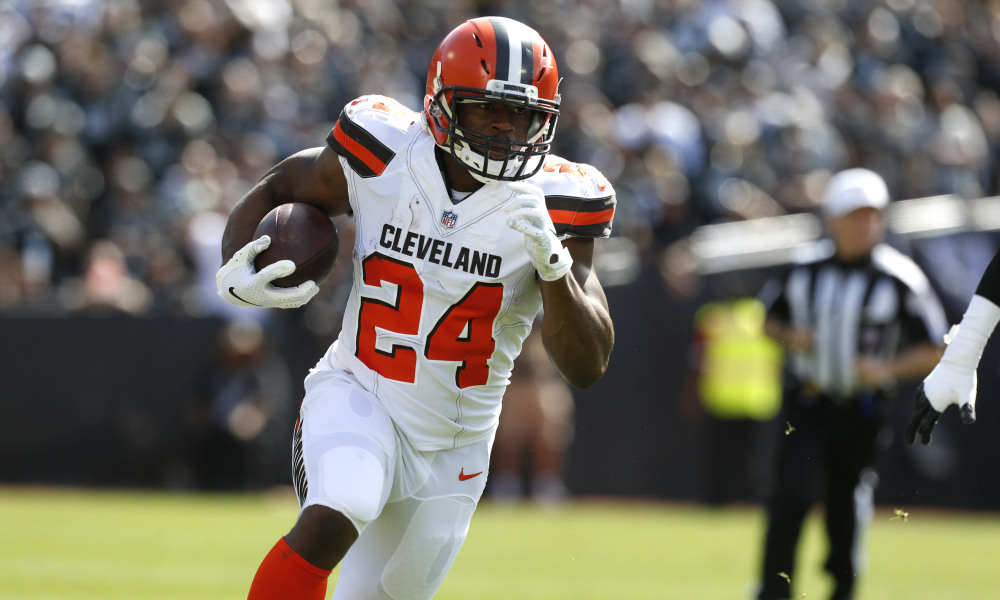 A week removed from an infuriating loss to the Rams on the Sunday Night Football spotlight that left quarterback Baker Mayfield and first year head coach Freddie Kitchens getting dragged through the mud throughout the week, the Browns responded with a statement win over the Ravens 40-25.
It's the franchise's first win in Baltimore in four years and it comes with huge implications as we reach the quarter pole of the season.
The Browns banged up secondary once again impressed against yet another offense with high scoring potential. Meanwhile, at long last Kitchens offense showcased its own explosive identity thanks in large part to the efforts of Nick Chubb. It was a glorious Sunday for Browns fans to say the least.
Here are five takeaways from the Browns big win over Baltimore…
1) Don't look now…
But your highly criticized, overrated Cleveland Browns are in first place atop the AFC North. That's what a win over Baltimore means today. Despite all the drama and distractions that have surrounded this team through the first three weeks of the season off the field, despite the struggles of both Mayfield and Kitchens, despite coming up woefully short of the expectations set on them before the season so far, here the Browns sit in first place for the division. The Browns have earned a week of praise instead of criticism but as they found out that people will turn on you again real quick. There's no time to rest on their laurels as they remain in the middle of the toughest portion of the schedule.
2) Good things happen when you give the ball to Nick Chubb
At long last, Kitchens started relying more on one of his best weapons in Nick Chubb coming out of the backfield. AFC North matchups tend to be physical and there's nothing more grueling than pounding the rock 20 times to the beat of 167 yards and THREE touchdowns. Yes that ridiculous stat line belonged to Chubb today, highlighted by an 88-yard touchdown run in the fourth quarter to answer a Ravens touchdown just minutes earlier (rewatch below). Along with his 92-yard TD run last year, Chubb is now the owner of the longest and third longest TD rushes in franchise history. It goes without saying that it was his best outing of the season and as it was his first career three-touchdown performance. . The Browns offense hasn't had much of an identify through the first three games of the season but it became pretty obvious in this one that it has to involve Chubb. Hopefully Kitchens took note.
To.
The.
House.@NickChubb21, everybody. pic.twitter.com/RCeJGdSsaX

— Cleveland Browns (@Browns) September 29, 2019
2) Defensive Domination
No Denzel Ward. No Greedy Williams. But the Browns defense is doing just fine. For the second straight week the Browns began a game with a depleted starting secondary (only Damarious Randall returned) and for a second consecutive week they held their own against what is considered one of the NFL's top offenses. For all the ranting and raving about Lamar Jackson (and it was warranted) the Browns defense held him to 24-of-34 passing, for 247 yards and three TDs, one of which came in garbage time so it only kind of counts. The Browns also handed him his first interception of the season after 249 consecutive passes without one. That honor went to Jermaine Whitehead who made a terrific play going over Mark Andrews to grab it. One drive later it was Whitehead forcing a second interception as he got some pressure on Jackson and forced a bad throw into the hands of DT Devaroe Lawrence and that was on top of forcing a Mark Ingram fumble earlier in the game. Whitehead had himself a day as part of that makeshift secondary. Jackson did run for 66 yards but that's sort of just the nature of the beast when it comes to him. He's going to get loose occasionally. But they also sacked him four times – the most against the Ravens in a game this season. Major props for Steve Wilkes for putting together another impeccable game plan for another great team, with a banged up defense nonetheless.
Jermaine Whitehead with the INT❗️ pic.twitter.com/lO6UdjEnke

— Cleveland Browns (@Browns) September 29, 2019
3) Best drive of the season
13 plays. 84 yards. 8:31 off the clock. The Browns second possession of the game was easily their best drive of the season. Starting on their own 16, Mayfield hooked up with Landry for a 16-yard gain right off the bat. He'd go on to complete seven of his nine pass attempts on the drive, including a drive high 19-yard pass to Donrell Hillard. He finished it off beautifully with a nine-yard TD pass to Ricky Seals-Jones who broke free off to the left and walked into the end zone. Keeping the ball out of Jackson's hands for eight minutes is never a bad thing so to put together a scoring drive that took more than eight minutes off the clock was just what the doctor ordered. It was the latest example of the Browns offense showing how special it can be, and yet, they haven't been able to maintain it consistently.
4) Jarvis and Ricky
No that's not the name of a new sitcom coming to network television. I'm simply talking about Jarvis Landry and Ricky Seels-Jones, who aside from Chubb and his herculean effort, were also key contributors to the Browns offensive success. For Landry, how bout a casual eight receptions for a career high 167 yards. It was his breakout game of the season after a few games where his bff Odell Beckham Jr. was the focal point of the offense. (OBJ finished with a career-low two receptions). And who knows how many more yards Landry may have had if he hadn't exited to be evaluated for concussion in the second half. Seels-Jones, meanwhile has made the David Njoku wrist injury a little easier to process. He and Mayfield have developed some obvious chemistry and it showed today as Mayfield hit Seels-Jones for the first touchdown of the game and a couple nice chunk plays after that. He finished with three catches for 82 yards and the score.

NEO Sports Insiders Newsletter
Sign up to receive our NEOSI newsletter, and keep up to date with all the latest Cleveland sports news.