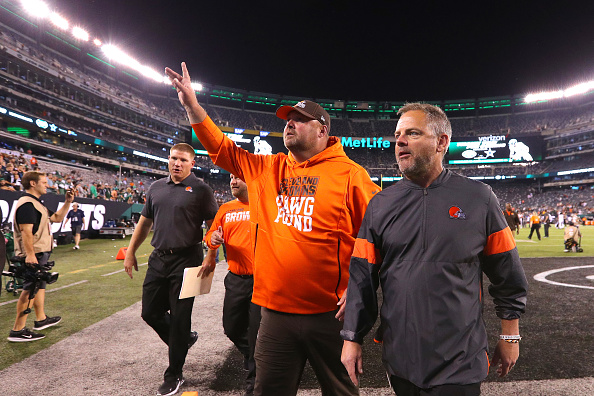 Let's start off with the most important thing – the Cleveland Browns notched their first victory of the season.
One week after getting embarrassed in the season opener and facing a short-handed New York Jets squad, Cleveland was able to win decisively with no unneeded drama. Considering the fact the team's next five opponents are a combined 10-0, a victory against New York was badly needed to ensure this season didn't get off to an ugly start.
With that said, the Browns' victory didn't come without question marks, particularly surrounding Freddie Kitchens. Despite bringing home his first victory as a head coach, Kitchens didn't exactly inspire a ton of confidence during his team's 23-3 win.
Let's rewind things to last season for a sec.
The Browns, having fallen to 2-5-1, ousted both head coach Hue Jackson and offensive coordinator Todd Haley. They appeared to have found a potential franchise quarterback in then-rookie Baker Mayfield, but he had been taking a beating behind a suspect offensive line, and was also struggling to maintain any rhythm on the field.
However, said problems were solved when Kitchens was handed the reins on offense. He developed a quick-strike attack which not only kept Mayfield upright more often than not, it also helped ignite Cleveland's season. His impact during the final eight games of the year essentially helped him earn the head coaching job at season's end.
Remembering this helps explain why the first couple games of the year have been, well, very confusing for Cleveland. The fast and efficient attack Kitchens made his name on hasn't really made an appearance yet. What we've instead seen is an offense which, for the most part, has looked slow and muddled.
Sure, the victory over the Jets featured a few memorable moments, such as Nick Chubb's second quarter touchdown rumble and Odell Beckham Jr. making his presence known with an 89-yard sprint to the end zone. Outside of that, though, far too many plays felt either over-complicated or unnecessary.
On more than one occasion, the Browns faced a third and short situation. Instead of handing it to Chubb or trying a quick route, Cleveland tried to get too cute, running failed pass plays which either resulted in no gain or Mayfield getting sacked.
It seemed to be the theme of the night. Kitchens chose against using a hurried scheme, instead drawing up numerous long-developing plays which showed little to no creativity. The entire offensive approach made it feel as though the Browns were just feeling their opponent out for four straight quarters.
The end result was a Cleveland team which struggled to find any consistency all night long.
Mayfield had his share of great throws, but also looked very unsettled and uncomfortable on multiple occasions throughout the game. At times, it was exactly what we saw from him in the first half of last season – flashes of brilliance mixed with ill-timed hesitation.
What made it feel so odd was the simple fact this approach was what Kitchens tossed aside when he took over as offensive coordinator last year. He revived the offense by ditching lengthy plays in order to both quicken the pace and ensure the offensive line didn't need to hold their blocks for too long.
Yet, those same concepts Kitchens ousted last year have been on display in both games to start this season.
Also questionable was Kitchens' decision-making late in the game.
Beckham's touchdown essentially secured a victory for Cleveland. Despite that, he still had Mayfield dropping back for deep passes all the way down to the two minute warning. Considering the fact QBs are dropping like flies across the league, you had to wonder why Kitchens would risk having Mayfield take on unnecessary damage.
I don't want to gripe too much about the Browns' first victory of the season. The team needed to erase the memories of last week's debacle, and it did just that.
Still, Kitchens' approach so far this season has been questionable to say the least. It may have worked out fine against a badly undermanned Jets squad, but it's tough to believe it'll generate the same results next week when Cleveland hosts the NFC Champion Los Angeles Rams.
The Browns came to life in 2018 when Kitchens broke out his speedy and efficient offense. As a result, it's all the more confusing to see him ditch said attack and resort to the same approach which kept Cleveland in the mud for so long last year.

NEO Sports Insiders Newsletter
Sign up to receive our NEOSI newsletter, and keep up to date with all the latest Cleveland sports news.