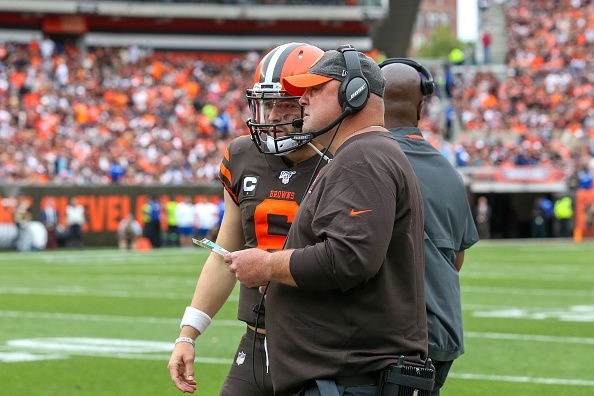 After the Cleveland Browns' dud of a season opener, quarterback Baker Mayfield made a comment which seemed like a bit of an overreaction.
"Everybody's going to throw us in the trash."
I remember thinking that sentiment felt a bit extreme, as if it were another example of Mayfield creating an enemy in his mind to keep him motivated. After all, would people really be that quick to determine the Browns were suddenly a bad team after all the hype leading into the season?
Turns out, he was right. Thanks to Cleveland's 1-2 start to the year, we've been hit with a tsunami of hot takes which has gotten out of control.
To be fair, the Browns haven't exactly looked like world-beaters yet. The team has been disjointed, especially on offense. Mayfield, in particular, has struggled with consistency. Meanwhile, rookie coach Freddie Kitchens has looked overwhelmed on more than one occasion.
So, yes, it's fair to be a little concerned about how Cleveland has played so far.
If only "a little concern" was what we were hearing. Instead of that, we're getting a good amount of people insisting that, actually, the Browns were extremely over-hyped.
Yes, three games is apparently enough evidence for everyone to determine the fanfare was unnecessary, that Cleveland isn't as good as we thought, that the team was wrongly glorified.
No, the product on the field hasn't lived up to the entire offseason of increased expectations. The Browns have their warts, and they've been on full display.
There's a difference, though, between saying "they've gotten off to a rough start" and "looks like they're actually terrible." To assume such a take can be proven true after just three games feels extreme, to say the least.
Speaking of extreme takes after three games, apparently Mayfield is one of the biggest reasons the Browns were wrongly celebrated over the offseason. After all, he's overrated now.
Rex Ryan called Baker Mayfield "overrated as hell" and @PatMcAfeeShow is BAFFLED! pic.twitter.com/M9pdoS6pRW

— Get Up (@GetUpESPN) September 23, 2019
Again, Mayfield has looked less than comfortable this season. He's been antsy in the pocket, dealing with a severe case of happy feet. Overall, he hasn't played like the quarterback who was just barely edged out of winning Rookie of the Year last season.
At the same time, we're really determining three games is enough proof that he shouldn't have even been nominated for the award? It's enough to forget the fact he set a rookie passing record in just 14.5 games last year?
Apparently it is, especially since Mayfield spent all summer bragging about the Browns, am I right?
You know why Rex Ryan called him overrated? Because Baker wouldn't shut up all offseason about how great he/the Browns were going to be. He brought more attention and expectations to himself and the team. If he laid low, and started slow, Rex wouldn't have made that comment https://t.co/mYeuhHFZ8r

— Geoff Schwartz (@geoffschwartz) September 25, 2019
For the record, that never happened. There was a ton of hype, no denying that. The bulk of it, though, was created outside of the team facility.
More importantly, Mayfield didn't spend all offseason claiming the Browns would "be great." If anything, he insisted he and his teammates were tuning out the noise.
Sure, there were a lot of fans/media saying the Browns would be great.

I don't once recall Baker, Freddie or OBJ saying that they'd be great.

John Dorsey: "Don't believe the hype." https://t.co/Wr1J1dumUQ

— Hayden Grove (@H_Grove) September 26, 2019
The reality is Mayfield has been spot on with how the outside world would react to Cleveland's start to the year. Everyone has rushed to throw out hot takes based on three games' worth of work, suddenly determining the Browns not only aren't any good, and they also deserve such a fate because their quarterback was leading the hype parade all summer long.
Again, I'm not here to tell you Cleveland is actually great, that the team is about to prove all the offseason attention was deserved. We have no idea if that's going to happen.
What I will say is three games is hardly enough evidence that the Browns were over-hyped, or that certain players aren't as talented as we thought they were. This is especially true when you consider Cleveland is working with new additions and expectations, while being led by someone with three games of head coaching experience.
Have the Browns been a great team this year? Not yet. Do we know enough to prove they can't live up to their new life in spotlight, that their quarterback is overrated? Not even a little bit.
All we really know is takes like these make for great click-bait. You don't need more than three games for proof of that.

NEO Sports Insiders Newsletter
Sign up to receive our NEOSI newsletter, and keep up to date with all the latest Cleveland sports news.