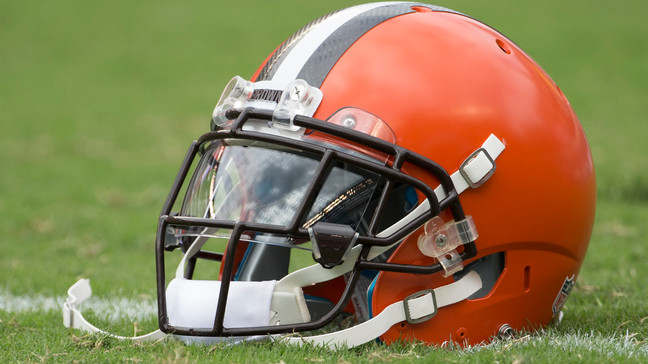 Deshaun Watson will be the Browns QB on December 4th versus the Houston Texans. GM Andrew Berry confirmed that this week, stating that Watson will begin practicing on November 14th. Watson's record-breaking salary unequivocally means he is their QB when the Browns travel to Houston in Week 13.
The 3 Game Schedule Before Watson Returns
After the bye this Sunday, the Browns play at Miami, at Buffalo, and at home versus Tampa. That represents three tough opponents on consecutive Sundays. Even the most biased and loyal Browns fan would be hard pressed to confidently predict three straight wins.
Buffalo will be a strong favorite over the Browns. Miami will also be favored. Realistically, the Browns will probably finish either 2-1, or 1-2 over this 3-game stretch.
While many were calling the Bengals game a must win, the upcoming Miami game is absolutely another must win.
So, prior to Watson returning, the Browns realistically will be either 5-6, or 4-7. That is a reasonable and fair assumption.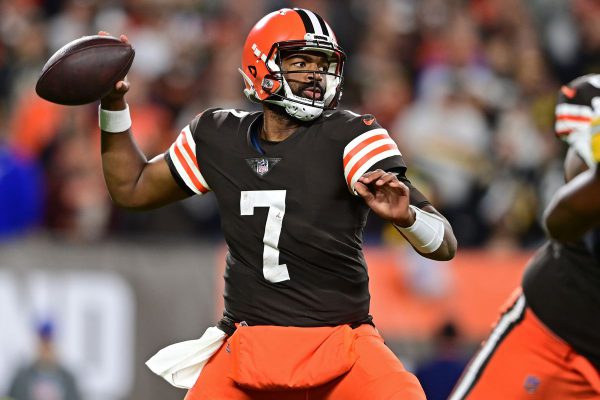 The 6 Game Schedule After Watson Returns
The Browns play Houston, Cincinnati, Baltimore, New Orleans, Washington, and Pittsburgh – in that order. Only the Baltimore and Saints games are in Cleveland.
Current standings and respective records indicate that Houston and New Orleans are very winnable games. In fact, you could not ask for a weaker opponent for an obviously rusty Watson to break in against than Houston. That does discount the fact that Watson previously played in Houston and left on very poor terms. The Texans might have some extra emotion on their side.
It is improbable that Watson leads the Browns and "runs the table" to finish 6-0. He has not played in an NFL game since his Texans lost to the Tennessee Titans 41-38 on January 3, 2021. That is a full 23 months between live game NFL competition.
Watson's stats in that loss:  28 of 39 for 365 yards and 3 TDs with 1 interception. A pretty darn good day for any NFL QB, albeit in a lost game.
Can Watson knock off the rust and lead the Browns to a 5-1 record? Yes, that is doable. A 4-2 finish is more likely.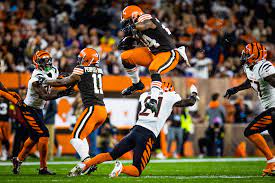 Season End Prediction
A 2-1 record before Watson plays, and a 4-2 record after his return, adds up to an overall season record of 9-8. That is a 6-3 finish, after the current 3-5 start. Unfortunately, that probably means no playoffs.
From a pessimistic viewpoint, a case can be made for a 7-10 record for this season. Certainly, 8-9 is very plausible.
Fans that are super energized from the Bengals beat down last Monday night might envision a 10-7 record, which could earn a playoff spot. The defense just played its best game, and that is encouraging.
Winning 8 out of 9 games, and finishing 11-6, would absolutely ensure earning the playoffs, and very well an AFC Central Division first place finish. Although possible, that would entail the defense continuing to improve, along with a very productive Watson, showing little effect from his long downtime.
It is hard to write this, but I think an 8-9 or 9-8 record is likely, barring a melt down or unexpected winning streak of games.
Not achieving a current record of either 5-3, or 4/4, is the overriding fact. Very winnable games that were lost to the Jets, Falcons, and Chargers can't be simply wiped away and dismissed.
A Longer View
What did management and ownership envision upon signing Watson, and knowing some suspension was forthcoming? We can only speculate, but it is pretty safe to assume that they weren't planning on an 11-game suspension. The team was put together to win in 2022 and compete deep into the playoffs.
Watson is contractually tied to the Browns through the 2026 season. The team has plenty of youth and talent to compete in the next 4 seasons. Their window to win a Super Bowl will remain open, even with Watson's salary making future moves financially restrictive.
Given the summer training camp optimism, the 3-5 current record through 8 games, and analyzing the next 9 games, a 2022 season record of 9-8 would be disappointing. It won't be worse than that, will it?

NEO Sports Insiders Newsletter
Sign up to receive our NEOSI newsletter, and keep up to date with all the latest Cleveland sports news.