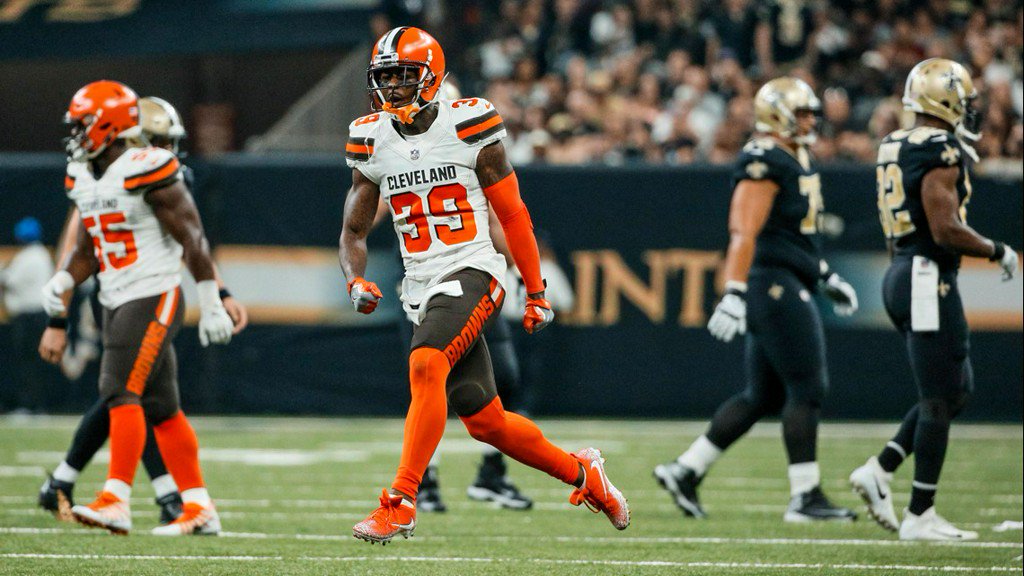 It has been a great couple of weeks for Terrance Mitchell.  He returned from what some believed to be a season ending injury to play last week in the Browns big 26-20 victory over the Carolina Panthers.  Now, just two days later, he has been named the 2018 Ed Block Courage Award winner.
Per the Cleveland Browns press release earlier today, they state "Cleveland Browns DB Terrance Mitchell has been selected by his teammates to receive the 2018 Ed Block Courage Award. The Ed Block Courage Award is given annually to a member of each of the 32 NFL teams who exemplifies the qualities of Ed Block, the former head athletic trainer of the Baltimore Colts, based on courage, compassion, commitment and community. "
Mitchell will be a key part of the Browns secondary moving forward as they look to end the season strong, including this coming weekend at Denver.  The Browns have not won in the Mile High city since 1990.  Bud Carson was in his second and last season as the Cleveland Browns head coach.
Past winners include
1984 WR Willis Adams
1985 DE Carl Hairston
1986 TE Ozzie Newsome
1987 RB Earnest Byner
1988 LB Eddie Johnson
1989 T Cody Risien
1990 RB Kevin Mack
1991 CB Mark Harper
1992 WR Lawyer Tillman
1993 WR Patrick Rowe
1994 LB Carl Banks
1995 DB Bennie Thompson
1999 DE Derrick Alexander
2000 LB Jamir Miller
2001 OG Jeremy McKinney
2002 TE Mark Campbell
2003 DL Courtney Brown
2004 RB Lee Suggs
2005 LB Kenard Lang
2006 K Phil Dawson
2007 DB Gary Baxter
2008 WR Joe Jurevicius
2009 WR Mike Furrey
2010 LB Eric Barton
2011 LB D'Qwell Jackson
2012 P Reggie Hodges
2013 DB T.J. Ward
2014 DL Desmond Bryant
2015 OL Alex Mack
2016 DB Joe Haden
2017 OL Kevin Zeitler