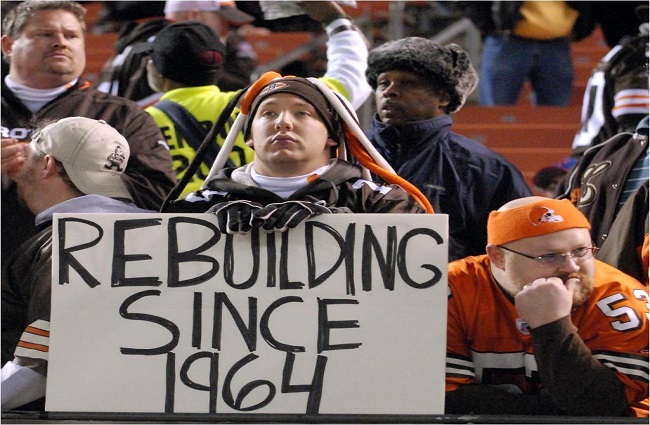 Browns fans can handle their team being the butt of the joke. A 1-31 record over the last two seasons, combined with more than a decade of dysfunction has made that the norm. And yet, through these dark times, Browns fans — perhaps to a fault — pride themselves on their unwavering loyalty to the franchise, so much so that Cleveland is still largely considered a "football town," first and foremost.
That immovable passion, however, wasn't enough to boost Browns fans in a recent study by Dr. Micahel Lewis of Emory University ranking the best and worst fan bases in the NFL. Using three main factors to formulate his list, including fan equity, social media equity and road equity, the Browns faithful came in as the fifth-worst fan base in the NFL on Lewis' list.
Lewis was thorough in defining each of the three metrics he used in determining his ranking. Fan equity is simply, how much money fans spend to both at the ticket office and on team branded merchandise and memorabilia. Social equity essentially measured how much fan engagement each team has over all social media platforms. And lastly, road equity was used to analyze how a team draws on the road.
Loyal as Clevelanders may consider themselves to their beloved Browns, they leave much to be desired in all three areas according to Lewis' findings. Browns fans ranked 24th in fan equity, 20th is social equity and a deplorable 31st in road equity — only the Texans were worse. For what it's worth, attendance has dropped significantly for the Browns since 2013 when the First Energy Stadium was packed regularly with an average of more than 71,000 fans. This past season, Cleveland averaged about 63,000 spectators per game, the franchise's lowest attendance since 1984.
The four fan bases that ranked below the Browns overall in Lewis's study were the Jacksonville Jaguars (29), Kansas City Chiefs (30), Los Angeles Rams (31) and Tennessee Titans (32). Conversely, it should come as no surprise that teams with massive national followings like the Dallas Cowboys, New England Patriots and Pittsburgh Steelers ranked first, second and fifth respectively. Additionally, the entire NFC East ranked in the top 10.
Here's the full list, and if you disagree with the results remember, this is just one data driven study that doesn't account for fan emotion.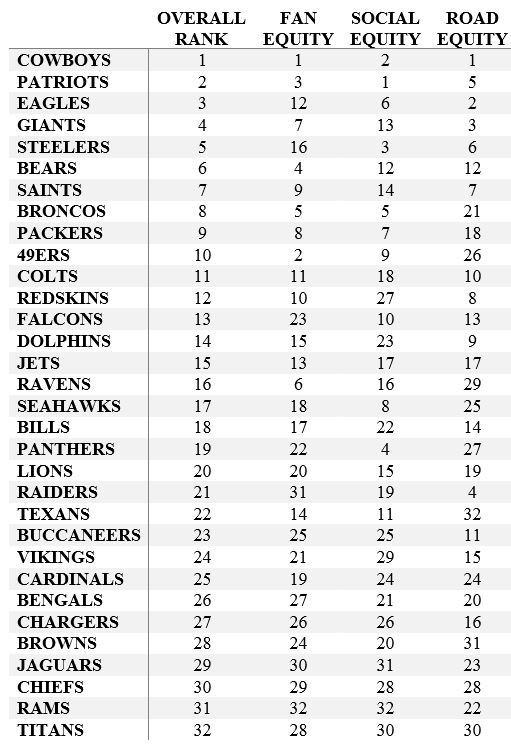 NEO Sports Insiders Newsletter
Sign up to receive our NEOSI newsletter, and keep up to date with all the latest Cleveland sports news.