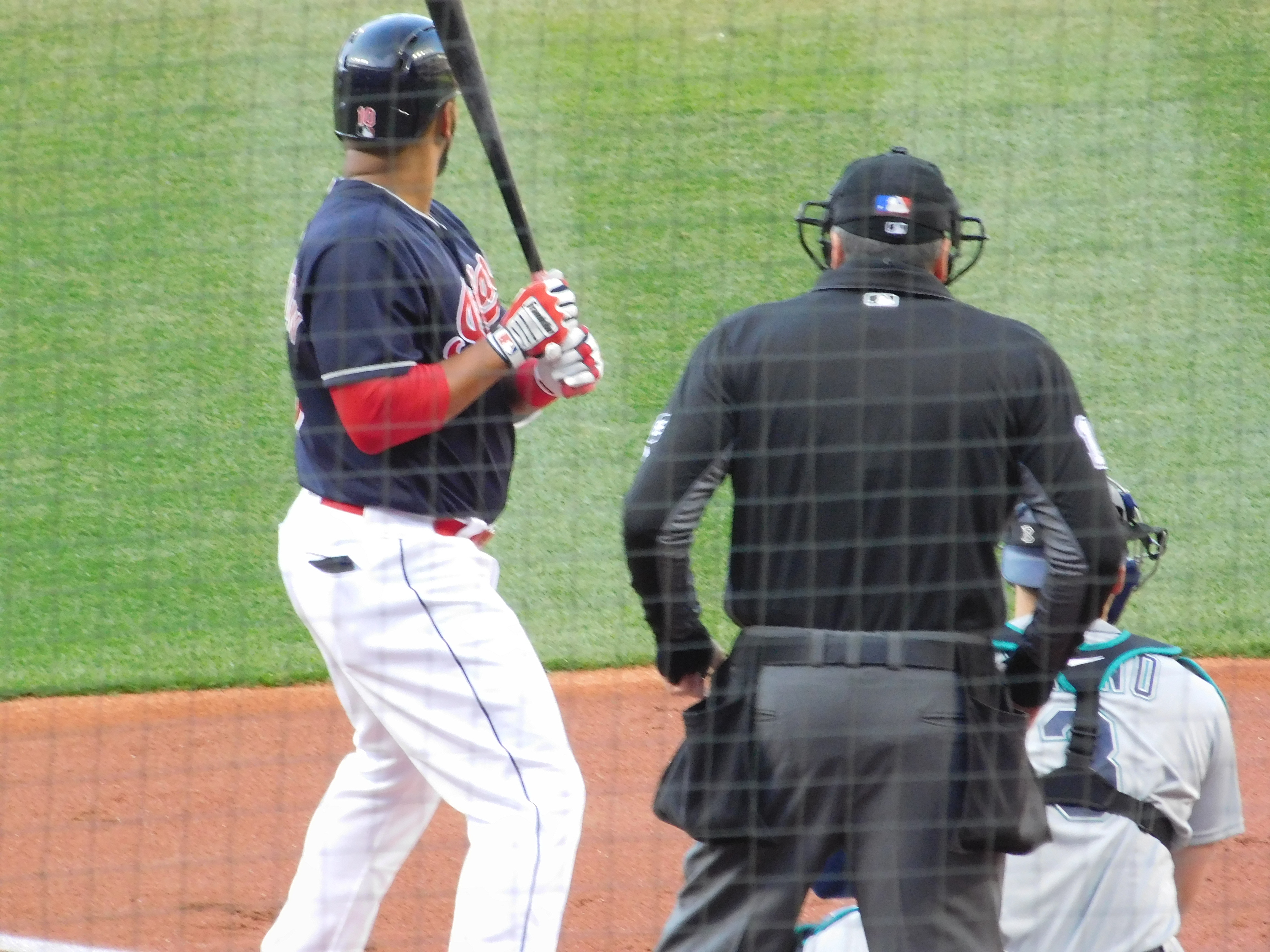 CLEVELAND– The Cleveland Indians won their third straight game as they took down the Chicago White Sox 9-6 in their Memorial Day matchup.
The team trailed the White Sox 5-1 after three and a half innings but overcame their second multi-run deficit in as many days. Adam Plutko recorded his third career win for the Indians in five innings of work.
Here are three takeaways from the win.
1. The fifth inning double that almost wasn't
The Tribe trailed 5-2 prior to the fifth inning before Edwin Encarnacion tied the game with one improbable base hit.
He headed to the plate with bases loaded and one out, when he hit an 0-1 sinker into right field. As three Chicago defenders converged on the ball, it looked like it was going to be a sure-fire out. That is, until the ball dropped right in the middle of the three of them after hitting Daniel Palka's glove.
Encarnacion made it to second base on a ball that had just a two percent hit probability, and cleared the bases in the process to tie the game at 5-5.
Hit probability: 2%

We like our odds.#RallyTogether pic.twitter.com/q77GsHUeRy

— Cleveland Indians (@Indians) May 28, 2018
The Tribe tacked on two more runs in the fifth as Yonder Alonzo recorded an RBI double and then scored on an error by second baseman Yoan Moncada to take their first lead of the game at 7-5.
"Anytime you keep pushing or get a line moving, however you want to say it, going first to third that's a good way to play," manager Terry Francona said.
The Indians also tacked on another run in the sixth inning on an RBI single from Francisco Lindor, and another in the seventh on a solo homer from Encarnacion.
And boom goes the dynamite.

Exit velocity: 106.0 mph
Launch angle: 26°
Distance: 401 ft#RallyTogether pic.twitter.com/8NrE6WYL1i

— Cleveland Indians (@Indians) May 28, 2018
2. Bullpen battles back
After Plutko gave up five runs on six hits (two of which were homers), the Indians were going to need their bullpen to hold down the fort if they wanted any chance of a comeback.
They managed to do just that as Tyler Olson, Evan Marshall, Neil Ramirez and Ben Taylor combined to finish out the final four innings allowing just five hits, one earned run, one walk and striking out six.
With all the recent struggles the bullpen has had, including in yesterday's win, Monday was certainly a positive.
"The guys in the bullpen that knew they were going to pitch, they knew they were going to pitch," Francona said. "You're always looking for positives, that's what we're here for. The guys that were down they were going to be down anyway, but it's nice to have a day where they don't pick up a baseball and hopefully you feel like you can cover a game normally."
3. Streaky Smooth
Michael Brantley extended his hit streak to 17 games in the first inning on Monday with a single to center field.
For the evening, Brantley went 1-for-4 from the plate and also drew a walk.
Over the last 17 games, he's hitting .346 (26-of-75) with five homers, 17 RBI and 16 runs scored. His hit streak is the longest by any Indians player since Jose Ramirez had an 18-game streak in the 2016 season.

NEO Sports Insiders Newsletter
Sign up to receive our NEOSI newsletter, and keep up to date with all the latest Cleveland sports news.