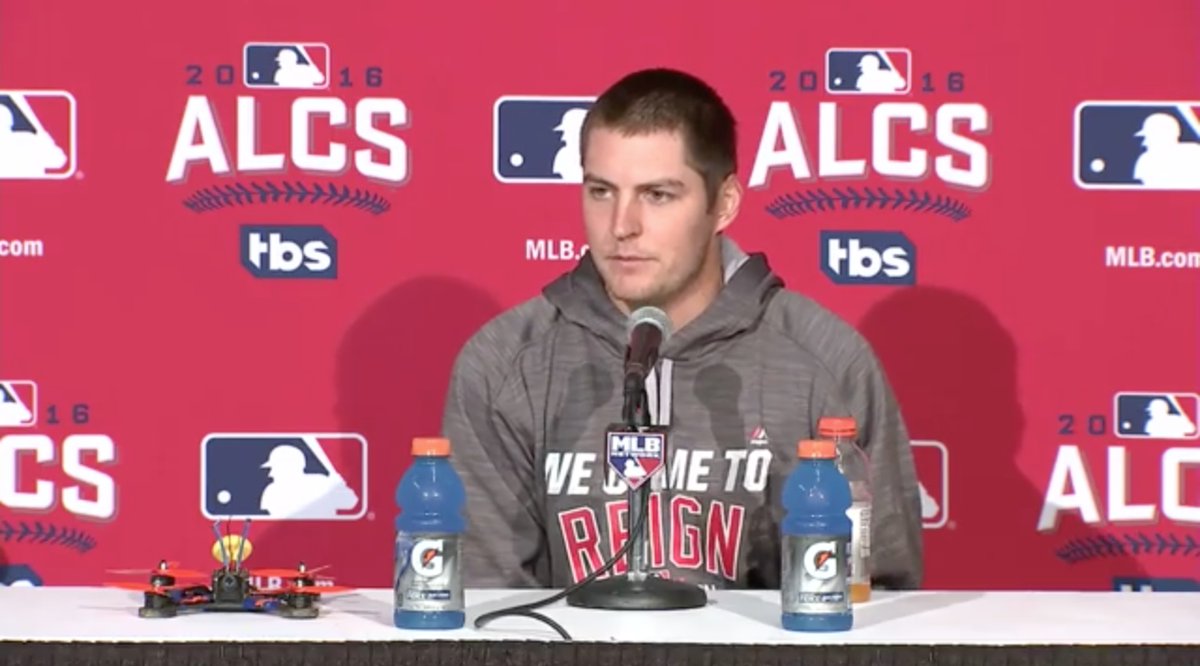 Trevor Bauer's interview with the media on Sunday was more of an expose into his life, his love of drones, and a revelation into his favorite movie franchise – 'Star Wars.'
The Indians pitcher, who was pushed back from starting on Saturday to Monday due to stitches after an incident with his drone, seemed in good spirits in Toronto on Sunday when he spoke to the media about the incident that kept him out of his home start.
"So I plugged it in, like I've done thousands and thousands of times, and for whatever reason it was sitting like this, I was plugging the battery in and my finger happened to be right here, and for whatever reason these three propellers didn't spin like they were supposed to and this one spun up at max throttle," Bauer explained.
"It never happened to me before. I have no idea why it happened. And my finger just happened to be in the way of the prop and it cut me."
Bauer went so far as to bringing a drone into the media room to show the media mass on hand not only what went wrong, but also just so the media could get a better feel of how the hobby that Bauer loves works.
The Indians pitcher received stitches after the drone mishap, but said that he's healing nicely and it shouldn't effect his start on Monday at Rogers Centre.
"It's really a non-issue," Bauer said. "I've been able to throw normally and stuff. Like I said, I'm excited for tomorrow."
The Indians pitcher had a 13-9 record and 4.40 ERA during the regular season, and threw 4.2 innings in game one of the ALDS against the Boston Red Sox, a game the Indians eventually won 5-4.
The setback of moving from game two to three didn't hurt the Indians, as Bauer got to see his teammate, Josh Tomlin, throw an excellent game as the Indians beat the Jays for the second straight day, topping them 2-1.
"That was super impressive. I think the casual fan would overlook it," Bauer said of Tomlin's efforts on Saturday.
"It's something that shouldn't be overlooked. Routine is huge for starters. Throwing your bullpen so you can stay sharp, but also just the physical preparation of knowing how your body is going to respond and be able to go out there and feel like you're a hundred percent ready to compete.
"Which is obviously even more important for playoffs, when every game is so important. He obviously wasn't able to do that."
Bauer explained a lot on Sunday about his love of drones, including how it got started, which including his favorite movie franchise – 'Star Wars.'
"I think it's a fairly well-known thing about me and I'm a big nerd. And I like "Star Wars" a lot," Bauer said.
"So in 2013 I saw a video of these drones with the LED lights on the back of them racing through the forest and it reminded me of the scene on Endor where they're driving the speeder bikes, and I said, That looks awesome, I've got to learn how to do that.
"So I started teaching myself about it, reading up about it. I was a mechanical engineering major in college, technology and physics and stuff like that has been a passion of mine my entire life. And this is just a great outlet for me to kind of get away from baseball a little bit and enjoy technology."
Bauer has always been expressive on twitter and never has been afraid to mix it up letting people in on his personal life. So Sunday when he opened the box on liking 'Star Wars,' the media right away pushed him about the famous George Lucas flicks, including answering a question about the new 'Star Wars' movie – 'Rouge One,' which is out in December.
"I'm pretty pumped for it, as I am for any "Star Wars" movie that comes out," Bauer said.
"I read the books, the offshoots and following characters and whatnot. I think it's pretty awesome they're going to expand and start developing the whole "Star Wars" universe. I'm excited for that.
"My favorite one? I don't know, "Phantom Menace" probably, just because I think Darth Maul is one of the coolest villains, double-sided lightsaber, and his theme song. I like that one for whatever reason. But I don't have a least favorite one. They're all 1A, 1B, stuff like that."
If Bauer can duplicate the efforts of Corey Kluber and Tomlin, he can bet it won't take long for the references to Bauer being the next Luke Skywalker to come rolling in.

NEO Sports Insiders Newsletter
Sign up to receive our NEOSI newsletter, and keep up to date with all the latest Cleveland sports news.