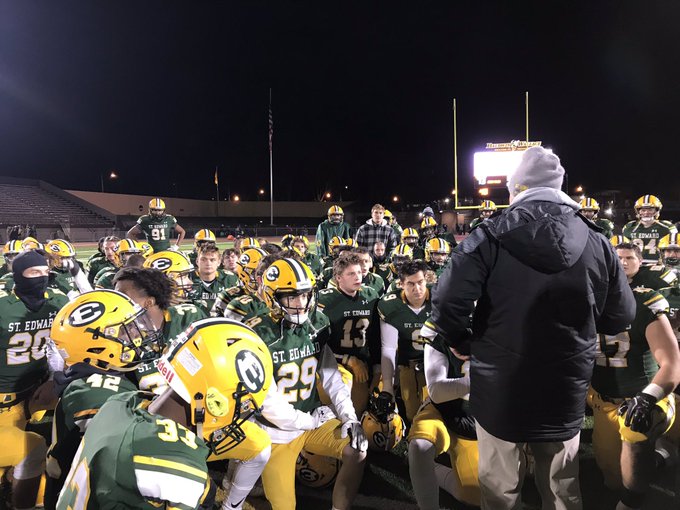 By Don DiFrancesco
BEREA, OHIO – Despite below-freezing temperatures, St. Edward and Medina put up impressive offensive numbers in week one of the 2019 OHSAA football playoffs. St.Edward finished the evening with 10 touchdowns (9 rushing, 1 passing) and rolled to a 73-38 victory at Baldwin Wallace University's Finnie Stadium.
The Eagles will face Euclid, a 28-19 winner over Massillon Jackson, as the Division 1 playoffs continue on Friday, November 15th.
On the first series of the game, Medina went 3-and-out and lined up to punt. But St. Ed rushed in and blocked the kick, and it was recovered on the Medina 1 yard line by Jeff Pietrowski. Running back Joe Formani scored on the next play to put the Eagles up 7-0 with the game barely over a minute old.
Following an interception by Medina's Jajuan Jackson, Bees quarterback Drew Allar connected on a 34-yard touchdown pass to Matt Spatny and the game was tied at 7-7.
Then things got really crazy.
St. Edward scored touchdowns on their next three possessions and had a seemingly comfortable 28-7 lead. But Medina bounced back and outscored the Eagles 17-6 in the final 6:46 of the second quarter and trailed 34-24 at the intermission.
The last touchdown of the half was a thing of beauty. On a third down play from the St. Edward 10, the Bees' Allar threw a short pass in the left flat to Jacob Nanosky who managed to stretch forward and extend the ball over the plane of the goal line while in the grasp of several Eagle defenders as the first half clock expired.
St. Edward asserted themselves in the second half, outscoring Medina 39-14 over the game's final 24 minutes.
There was a final interesting turn of events, though, with about seven minutes remaining in the game. St. Ed had just taken a 66-31 lead, so the clock was started as the Eagles lined up to kick off. Per OHSAA rules, that is the protocol when one team gains a lead of 30 points or greater.
But Medina's Jajuan Jackson returned the ensuing kickoff 95 yards for a touchdown, ending the running clock format after only 31 seconds.
St. Edward's substitute quarterback Brian Keefe scored the final touchdown of the game, pushing the margin back in excess of 30 at 73-38 with 2:43 to play. This time the running clock ushered the game to its conclusion.

NEO Sports Insiders Newsletter
Sign up to receive our NEOSI newsletter, and keep up to date with all the latest Cleveland sports news.