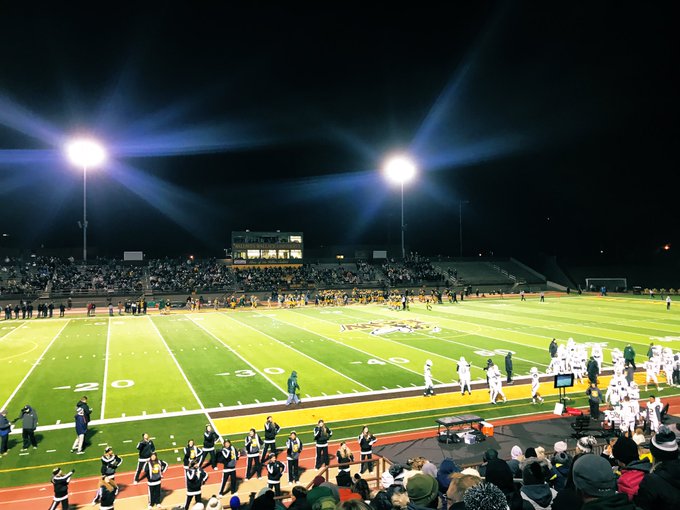 BEREA, OHIO – St. Edward made a strong opening statement in their quest for back-to-back state titles, as they disposed of Medina by a score of 73-38.
For Medina, you couldn't ask for a more disastrous start.
St. Edward blocked a punt in the opening minute, which was quickly followed by a 1-yard Joey Formani touchdown carry.
Formani, a senior and Youngstown State recruit, finished his monster evening with 25 carries for 207 yards and four touchdowns.
The Eagles would continue to build their lead, as quarterback Connor O'Malley (17-25, 198 Yards, 1 TD) would sneak in for a pair of rushing touchdowns, as well as a 19-yard strike to Montorie Foster.
Despite the 28-7 first half deficit, the Battling Bees would live up to their name and battle right back.
Sophomore Drew Allar (21-53, 347 Yds, 4 TD, 2 INT) would find Evan Story and Jake Nanosky in the second quarter to make it a 34-24 game at halftime.
Despite some adversity, St. Edward came out of the locker room on a mission.
The deadly tandem of O'Malley and Formani would shred the Medina defense for a total of 571 yards, as the game quickly got out of hand in the second half.
The Eagles allowed a season-high in points, but the offense was able to counter that with their most points scored since 2013 to earn a 73-38 victory.
Medina ends their season at 7-4, and will look to build on a solid season with standout quarterback Drew Allar at the helm.
St. Edward improves to 10-1 and will advance to face Canton McKinley (9-2) in the Region 1 semifinals.
November 8, 2019
Berea, Ohio
OHSAA
Division 1, Region 1
First-round playoff game
Medina 7 17 7 7 = 38
St. Edward 14 20 22 17 = 73
1st Quarter
SE Joe Formani, 1 run (Grant Saringer kick) [10:47]
M Matt Spatny, 34 pass from Drew Allar (Ryan Miller kick) [6:20]
SE Montorie Foster, 19 pass from Conor O'Malley (Saringer kick) [2:05]
2nd Quarter
SE O'Malley, 3 run (Saringer kick) [11:37]
SE O'Malley, 1 run (Saringer kick) [6:46]
M Evan Storey, 29 pass from Allar (Miller kick) [5:56]
M Miller, 31 field goal [2:44]
SE Formani, 1 run (kick failed) [1:24]
M Jacob Nanosky, 10 pass from Allar (Miller kick) [0:00]
3rd Quarter
SE Formani, 5 run (Formani run) [8:17]
SE O'Malley, 1 run (Saringer kick) [5:17]
M Storey, 10 pass from Allar (Miller kick) [3:51]
SE Formani, 11 run (Saringer kick) [2:50]
4th Quarter
SE Saringer, 25 field goal [8:34]
SE Malachi Watkins, 18 run (Saringer kick) [7:02]
M Jajuan Jackson, 95 kickoff return (Miller kick) [6:31]
SE Brian Keefe, 9 run (Saringer kick) [2:43]