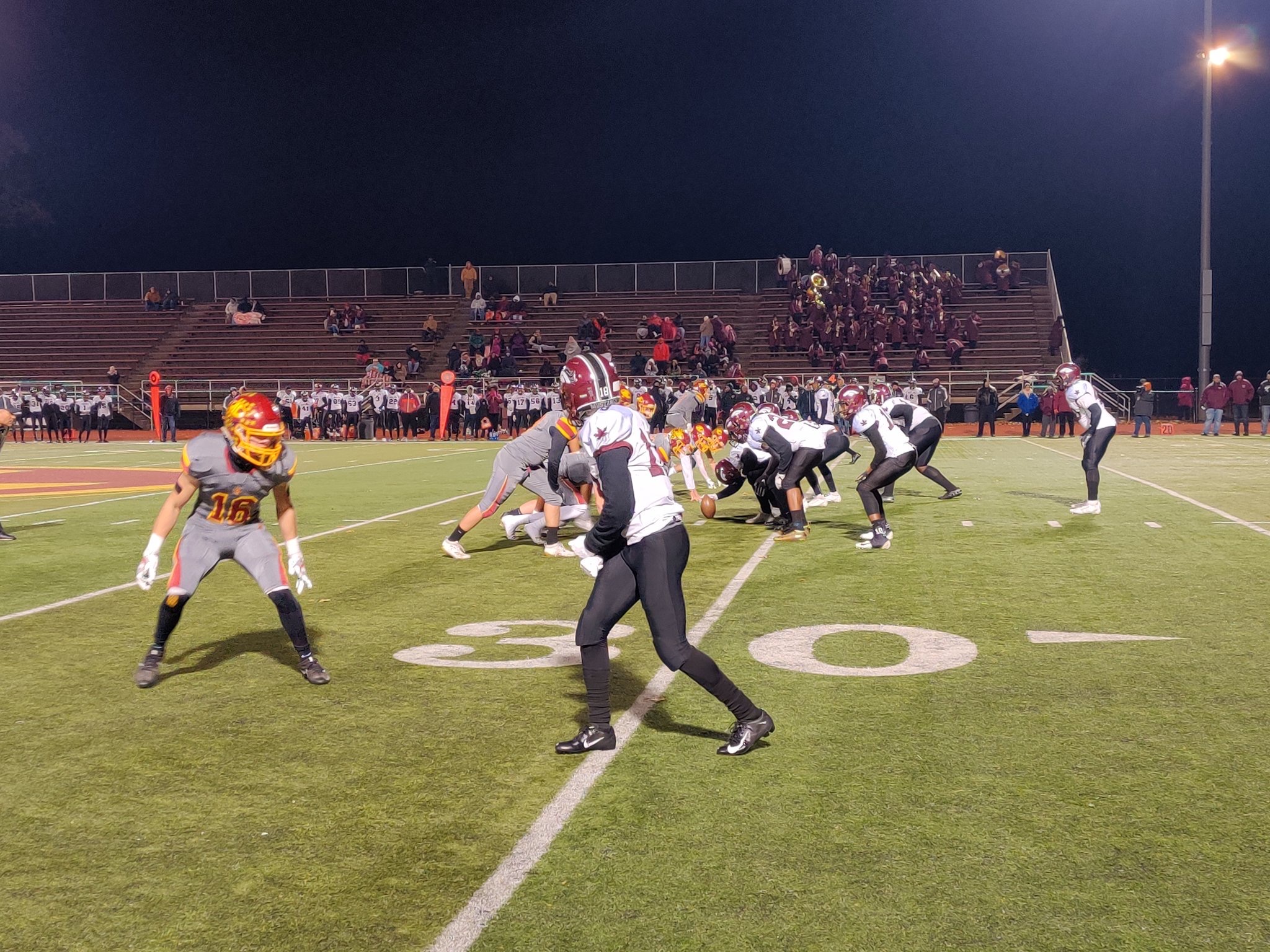 By Mark Perez
AVON LAKE, OHIO – For some people, games are won and lost in the trenches.
The Avon Lake Shoremen became the latest example of that saying as they defeat Maple Heights 38-6 to move on to the second round of the Division II playoffs.
On the defensive side of the ball, the defensive line accumulated 10 sacks on quarterbacks Delonte Hall and Bryshaun Haskin after Hall suffered a right knee injury late in the second quarter.
Hall did not return to the game.
The 10-1 Shoremen were without defensive linemen Jack McCrum from an illness from earlier in the week, according to head coach Matt Kostelnik. This allowed Junior Kayden Viancourt start his first game.
"Kayden Viancourt stepped in an amazing game," Kostelnik said.
"So I am proud of him stepping in for his first start. I think he did a hell of a job."
Viancourt played on the defensive line that played a huge part in halting the 7-4 Mustangs rushing attack. Maple Heights rushed for 40 yards to Avon Lakes 222 yards.
"Up front all the way across. (Jacob) Sintic, (Zak) Kovacs, and (Nick) Marsh. They are a special group," Kostelnik said.
"They are going to get after it and they are going to keep us in games. As long as they continue to thrive and eat. I feel good moving forward."
One person that helped the Shoremen's defense was their athletic backup quarterback Jake DePaul as he provided the simulation the defense needed in practice.
"Our Sophomore quarterback. Our (Junior Varsity) quarterback. (DePaul) is pretty quick," Viancourt said.
"He got in a lot on scout team this week. We kinda prepared for their elusive quarterback… It worked to our advantage."
DePaul showed his athleticism tonight as he scored on a 45-yard touchdown late in the fourth quarter from a quarterback keeper to start the running clock with the score being 38-6.
Leading the rushing attack for Avon Lake was Gage Duesler, who had his second consecutive game with three touchdowns and over 100 rushing yards.
His first touchdown happened immediately after Harry Herbert blocked a punt, placing the ball on the two-yard line late in the first quarter.
Duesler would pound the ball in the end zone on their first play to lead 7-0. They didn't concede their lead the rest of the game.
"Our line was getting a great push," Duesler said.
"Their linebacker would come up; press the gap and I would just bounce it out wherever the line was pushing him. They were creating great holes and I was hitting them quick."
Duesler saw the big picture for the team as he noticed players on Maple Heights' defensive line, also played on their offensive line.
"(Maple Heights') defensive line and offensive line were playing both ways every time," he said.
"So, we just knew that if we just kept pounding and pounding them, they would keep getting tired and our o-line would get a push. We would eventually keep getting yards."
Duesler carried the ball 17 times for 102 rushing yards and three touchdowns.
Avon Lake's rushing attack was so effective, quarterback Michael Corbo rarely had to throw the ball.
Corbo completed two of his seven passing attempts for 29 yards.
One of his completions was to Matt Oehlstrom for a touchdown after their special teams unit blocked another punt in the second quarter to make the score 21-6.
The special teams was led by linebacker Harry Herbert, who also made a 28-yard field goal.
This was his 10th made field goal of the season, which tied a school record for makes in a season.
"We are going to miss (Harry Herbert)," Kostelnik said.
"He is such a weapon in between punting, kickoffs, field goals… He's a great kid, he works hard. He's been such a threat."
Avon Lakes moves on to the second round of Region 6 of the Division II playoffs and will take on the Wadsworth Grizzlies after they defeated Olmsted Falls Bulldogs 35-7.

NEO Sports Insiders Newsletter
Sign up to receive our NEOSI newsletter, and keep up to date with all the latest Cleveland sports news.