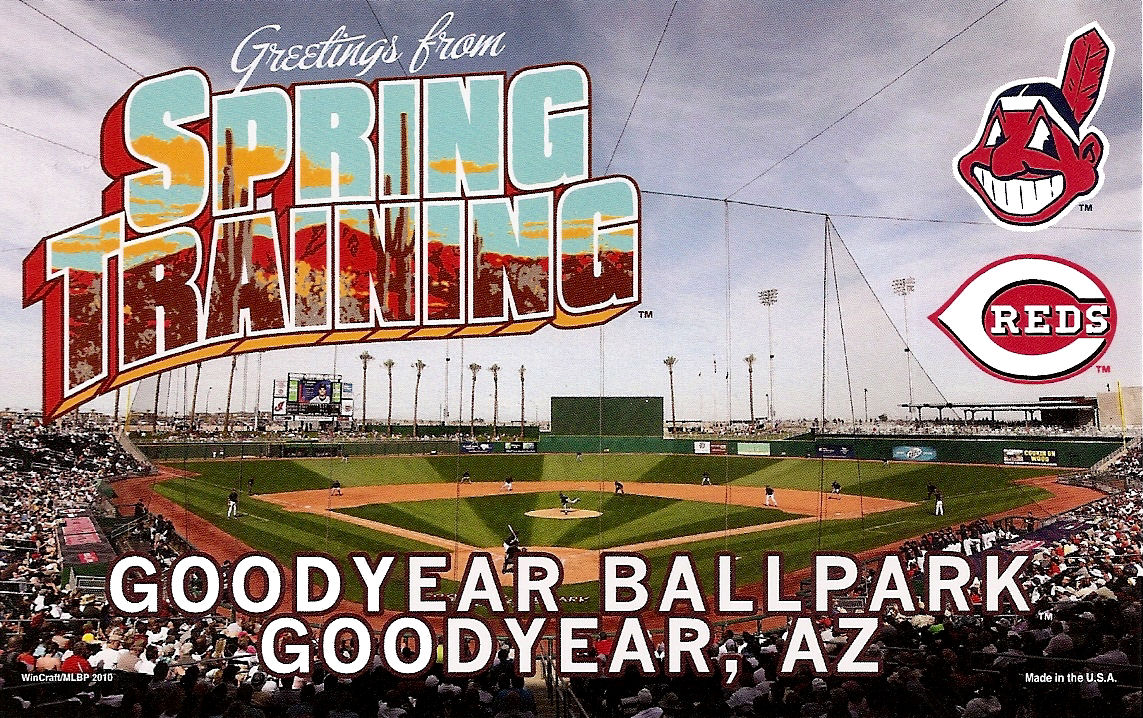 GOODYEAR, SCOTTSDALE, Ariz. – Unless you are willing to hop on an airplane right now and fly from either Cleveland Hopkins or Akron-Canton airport to Phoenix, Arizona for one of the final Cactus League games for the Cleveland Indians this season, this article could give you an idea for a Spring Break vacation for 2017.
If you are a baseball fan like I am, a trip to the greater Phoenix area is a must during Spring Training. You have to forgive me for writing this article about my two day visit to the desert so late, but as the the saying goes, it's well worth the wait.
While on a week vacation from March 7 thru March 15 in Las Vegas, I decided get away from the bright lights and gambling action of Sin City for a couple of days, even though I was having pretty good luck at slots, blackjack and roulette, and decided to venture south along U.S. route 93 to cross another thing off of my bucket list.
The last time I saw the Cleveland Indians in person during Spring Training was back in 1999 when the tribe was in Winter Haven, Florida. Let me tell you, if the Indians weren't playing baseball there, I would not have spent one second there. It was not a haven at all. The Indians needed to find a way to either upgrade the practice facilities or find a new place to as their Spring Training home.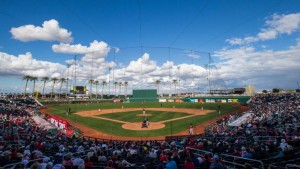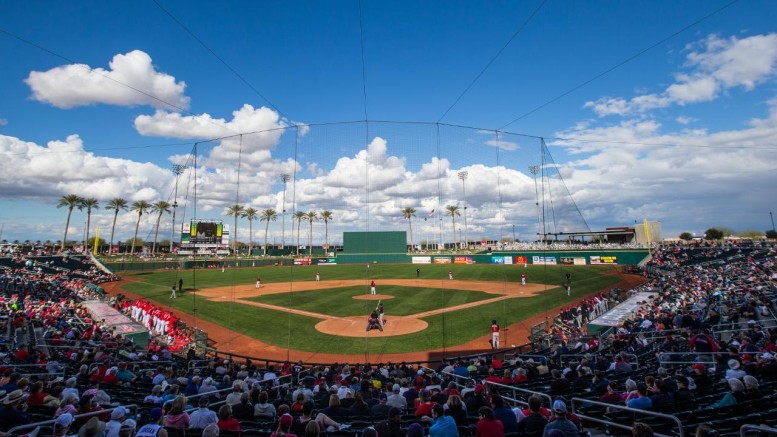 While there is a part of me that wishes the Indians were still in Florida, the decision to move out to Goodyear, Arizona and share a Spring Training complex with the Cincinnati Reds was a very good decision.
My visit to Goodyear and Scottsdale, Arizona took place on Thursday, March 10 and Friday, March 11. My childhood best friend and a former coworker of mine here in Cleveland who now lives in Las Vegas and I were up at the crack of dawn to make the four and a half hour drive from Las Vegas to Goodyear Ballpark in order to catch the Indians and the San Diego Padres.
We had to leave by 7 a.m. Las Vegas time in order to make it to Goodyear in time for first pitch because once you cross the border into Arizona right by the Hoover Dam, you go from the Pacific time zone into the Mountain time zone. As a result, an hour of time has been lost. After enjoying watching a lot and mean a lot of cactus and mountains on the drive in from Las Vegas, we finally arrive in Goodyear right at game time.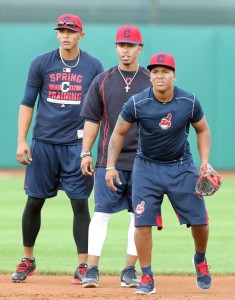 While my former coworker and I enjoyed watching the game from our front row seats along the first base line, my childhood buddy decided to take a tour of Goodyear Ballpark. The ballpark had nice displays honoring legends from both the Indians and Reds including Bob Feller and Johnny Bench. Goodyear Ballpark also has a seat dedicated to all Prisoners of War Missing in Action. What a truly class move by the Indians, Reds and city of Goodyear, Arizona.
As for the game itself, it was a bright sunny and hot day for a baseball game. As I stated earler, our seats were right in the front row down the first base line. We were very close to Indians first base coach Sandy Alomar Junior, we could almost reach out and touch him, the key word being almost. The Indians would win the game 9-4.
After the game, I took a visit into the team shop because i couldn't leave without getting some souvenirs. I was able to find a couple of 2016 Spring Training t-shirts in my size. Before departing Goodyear, I made sure to get some pictures outside of Goodyear Ballpark including by the fountain and the baseball sculpture. We also decided to drive over and look at the Indians practice facilities. We were not able to get any closer than the fences outside of the practice facilities, but even from there, the complex looked very modern unlike what they used to have in Winter Haven, Florida.
My buddies and I didn't stay in Goodyear for Thursday night, instead we found a great rate at a Sheraton Hotel north of downtown Phoenix in between Goodyear and Scottsdale. On our drive to the hotel from Goodyear Ballpark, our directions had us drive right past University of Phoenix Stadium, the home of the NFL's Arizona Cardinals. All I will say is, the stadium is huge. Now I understand how it was able to host Super Bowl XLIX, the 2016 College Football Playoff National Championship game and will play host to the 2017 NCAA Men's Final Four.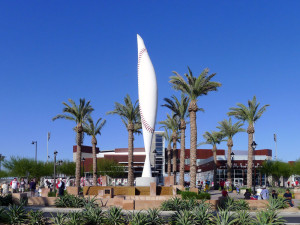 After a good nights sleep, it was off to Scottsdale, Arizona on Friday March 11, as the Indians were taking on the Colorado Rockies. Colorado holds their Spring Training camp at Salt River Fields at Talking Stick. The Rockies share the training complex with their National League western division rivals the Arizona Diamondbacks.
One thing that is really nice about the Cactus League, all 15 teams that train in Arizona are within an hour of one another. When the Indians were in Florida, they would sometimes have a three hour bus ride for a Spring Training game if they played say the Boston Red Sox or Minnesota Twins who train in Fort Myers, Florida. It makes a vacation to Arizona during Spring Training a terrific idea.
While I only saw games at Goodyear Ballpark and at Salt River Fields at Talking Stick, I must say that Salt Rivers Fields at Talking Stick blows Goodyear Ballpark away. I'm not saying Goodyear Ballpark is a dump, because it's not. I could not believe how beautiful a facility Salt River Fields at Talking Stick really is.
Out of the Spring Training facilities I have visited over the last two years, I spent a week in Florida with my family in 2015 by the way, Salt River Fields at Talking Stick is number one on my list. It even beats Jet Blue Park in Fort Myers, Florida where the Boston Red Sox train at, even with Jet Blue park being a Spring Training version of Fenway Park.
If you are familiar with the Scottsdale, Arizona area, Salt Rivers Fields at Talking Stick is located right off of Interstate 101 which does a big loop around the downtown Phoenix area. Salt Rivers Fields at Talking Stick is located on the Salt River Pima-Maricopa Indian Community. Right across the street, but not within walking distance of the ballpark, is Talking Stick Resort which offers world class golf and was named the best casino four years in row.
My buddies and I decided to get over to Talking Stick early so we could check out the casino before heading to the ballgame. Since we had a four and a half hour drive back to Las Vegas waiting after the game, it was a good idea to check out the casino before the game.
It didn't take us long to realize why Talking Stick Resort was voted the best casino four years in a row. Right as we entered the casino, my buddies and I find the poker room, correction the poker arena as they call it. I don't think I have seen a poker room as big as this one. Arena was a terrific way to describe it.
My buddies were very tempted to skip the baseball game and play in a couple of daily tournaments that were about to get started. Of course when I said that they would be responsible for selling their tickets and giving me the money, they changed their minds very fast. It would have been neat to play either a tournament or cash game there though.
After playing a couple slots and a little black jack and breaking even, it was time to head back to the ballpark just in time for first pitch. The stadium was pretty much sold out, the grass seating behind the fence was packed and just about every seat in the ballpark was occupied as well. It was a Friday afternoon so many people were either visiting on vacation or wanted to start their weekend early.
I wish I would have taken some time to walk around the ballpark and check everything out but that didn't happen. Once again my buddies and I had front row seats, this time down the third base line. The Indians dugout was on the third base side. The game itself was a bummer for the Indians.
The Rockies pitching staff didn't allow a baserunner until the 8th inning. As the game rolled on, I was starting to wonder if I was about to witness a Spring Training perfect game. I'm glad I didn't as the Indians finally got a runner on base in the 8th inning and scored in the inning as well, but the Indians lost 6-1. I just hope that wasn't an indication of the Indians offense once the regular season gets underway on Monday.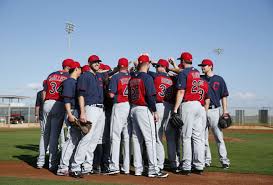 Two days in the desert watching Spring Training baseball was a blast. Hopefully next time I will plan a couple more days and be able to see a few more of the Spring Training complexes in the greater Phoenix area including Camelback Ranch in Glendale, Arizona, the Spring Training home of the Chicago White Sox and Los Angeles Dodgers and Sloan Park in Mesa, Arizona where the Chicago Cubs play their Spring Training games.
It sounds like I have an idea for a Spring Break destination for 2017, hopefully you will too!