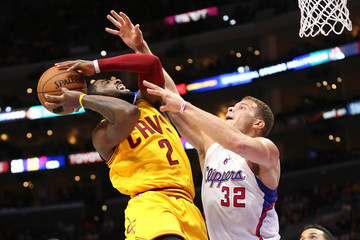 For those of you who may have sat down to a late dinner, caught a movie, or just put the kids to bed, boy oh boy did you miss a wild 15 minutes in the Sports, and Sports Entertainment worlds!
It began with the trade between your Cleveland Cavaliers, and the team they beat in the 2017 NBA Eastern Conference Finals, The Boston Celtics.  It was the worst kept secret in sports that Kyrie Irving wanted out of town and the Cavaliers finally found a trade partner that will give them a haul in return.
Irving, was a four-time All-Star during his time in Cleveland.  He was also the 2012 NBA Rookie of the Year and one of the best players in the league.  He will forever be immortalized in Cleveland lore, as he hit the biggest shot in Cleveland Sports History in Game 7 of the 2016 NBA Finals.  Irving's three-pointer in the closing seconds ended a 52-year championship draught for Cleveland sports, as the Cavaliers toppled the Golden State Warriors to win the NBA title.
Despite the urgency to trade Irving before trading camp, the Cavaliers knew that they had to get a good haul in return for him.  That they did with the Boston swap!
In return for Kyrie Irving, the Cavaliers will recive
Jae Crowder  (Wiley Veteran)
Isaiah Thomas  (Sharp-Shooting Point Guard)
Ante Zizic  (Big Man)
2018 Brooklyn Nets draft Pick (unprotected)
The Cavaliers scored big in this trade, because even if LeBron James and Isaiah Thomas both leave after next year, they still have one more year out of LeBron with a suitable point guard, a big man for the future, and a possible stud with that first-round pick.  As much as this reporter would have liked to have Irving stick around, it was clear it wasn't going to happen, and this was a great deal!
As for the second big news to come out only minutes after the Kyrie Irving trade news broke, it was UFC Legend and the greatest MMA fight to ever grace the cage, disgracing his career again.  This time it was Jon Jones failing yet another drug test.  Dana White and the UFC are said to be done with Jones, and will be stripping him of the Light Heavyweight Title.
Jones had just won the belt at UFC 214 against arch rival Daniel Cormier after enduring a year long suspension for his last drug suspension.  It was the most emotional fight in UFC history and this now puts a sickening black mark on it.  Stay tuned to NEOSI for more on this later tonight.
Finally, and this one is a bit of a fun one that comes with a wink-wink.  In the sports entertainment world, Former TNA Champ, NXT Champ, Bobby Roode appeared on Smackdown to open the show.  Roode has spent the last year dominating NXT and has arrived to do the same thing on a Smackdown roster that badly needs him.
He is not alone with debuts tonight, as former WWE Tag Team Champion Shelton Benjamin returned to the WWE tonight as well.  The WWE is starting to beef up the blue brand, and just in time as it lost John Cena too RAW last night.
That is it for now, as the LLWC has been rained out and the Indians have also been destined to wait out the rain.  Who knows will happen next? Perhaps Hugh Jackson will shock everyone and announce the QB starting job a night early?

NEO Sports Insiders Newsletter
Sign up to receive our NEOSI newsletter, and keep up to date with all the latest Cleveland sports news.