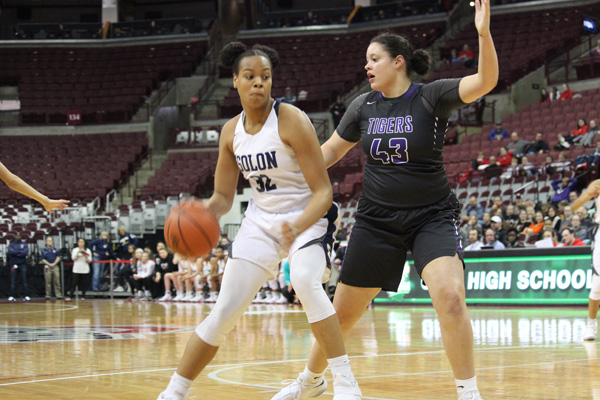 by Don DiFrancesco
@MayorNEOPrep
COLUMBUS, OHIO– Pickerington Central won the girls' state title by defeating Solon 49-45 on Saturday night in the Division I championship game at Ohio State University's Value City Arena. The Tigers were behind 24-23 at halftime, but scored a quick 3-pointer to open the third quarter and never trailed the rest of the way.
Leading the way for Pickerington Central was Madison Greene. The junior guard had a game-high 16 points, including two clutch free throws with 12 seconds remaining in the game. Those final two points gave the Tigers their final margin of 49-45.
Solon's leading scorer was senior center Valencia Myers with 15. Senior guard Mariah Modkins also reached double figures with 10 points.
In the crucial third quarter run for Central, the Tigers had four 3-pointers: two from Maliya Perry, and one each from Madison Greene and Adrian Crockwell. Greene's shot gave Central their largest lead of the game at 41-27 with 1:57 remaining in the quarter.
Solon recovered to score the final eight points of the quarter, five of them by Myers, and trailed 41-35 going to the final period.
Neither team could find the shooting range in the fourth quarter. Solon was 3-for-12 and Pickerington Central was just 2-for-8. The Tigers maintained their lead throughout the quarter, but the Comets closed to within two points at 47-45 when Modkins hit a long 3-pointer with 54 seconds on the clock.
Central's Crockwell missed the front end of a one-and-one with 29 seconds to play, giving Solon a chance to tie or take the lead. But the Tigers were able to tie up Myers in the lane and a jump ball was called. The possession arrow gave the ball back to Central, leading to the final two free throws by Greene.
Pickerington Central had a final record of 28-2 as they achieved the school's seventh championship in girls' basketball. Solon, playing in their third final four in the last four years and their second state title game, finished the season at 26-3.
Pickerington Central      10            13            18            8   =     49
Solon                                  12            12            11            10   =     45
Pickerington Central
Greene                  4-5-16
Crockwell             3-0-9
Whitehead          4-1-9
Perry                        3-0-8
Wallace                1-1-3
Stephens              1-0-2
Tate                       1-0-2
Solon
Myers                      5-4-15
Modkins                4-0-10
Mitchell                 2-1-7
Dittoe                     2-0-6
Rinicella                2-0-5
Weaver                  1-0-2
**Click through for a photo gallery from the game

NEO Sports Insiders Newsletter
Sign up to receive our NEOSI newsletter, and keep up to date with all the latest Cleveland sports news.