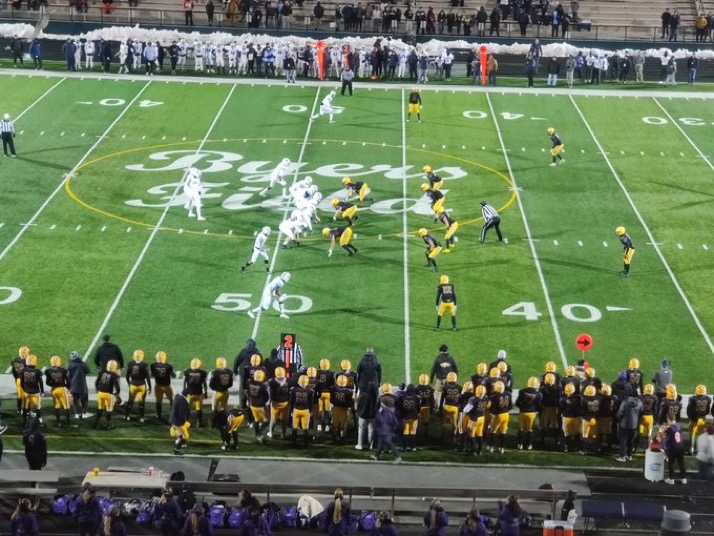 By Mark Perez
PARMA, OHIO – Even after the Avon Eagles lost their quarterback Niko Pappas from injury and adding to their long list of injured players, they still found a way to win and advance to the Regional Finals after their dominant 49-28 victory over the Benedictine Bengals Friday in Parma.
"There's like seven or eight guys [injured]," Eagles head coach Mike Elders said.
"It's almost like a sick joke, but I'll tell you what man. The toughness of our kids is incredible. It's inspiring. It's something that I don't think people understand. (our season) is the most remarkable story ever of my coaching staff of any year. If we were to be coaches of the year for something, it would be this year, because I am telling you they have done an outstanding job of coaching. People take this for granted and they shouldn't, because what they are doing is pretty special."
Leading the way for the Eagles was the Hunter Highway with running back Devon Hunter scoring five touchdowns in the win and had 207 rushing yards off 35 carries.
"I can't say enough about (Hunter),' Elders said.
"I honestly believe in my heart of hearts he is a Division I running back… He's 205 lbs. He's got another year of high school left. He runs really well. He's faster than anybody thinks, he's a patient runner. He does some Le'Veon Bell-type things every now and then. He's really good and I'm glad he is on our team."
Riding shotgun with Hunter for the first two and a half quarters was Pappas. In his first start as the Eagles quarterback after replacing an injured Danny Zeh in last week's playoff game, he scored two touchdowns, while rushing for 170 yards.
Pappas was sidelined with an injury in the third quarter.
Third string quarterback Chase Meyers, who was their Junior Varsity quarterback, played the rest of the game.
Almost all of their offensive plays after Pappas' injury were running plays though, it should be noted that designed passing plays were scrambles by Meyers. Overall, the Bengals had no answer for their rushing attack.
36 of their 37 plays in the second half, were run plays. All but one of their second half drives, resulted in touchdowns. That sole non-touchdown drive was the final possession that was concluded in victory formation as regulation expired.
The 10-2 Bengals started out the game in the best way you could possibly think of, which was a 95-yard touchdown on the opening kickoff by Marvin Conkle.
Other than that, their offense struggled in the first half. They accumulated 105 yards of total offense.
Their second touchdown of the second half happened after they recovered a Hunter fumble deep inside Eagles' territory and cashed in a touchdown off a Ronnie Schutz five-yard touchdown on the second play of the second quarter.
Schultz struggled to get in a rhythm as a passer. He threw inaccurate passes in the first half. He completed 6 of his 13 passes for 77 yards. 43 of those yards was on a Hail Mary pass that was short of the end zone before they went to the locker room at halftime trailing 28-14.
Schultz did redeem himself in the second half with a pair of touchdown passes to keep the game semi-close.
A large part of Benedictine's offense this season, was their running game, featuring Jalen Edwards. He rushed for 1,769 yards and 25 total touchdowns this season before facing Avon. The Eagles defense held him to 81 yards rushing off 12 carries.
He was able to rip off a 43-yard run late in the third quarter to set up a touchdown catch by him three plays later, but the defense turn most of his rushes into two yards and a pile of dust, or turf for that matter.
Avon advances to the Division II, Region 6 Final to play their rival Avon Lake after they defeated Wadsworth 31-21.

NEO Sports Insiders Newsletter
Sign up to receive our NEOSI newsletter, and keep up to date with all the latest Cleveland sports news.