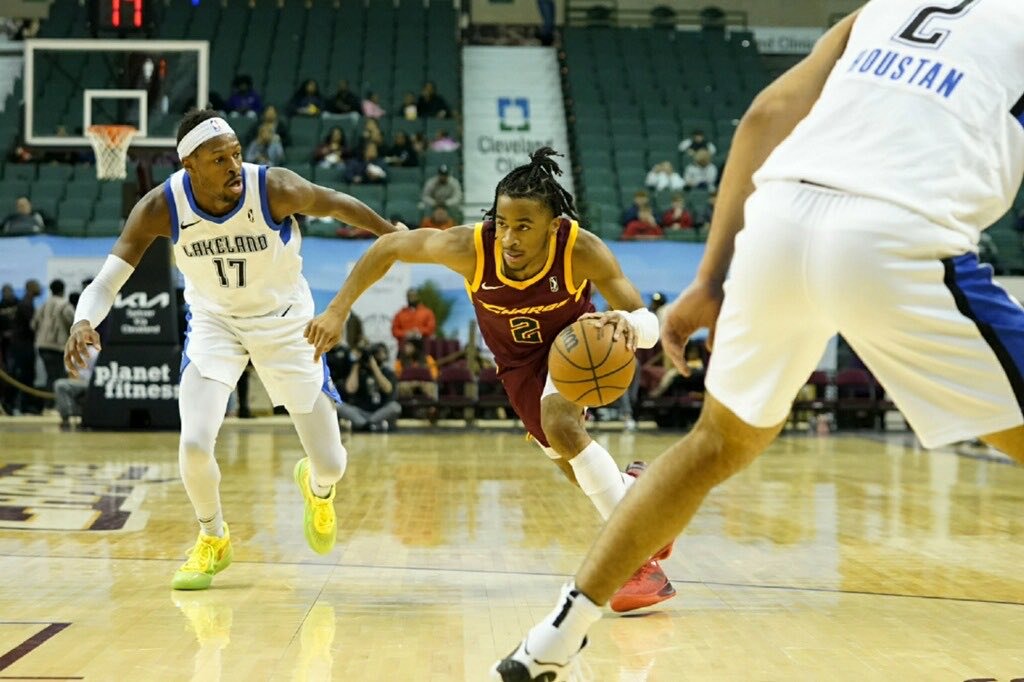 Cleveland – Every year, in every city, we all know a guy who has the talent to make it. Make it in whatever sport they play, whatever genre of music they play. We know the ones. We just know. You may not be able to tell just by looking at them, but once they start playing their sport, or their instrument, you realize, "That is what a professional looks like." Cleveland Charge point guard Sharife Cooper is what they look like.
The silky-smooth guard is one of the most dynamic players in the G-League and for whatever reason, he hasn't been able to get a real opportunity in the NBA. I have heard just about every excuse as to why Sharife can't crack an NBA rotation. However, the reality is Cooper is a bucket. His ability to get downhill, being able to get to whatever spot on the court he wants, being able to find teammates, he does it all.
Happy Monday, Charge fans!#ChargeUp pic.twitter.com/TFt1iRINvI

— Cleveland Charge (@ChargeCLE) February 27, 2023
Cooper is more than numbers
Cooper has the skill needed to be a rotation player at the highest level. The thing is, you can look at numbers and determine that Cooper still has to grow. Yes, that may be true. However, the numbers also show a guy who is averaging a team high 22.2 points, 6.7 assist and leading one of the best teams in the league. Numbers don't really do justice to what Cooper brings to the table.
Ultimate team player
Every teammate and coach raves about Cooper.
When talking to star center Isaiah Mobley, he has stated,
"Having Sharife out there really helps me. It makes the game easier."
Coach Mike Gerrity said
"Sharife is our closer. We trust him with the ball in his hands in the clutch."
The thing is, Cooper doesn't need anyone to make a play for him. He's been the one guy on the team who has proven he wants the big shot but will also make the right pass to his teammates. He has made multiple game winning shots, has had multiple 40-point games, and been named Player of the Month several times. Cooper has had games with 30 points and 10 assist. He has proven he is what a professional looks like.
Proving people wrong
So, what do the naysayers say? Well for starters, Cooper is listed at 6'1".  That IS small for a guard in today's NBA. There are people who say he doesn't play good enough defense. There are people who say he doesn't shoot the ball well enough or he turns the ball over too much. And, if you look at the numbers, sometimes they matchup, as he is averaging 4.5 turnovers per game. He can't suddenly grow to 6'8". Cooper is shooting 45% from the field and 30% from 3. I agree, those are numbers he needs to improve. However, watching him play, using the eye test, it is CLEAR he is an NBA player. More often than not, the opposing team's best perimeter defender is matched up against Cooper. And more often than not, Cooper gets where he wants, and makes plays for either himself, or a teammate.
Cookin' 👨‍🍳#ChargeUp pic.twitter.com/cnjT6CCMpf

— Cleveland Charge (@ChargeCLE) February 26, 2023
Discussing defense
On the defensive side, Cooper is not asked to be the team's stopper. However, I have seen the effort and he isn't just letting guys blow past him.
I've asked Cooper about the perceived weaknesses on the defensive end, and he said,
"If you think I can't play defense, come watch me."
And I have. Multiple times I have seen where his aggressiveness on defense leads to a turnover or a bad shot. Things that don't show up in the stat sheet. Can he improve? Absolutely! Is he the worst defender I have seen? NO, not even close! Can he improve his decision making? Absolutely! But he is a 21-year-old kid in his second year playing at this level. He isn't a finished product. Which is what is scary.
Driven to win
What's the most impressive thing to me after talking to Cooper a few times? The guy is actually ALL about winning. I have asked several times in different ways what the goal is for the rest of the season. The answer is always the same. "I want to win every game" and he genuinely means it. You can tell.
Watch him when Sam Merrill is hitting 10 threes in a game. Cooper is cheering him on and feeding him the ball. Mobley gets a game winning block, and even though Cooper scored the winning bucket, he is quick to give the praise to his teammate. Those kinds of leadership attributes and mindset, is why his teammates and coaches love him.
Coach G has said
"Sharife if he wanted, could break off the play every time and go score. But he is so unselfish and such a willing passer he sets his teammates up and gives them confidence throughout the game."
For the love of the game
Cooper really just wants to win. His mindset for a guy so young in his career is really impressive. I asked him what the positives are he is taking away from being in the G- League and without hesitation he said, "I get to play. If I was in the NBA just sitting, I wouldn't be where I am today physically and mentally. But being here, I get to play and actually develop." Guys don't talk like that when they aren't invested. When they don't care. Sharife cares. He cares about winning. Even more so than the personal accolades. Cooper was looked over for the All-Star game MVP. He had a game-high 27 points and a game-high 8 assist yet he was simply happy to have won the game.
The reality is, despite the stature, Sharife does what he wants on the court. Playing against guards who have played in the NBA, he still does what he wants on the court. Against bigger guards, he gets where he wants. Against smaller guards he gets the shots he wants. He is game planned form. Cooper is the head of the Charge's attack. The team will go as far as he takes them. It's no coincidence, when he was out with an ankle injury, the team struggled to win. And now, that he is healthy, he is spearheading the charge to the playoffs. Currently on a three-game win streak and looking to make even more noise, I'm here to say, Sharife Cooper is what a professional looks like. He is an NBA player.

NEO Sports Insiders Newsletter
Sign up to receive our NEOSI newsletter, and keep up to date with all the latest Cleveland sports news.