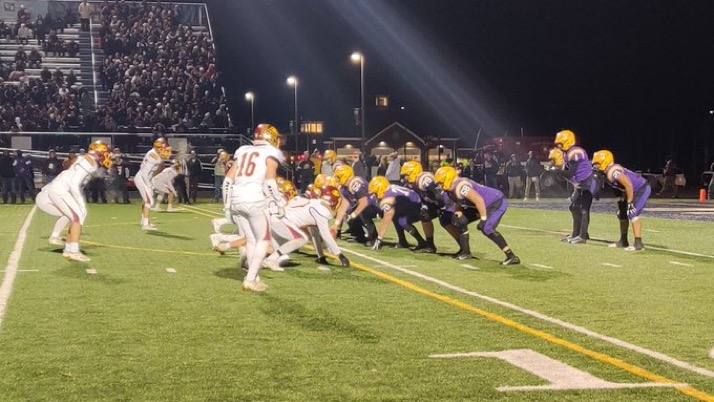 By Mark Perez
NORTH RIDGEVILLE, OHIO – The Avon Eagles' dominant fourth quarter sent them to their third consecutive State Semi-Finals appearance as they defeat their arch rival Avon Lake 20-3 in the Division II, Region 6 Final.
The 13-0 Eagles dominance, in fact, started at the end of the third quarter as wide receiver Joey Lance scored on a designed wildcat run with him as the temporary quarterback that went 58 yards for the first touchdown of the game.
"We kept going to the play and I saw seams and I saw an opportunity and knew I couldn't look back on it," Lance said as he describes the touchdown.
Lances touchdown ended with :03 remaining in the third quarter, as the Eagles took the lead for the first time. 
"Joey Lance was a guy that helped us get this win," Eagles' head coach Mike Elder said after the win. "It's a team win, but Joey (Lance) was special tonight."
A lot of the game he was used as a wildcat runner as he rushed 14 times for 117 yards in the win and caught one pass for one yard.
Joey (Lance's) touchdown obviously was a big momentum swing, because it gave our defense a shot in the arm too and we weren't giving up any yards at that point."
The wildcat was abnormal for Avon and caught the Shoremen off-guard to help their Sophomore quarterback Chase Meyers manage the game and put him in a position to succeed.
"We didn't have many choices [on offense]." Elder said.
"That was what I thought gave our best team a chance to win. You got an extra blocker at the point of attack. That was a surprise to (Avon Lake). It won't be to (Massillion) next week. We have to go back to the drawing board and find a way."
"I thought (Meyers) came in and did exactly what we needed him to do, he said.
"He scored a touchdown earlier on a pull, unfortunately, he didn't get there. But he managed the offense. We didn't turn the ball over… There is your difference. They turned (the ball) over and we didn't."
Avon Lake possessed the ball to start the fourth quarter, which led to a three-and-out.
The Eagles capitalized with a 10-play, 52-yard drive and gave kicker Nathaniel Vakos a 25-yard field goal. This made it a two-possession game for the Shoremen to come back with five minutes remaining.
In those remaining minutes, the Eagles defense came up with two turnovers to put the game on ice.
The most dramatic forced turnover was a pick-6 by Mike Matlek, who returned the interception 67 yards for a touchdown. This made the Shoremen's hopes for a comeback more futile as it was a three-possession game.
The final nail in the coffin for Avon Lake came from Niko Pappas, the quarterback with a broken thumb, played on defense with a cast on his right thumb and intercepted Shoremen's quarterback Michael Corbo to punch Avon's ticket to their third-straight regional championship.
"Niko (Pappas) is a tremendous athlete," Elder said.
"We saw that against Benedictine last week and we wished he has that thumb [healthy], because then he'd be playing quarterback, he's a special kid and he is only a Junior. You guys will see a lot more of him than next year."
The defense intercepted Corbo three times in the win. The other interception happened in the second quarter by Mitchell Dupras.
The possession after Dupras interception could have ended in a 26-yard touchdown run by Meyers on misdirection quarterback keeper to the left, but a holding penalty voided it. They settled with a 31-yard field goal by Vakos.
Vakos made all two field goals.
In the first half, one may say the game resembled an Army-Navy game based on how much both teams ran the ball. About 75 percent of both teams' combine plays were runs.
The Shoremen took the lead in the first quarter with a 36-yard field goal, but missed a 32-yarder right before the end of the first half.
"Another big momentum swing for us, was the missed field goal before halftime," Elder said.
"That was big. We went in and we were tied up [at] 3-3. We were right where we wanted to be."
"I've done this a long time. 20 years… This is the best win I've ever been apart of, because of the circumstances."
Even though the Shoremen lost, they still had a historic season. They won 11-games, had statistically the best defense in school history with six shutouts and regional final runner-ups with the furthest the football team has been since 2004.
The Eagles will take on the Massillion Washington Tigers next week in the Division II State Semi-Final after they beat Archbishop Hoban 17-14.

NEO Sports Insiders Newsletter
Sign up to receive our NEOSI newsletter, and keep up to date with all the latest Cleveland sports news.