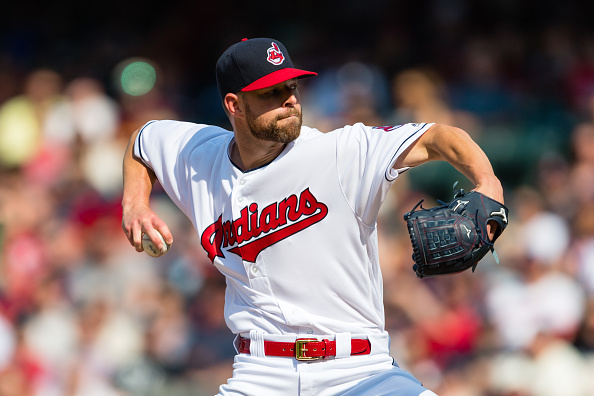 While the 2018 MLB Winter Meetings may be over, the wheeling and dealing by the Indians likely isn't anywhere close to done.
The team still has holes in the outfield, as well as the bullpen, and while they now have some cash to spend, it seems like the best way to fill those holes will be a huge trade involving one of their top starting pitchers.
With that, Jon Morosi from MLB Network reports that the Tribe has continued to chat with teams about what it would take to acquire 2018 20-game winner Corey Kluber.
The teams' that Morosi reports the Indians are chatting with include the usual suspects – the Dodgers, Brewers and Phillies.
Another team that Morosi says is in the mix are the Indians neighbors to the South, the Cincinnati Reds.
According to a tweeet from the insider, two players the Tribe might have interest in include prospects Nick Senzel and Taylor Trammell.
Senzel was MLB.com's number six overall prospect when he was shelved last June after tearing a tendon in his right index finger.
He hit .310 with 12 doubles, two triples, six home runs, 25 RBIs and eight stolen bases in 44 games for the Reds AAA club in Louisville in 2018.
Senzel plays both second base, appearing in 28 game there last season for AAA Louisville, and 14 games at third base. He is just 23 years old, and was selected by Reds in first round (second overall) of the 2016 draft.
He also spent the fall working in the outfield, which would be a perfect fit for the outfield needy Indians.
Trammell is 21 years old, and the lefty plays the outfield, starting 69 games last season in center and 20 in left for the Daytona Tortugas, the Reds Class A-Advanced team.
In 110 games in Daytona he hit .277 with eight homers, 40 runs batted in and 25 steals. He was picked by the Reds in the supplemental first round (35th overall) of 2016 draft.
It sounds like the Indians are still comfortable waiting it out for the very best deal for Kluber, but the ability to shed more payroll and add young players to help out for the future might be too tempting for the team to eventually pass up.