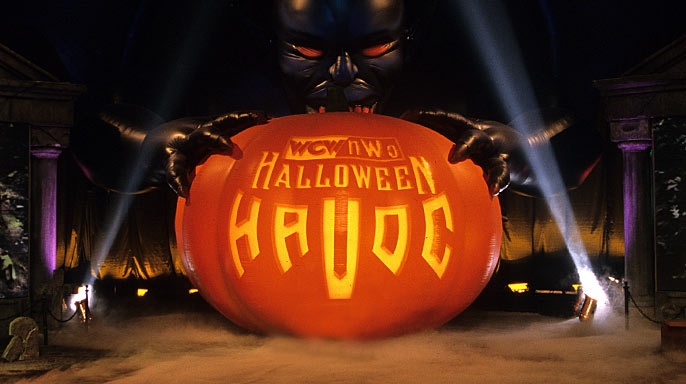 Last night as kids came to the door dressed up as John Cena, Roman Reigns and even Nikki Bella, I couldn't help but harken back to the days of dressing up like Bret Hart and Sting for Halloween.
After all, wrestling has always been a big part of Halloween in the McKee home, and most likely your home as well.  There is no greater example then the Pro Wrestling Pay Per View named after Halloween, the legendary WCW Halloween Havoc. 
The WCW cult classic started back in 1989 and continued through 2000 as the company folded shortly thereafter.  Let us all take a look back at some of the best and worst moments of each show.  Perhaps you will even stumble upon some ghoulish names of yester year you may have forgotten.
1989
Like most WCW PPV's back in the day, this one was built around tag team matches as they tried to cram all of their stars into every show.  Some of the better matches included The Samoan Swat team taking on The Midnight Express along with Doom versus the Steiner Bro's.  The main event tag match was Sting with Ric Flair taking on Terry Funk with The Great Muta in a match that featured four Hall of Famers.  The best singles match of the night went to a young Lex Luger as he took on Flyin Brian Pillman for the United States Title.  The clunker that night was Tommy Rich versus the Assassin. 
1990
A rough show during a very down period for WCW.  Not much at all coming out of this one with the exception of a red-hot Sting retaining his NWA World Title Belt over a green Sid Vicious.  A rare appearance by JYD (one of his last) also took place that evening.  Some of the "headliners" included such jobbers as Rip Rogers, Reno Riggins, Tim Horner and Barry Horowitz.
1991
Who will ever forget the ill-fated "Chamber of Horrors Match" that ended with the apparent electrocution death of Abdullah the Butcher.  This show featured the debut of Ravishing Rick Rude into WCW as The Halloween Phantom.  The main event saw a heel Lex Luger take down Ron Simmons to retain the WCW World Title in a Best out of Three Falls match.  Harley Race was in the corner of Luger, while Dusty Rhodes stood by Simmons. 

NEO Sports Insiders Newsletter
Sign up to receive our NEOSI newsletter, and keep up to date with all the latest Cleveland sports news.