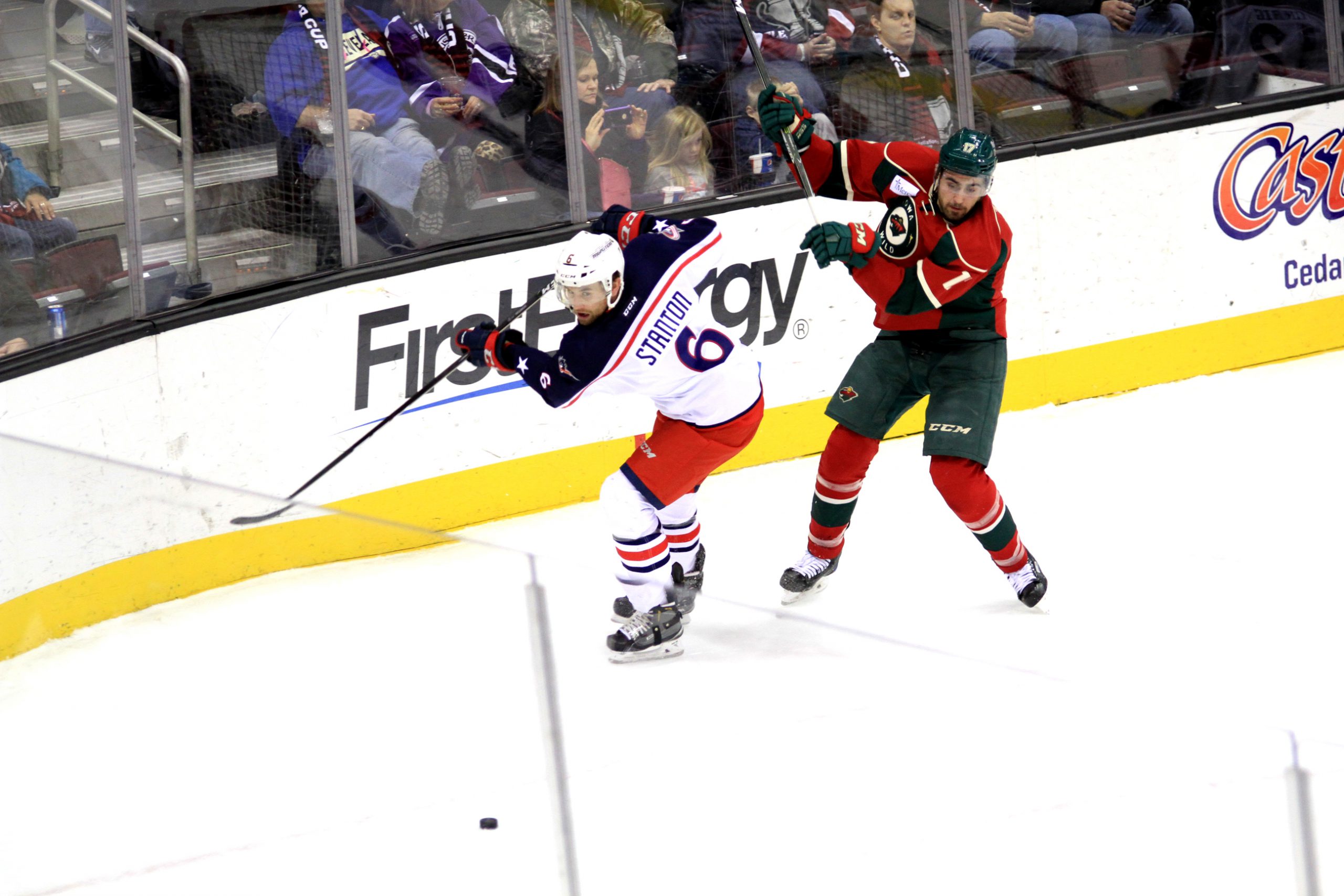 The defending Calder Cup Champion, Cleveland Monsters take the ice Tuesday night alone in 4th place, with a record of 13-11 and 29 points in 27 games on the season.
After a late tally in Manitoba last night, the Moose are currently in 3rd with 31 points. The Monsters could tie for 3rd place overall in the Central if they can take Tuesday's game at Quicken Loans Arena.
A late tally in the third sends the @ManitobaMoose home with the win. #MBvsIA pic.twitter.com/6JNBpLJN0l

— AHL (@TheAHL) December 20, 2016
The Monsters are 3rd in the Central Division at home, with a record of 7-5 amassing 16 of their points at The Q Arena, with only 1 overtime loss.
Next up for the Cleveland Monsters is the 7th place Charlotte Checkers who are 11-15, with a road record of 3-11 with 2 overtime losses.
Charlotte dropped a pair to Grand Rapids this past weekend 6-1 and 3-1 leaving them alone in 7th on the road putting together only 8 of their 24 points while away.
The offense shot 24 and 27 shots on goal respectively and went 0-7 on the power play, with goals from V. Zykov in the 1st on Saturday and L. Koper on Sunday.
Monday's announcement that captain Ryan Craig will be a playing captain in the upcoming All-Star Classic in Allentown, PA, January 29-30th, should have the team's energy high, especially after the way that they have been playing as of late.
New defenseman, Ryan Stanton, who was acquired in a trade with Colorado, for Cody Goloubef weeks ago, debuted on Friday in the loss to Iowa at home, looked good and Head Coach, John Madden, had this to say about Stanton's performance and his role on the team…
"  I though he was great… obviously conditioning, he's coming off of an injury, so we couldn't get him in sooner, but we wanted to make sure he was ready to go and not have a further injury, so we waited a little bit. We kept working on his conditioning, but I thought he was great. He's going to fit in nicely back there. What exactly his role is? A two way defenseman, can move pucks, defend… he can do it all."
Another new addition to the roster is Marc-Andre Bergeron who carried the team to a 2-1 victory over the Chicago Wolves on Saturday night in OT.
See game highlights below.
Add these new defensemen to the squad that is already starting to pick up momentum winning five straight games before Fridays OT loss.  as they get nearer to the 1/3 point of their season. See game highlights below.
As they get nearer to the 1/3 point of their season, I look for them to continue working together as a well-oiled machine in both zones and with Jonas Korpisalo and Anton Forsberg defending the net, to continue winning games in their usual come from behind style.
Cleveland's face-off percentage seemed to diminish slightly for a couple of games sparking this response from Coach Madden when asked about the face-off situation.
"We were 70% tonight going into the 3rd period, so we've talked about it. You also have to understand you have Scott, Maletta and Joe Pendenza tonight who are all inexperienced at this level. It's going to take some time. There's no substitution on face-offs. You can talk all you want, but they've really got to go out there and feel it."
Some keys to Tuesday's game.
Create more scoring chances.
Be hungry for loose pucks.
Put more pucks on net.
You can listen on 99.1 FM with @TonyBrownPXP on the call, follow @Eli_Mooneyham, @MedleyHoops, and @NEOSI_Sprouse  on Twitter to keep your finger on the pulse of everything Cleveland Monsters and Columbus Blue Jackets.
Also, follow all The Monsters action and so much more, here on NEOSI, @neosportsinside, on Facebook.com/neosprtsinsiders and YouTube. Northeast Ohio Sports Insiders… Bringing you all the best in Cleveland sports.

NEO Sports Insiders Newsletter
Sign up to receive our NEOSI newsletter, and keep up to date with all the latest Cleveland sports news.