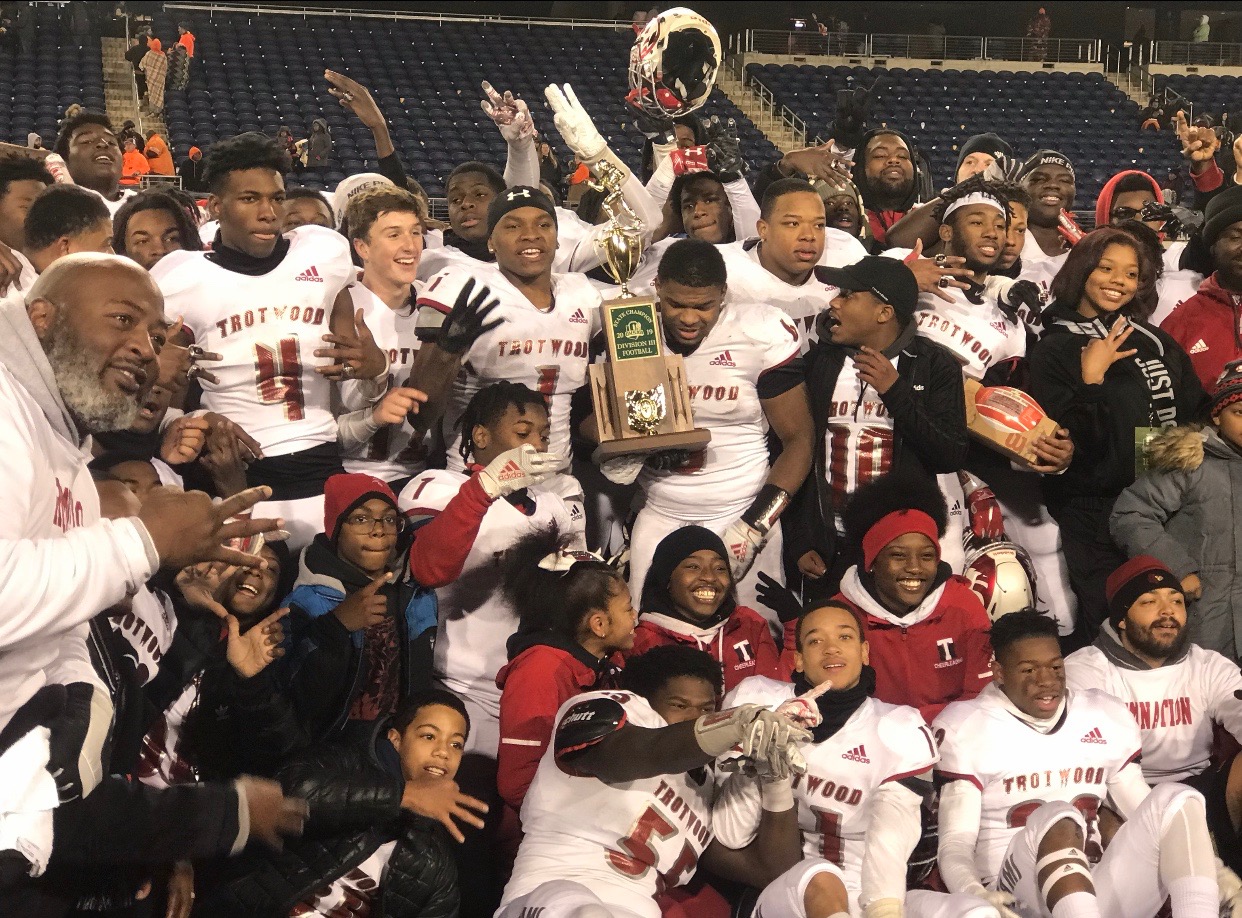 CANTON, OHIO – It took a full four quarters and a few plays in overtime for Trotwood to take their first lead of the game.
It was an 18-yard touchdown pass on 4th down from Sammy Anderson to Keon'Tae Huguely that ended up being the deciding score.
After a critical defensive stand, Trotwood would go on to win their third title in the last nine years, 14-7.
The first half was slow for both teams. Despite the teams averaging a combined 60 points per game this season, they battled their way to a 0-0 halftime tie.
Mansfield would break the stalemate with an electric 94-yard touchdown dash by Terrance Flickinger.
Despite the early second half deficit, Trotwood was not ready to give up on their title aspirations.
As one Trotwood fan said before kickoff, "we might be small in numbers, but we're big in heart". The Rams held true to this statement throughout the duration of the game.
With 8:11 in regulation, Trotwood would get on the board with a 20-yard touchdown carry by Ke'Shawn Huguely.
After Mansfield was forced to punt, Cincinnati commit Anderson led his team on an impressive drive that took the clock all the way down to three seconds.
With their season hanging in the balance, Mansfield blocked the chip shot field goal to send this wild game into overtime.
In the extra period, Anderson delivered a perfect strike to Ke'Shawn's brother Keon'Tae Huguely on fourth down to send the visitor bleachers at Tom Benson Hall of Fame Stadium into a frenzy.
After a pair of botched snaps, Mansfield had one final shot on 4th and 37. The desperation heave was intercepted by Anderson, as he capped off his heroic performance with the closing play.
Trotwood now has three state titles under their belt, their previous two coming in 2011 and 2017.
This title victory meant something beyond football for the Rams. In May of this year, an EF-4 tornado swept through the city of Trotwood, leaving the community devastated.
This title victory will strengthen a community that already has an unbreakable bond. The Rams are big in heart, and stepped up when it mattered most.

NEO Sports Insiders Newsletter
Sign up to receive our NEOSI newsletter, and keep up to date with all the latest Cleveland sports news.