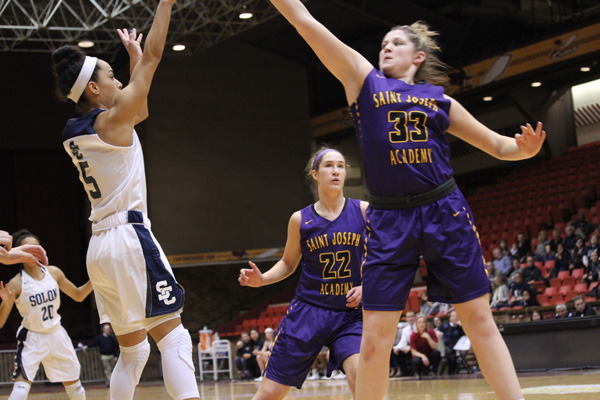 Photography: NEOSI / Opique
CANTON, OHIO– For Saint Joseph Academy (20-6), Tuesday night was another step in the development of one of the area's top teams. Coming off a 46-44 victory over favorite Berea-Midpark, the Jaguars earned the school's first DI Regional bid, but faced another major challenge in Solon in the Canton Region. Despite Saint Joseph Academy coming in with a major height advantage, the Comets have been to Regionals the last four years.
For Solon (25-2) this game could put them one step closer to the goal of making it to The Schott after coming up short last year in Regionals with a bitter defeat to Canton Mckinley 51-49.
The first quarter started off slowly as both teams found their footing. Saint Joseph's looked to limit the inside presence of Solon's 6-foot-2 McDonald's All-American Center Valencia Myers with zone looks that allowed them to bring a double or even triple team to Myers in an effort to force the ball out of her hands. At the end of the first, the score was 7-6 Solon.
Going into the second quarter, Solon started to figure out the zone with Myers getting more looks on the inside and outside with a huge shot from three. Senior Katherine Dittoe coming up with seven huge points in the quarter to give Solon the 22-11 lead going into the second half.
Despite being down going into the third quarter Saint Joseph was battled test and would not give the game to Solon. For the Comets, they used their full court pressure defense more in the second half to go on a 9-3 run to start the quarter. Even with a number of turnovers, Saint Joseph found ways to score, with four players scoring in the third. At the end of the third Solon had extended the lead to 35-20 going to the fourth quarter.
With a three from senior Colleen Neitzel the Jaguars rallied back with 4:43 left in the fourth quarter to cut the lead to 10 for the Comets at 37-27. The outstanding defense of Solon senior Mariah Modkins forced back-to-back steals that provided two easy layups to give Solon the 41-27 lead with 3:45 left in the fourth. Neitzel had eight huge points to spark the rally but Solon closed the game out on the free throw line for the 48-32 victory.
Final Score:
Solon 48 – St. Joseph Academy 32
Notes: The DI College Basketball Talent on Display Showed tonight: Solon – Valencia Myers (Florida State), Mariah Modkins (Kent State), Gabby Mitchell (Akron) and St. Joseph Academy – Colleen Neitzel (Akron)
Solon
Valencia Myers – 15
Mariah Modkins – 13
Katherine Dittoe – 10
St. Joseph Academy
Colleen Neitzel – 8
Molly Neitzel – 6
Molly Dever – 6
** Click through a photo gallery with pictures from the game below
Pages: 1 2 3 4 5 6 7 8 9 10 11 12 13 14 15 16 17 18 19 20