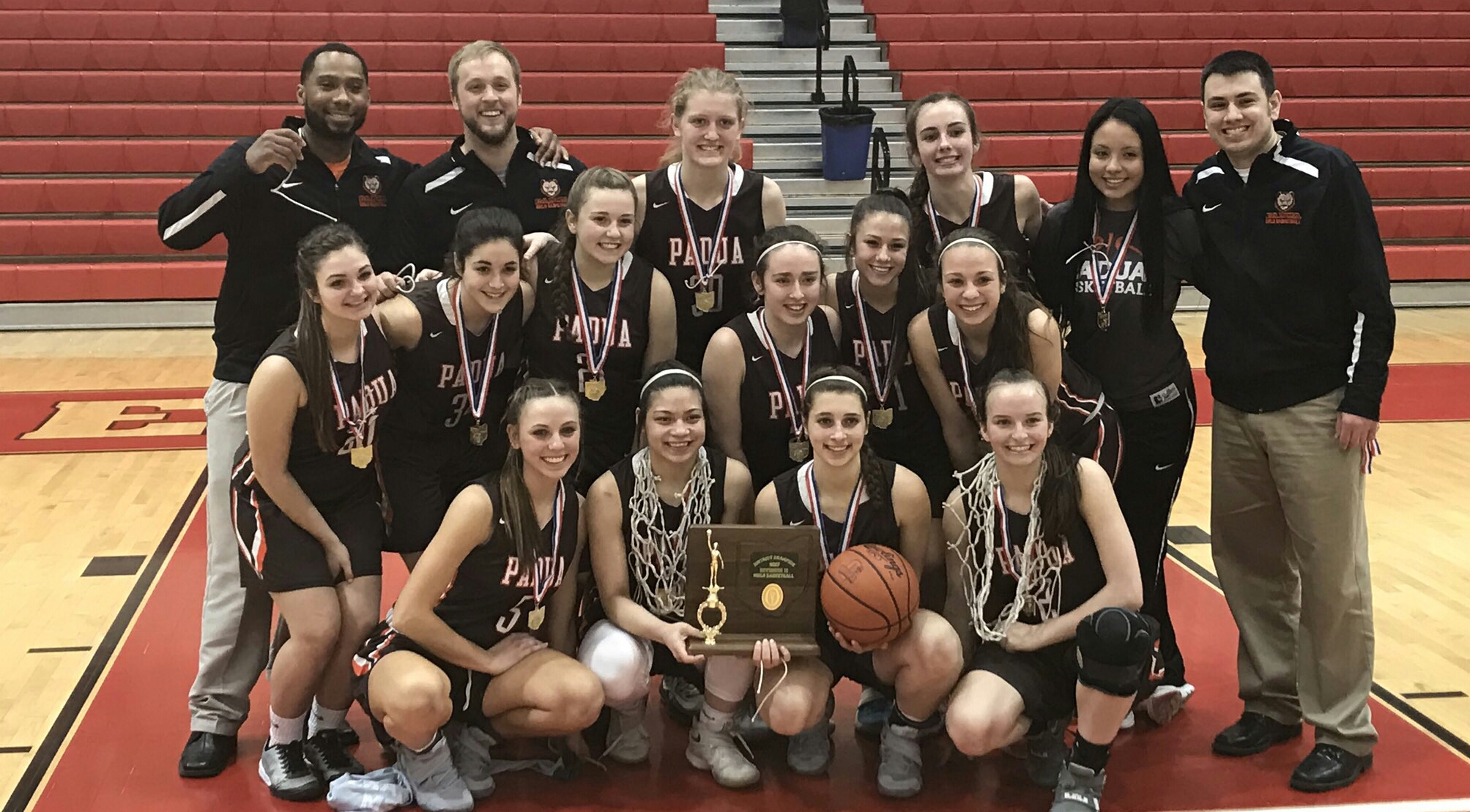 The Padua Bruins defeated the Elyria Catholic Panthers, 55-39, for the Division II Elyria District Title.
It was a back-and-forth start to the game, as the two teams were tied at 15 after one quarter, but Padua started to create some distance.
The Bruins led by six at halftime, but Elyria Catholic cut the deficit to one after opening the third quarter on a 5-0 run.
Alainna Conroy, Elena Rauhe and Alex Pillin picked Padua's offense up, scoring all 11 of the team's points in the quarter and sparking a 14-0 run which carried over into the final period of play.
Rauhe led the way in the fourth, scoring nine of her game-high 21 points and sealing the deal in the closing minutes.
Just when Elyria Catholic had trimmed the deficit down to nine with over two minutes to play, Rauhe came right back and made a difficult layup, drawing a foul in the process.
She would convert the three-point play at the line to build the lead right back up to 12, and Elyria Catholic wouldn't get any closer in the final two minutes.
@PaduaHoops @PaduaAthletics defeats Elyria Catholic to become 2017 District Champs

Elena Rauhe scores game-high 21 points pic.twitter.com/7n62P8B45i

— Matt Medley (@MedleyHoops) March 3, 2017
"The journey from last year at this point to this year has been incredible," Padua coach Dan Brown said.
"The improvements that we've made on both ends of the ball have been phenomenal. I told them it's a little different this year. Last year, we were the young team. This year, we're the experienced team. Last year, we had to scrap our way through and (Elyria Catholic) beat us easily in the District Final. This year was kind of the other way around."
That experience Brown referred to has been one of the keys to Padua's impressive run throughout the regular season and tournament, as the Bruins start four seniors – Conroy, Rauhe, Ali Medaglia and Sarah Rapacz.
@PaduaHoops starting seniors receive their medals pic.twitter.com/mTlxiCSyJr

— Matt Medley (@MedleyHoops) March 3, 2017
Conroy scored 11 points, Medaglia hit two shots from long-range and Rapacz grabbed 12 rebounds.
Pillin, a sophomore guard, scored ten points in the win, six of which came in the second half.
"Everyone played their role tonight," Brown said.
"That's what championship teams do. It's not going to be the same players every night, but we got production out of a lot of people. Even the bench kids came in and while they were out there they did something positive."
@PaduaHoops captains claim the trophy pic.twitter.com/wslBFsxAsq

— Matt Medley (@MedleyHoops) March 3, 2017
While Padua's complementary play has been instrumental to the team's success all season, Rauhe's leadership has been as consistent as any player in Northeast Ohio.
Whether she's finding open teammates for good looks, forcing turnovers which lead to transiton layups, or scoring in a variety of ways, the senior point guard has a knack for lifting her team when it needs a boost.
Her 21 points don't jump off the statsheet, since that's right around her season average, but the ability to show up in big games hasn't ceased to amaze so far in the tournament or the regular season.
When Padua needed a win over Hoban for the conference championship, she scored 23 en route to victory.
When it came time to face Bay in the district semifinals, a team that is as strong defensively as any in the district managed to "contain" her to 19 points.
Thursday's District Final was the biggest game yet and Rauhe seemingly got better as the game went on.
"She's a really good player," Elyria Catholic coach Eric Rothgery said after the game.
"You just knew she was going to get something done eventually and she made that little swoop shot near the end where I felt like we were getting back in the game. That was huge. I felt like we defended her well, but she was able to compete and knock down shots."
As the road gets even tougher, opposing teams will be well-aware of how important it is to contain Rauhe from taking over games, but her versatility makes that task more difficult than just keeping her from scoring – and it's not like other teams in Padua's way weren't already aware of it all season, but it hasn't seemed to stop the Bruins yet.
Padua advances to face West Branch (24-2) in the Division II Region 5 Semifinals at Barberton High School on March 8 at 7 pm.
The Bruins will look to end West Branch's 22-game win-streak and move one step closer to Columbus.

NEO Sports Insiders Newsletter
Sign up to receive our NEOSI newsletter, and keep up to date with all the latest Cleveland sports news.