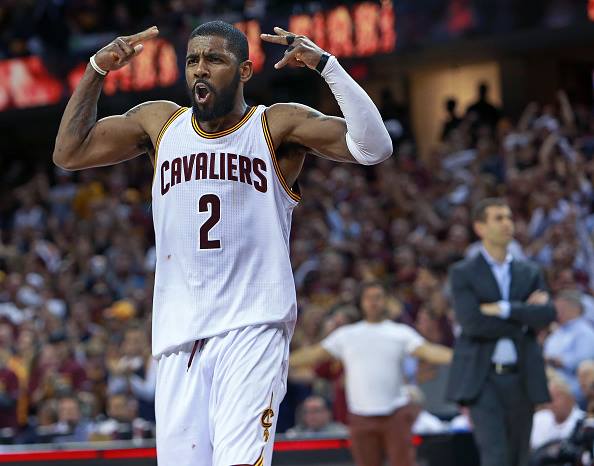 He is sick of LeBron's Drama!
I'm sorry, but I don't blame Irving, or any other teammate, coach, owner or fan that has had enough of the Prima Donna LeBron James mystery act.
To say James needs to go through the Free Agency Circus every couple of years because it is better leverage for him as a business man, is insane.  The size of LeBron's contract means nothing in the grand scheme of anything.  Plain and simple, he does it because he can, and it effects everyone around him.  Kyrie is fed up.
James loves the attention, he wants to keep everyone constantly worried and insecure he may leave them again.  Who does that?  Honestly, name me another athlete who puts his "home city" through so much stress and worry?
There is no reason why James couldn't have flat out said, "I'm staying past this season."  As I write this, John Wall just resigned long term with the Washington Wizards, why can't James make that kind of commitment?
The fact that he won't, and does other things such as tweet out passive aggressive insults to his teammates infuriates them.  James, for as talented as he is, is a constant walking distraction and source of drama.
Right now, right this very second, LeBron James can hop on his private jet, fly out to wherever Irving is in Tokyo and meet with him.  Within 48 hours everything can be settled down and hashed out, but James won't.  It is beneath him in his mind.
Everyone called Kobe Bryant selfish when he asked for Shaq to be traded, but in the end, it worked out just fine for Kobe.  He will still go down as one of the greatest players in NBA history, and he won two more titles after O'Neal left.  There is no reason that the Cavaliers and Irving couldn't do that if they kept Love, kept some other pieces and traded LeBron James.
It seems un-thinkable, but Cleveland really needs to take a step back and regroup, they need to trade James for a slew of great players and picks, and keep Irving.  They won't, because after all, it is James Kingdom.. For one more year at least until he leaves….

NEO Sports Insiders Newsletter
Sign up to receive our NEOSI newsletter, and keep up to date with all the latest Cleveland sports news.