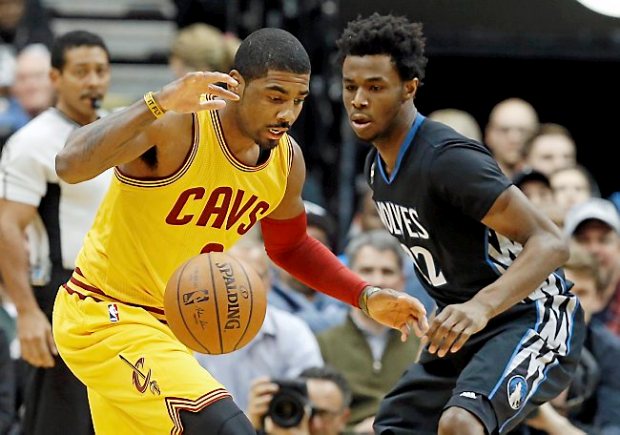 According to ESPN's Dave McMenamin, Jimmy Butler and Karl Anthony-Towns are actively "recruiting" Irving to pursue a trade to Minnesota.
Irving reportedly included Minnesota on a list of four potential landing spots he'd prefer to go to.
It's important to note Irving has no control over whether he's traded or not, but here's an excerpt from ESPN's report:
League sources told ESPN that both Butler and Karl-Anthony Towns have been doing their part to recruit Irving on the idea of playing alongside them in Minnesota, and they've made it known to Wolves management that they want to add the Cavs' star to the mix. Butler and Irving became tight in their time playing for USA Basketball together. Towns' father, Karl Towns Sr. and Irving's father, Drederick Irving, are connected through the basketball scene in Northern New Jersey, where they both reside.

A Minnesota-Cleveland swap would almost assuredly involve Jeff Teague, who cannot be traded until Dec. 15, per league rules, after signing a free-agent contract with the Wolves this summer.
Although it doesn't specifically mention anyone other than Towns, Butler and Teague on Minnesota's roster, the elephant in the room is that Andrew Wiggins would logically be the type of player Cleveland would ask for in return.
Prior to Butler being traded to Minnesota on Draft Night, reports surfaced that members of the Cleveland Cavaliers were telling Butler to stay away from Cleveland's "toxic atmosphere" in the front office – which in light of Irving's displeasure with the organization – now make it appear likely Irving was the player telling Butler to stay away from Cleveland.
According to TNT's David Aldridge, Irving originally requested a trade to Chicago to join Butler.
The way I read this: Towns and Butler are letting their front office (and Tom Thibodeau) know they are willing to exchange Wiggins for Irving.
For Cleveland to pull off that type of trade, assuming it involves Teague, it would have to happen after more than a full month of regular season action, which could make for an awkward experience for everyone in Cleveland's locker room in the mean time.
Not to mention, if Butler and Towns are essentially making it known they'd be willing to part with Wiggins for Irving, it doesn't exactly make for great chemistry in Minnesota's locker room, either.
Nothing is imminent and no reports are suggesting any deals with Minnesota and Cleveland will happen, but if the Cavs were to trade for Wiggins and Teague, it could be seen as a sign of the organization preparing for life after 2017-18, when LeBron James can opt out of his contract and possibly leave Cleveland.
There are going to be plenty of rumors surrounding Irving's future in the coming days, so just stay tuned and keep Minnesota as a potential landing spot on your radar.

NEO Sports Insiders Newsletter
Sign up to receive our NEOSI newsletter, and keep up to date with all the latest Cleveland sports news.