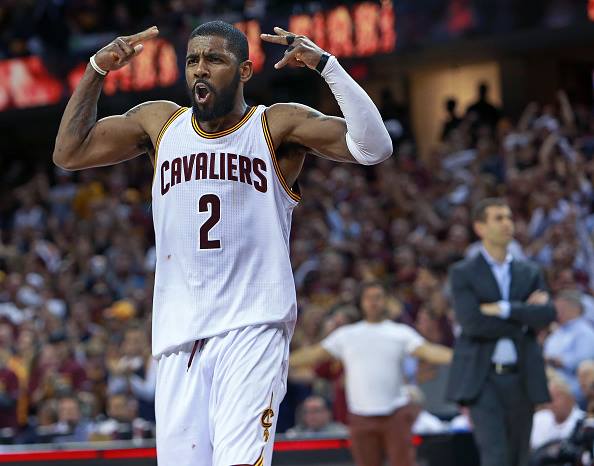 Flashback to June 19, 2016 for a brief moment.  Game Seven of the NBA Finals was winding down and tied at 89 – 89 between the 73 Win High Powered Golden State Warriors, and the scrappy but beloved Cleveland Cavaliers.
Each team had gone scoreless for several minutes when one man took matters into his own hands and drove a dagger into the heart of Golden State fans, and gave the long suffering sports fans of Cleveland a gigantic reason to celebrate like they never had before!
It was one of the most joyous and memorable moments in the history of Cleveland sports and will be talked about for the next 100 years. I mean, I should know, I wrote a book about it, which you can purchase here.  https://www.amazon.com/All-LeBron-Champion-Cleveland-Cavaliers/dp/1683580745/ref=sr_1_1?ie=UTF8&qid=1500686891&sr=8-1&keywords=Vince+McKee
Cheap plugs aside, the man who hit the shot was not LeBron James, who has never hit a game winning shot in the NBA Finals for the Cavaliers. Chances are he will be leaving soon and never will hit a game winner in the Finals for the Cavaliers.  It is not to say he hasn't had plenty of chances to do that for the city, he simply didn't.  Nope, the game winner, the streak ender was made by a different man.
That man's name, Kyrie Irving, the same guy most of you are angry at right now.  His 3 pointer with 53 seconds left to beat the Warriors and clinch the first World Championship for the city since the 1964 Browns in Game 7 of a dramatic NBA Finals, should have been enough to keep him cherished in sports lore and more importantly Cleveland sports lore forever.  Sadly, it wasn't.
While most media members and fans are irate with him right now, or at least confused, allow me to jump on the former 2011-2012 NBA Rookie of the Years' side if I may….
Here are at least 3 reasons why Kyrie Irving and the fans of Cleveland have every right to be upset with LeBron James and the awful 2017 offseason thus far.

NEO Sports Insiders Newsletter
Sign up to receive our NEOSI newsletter, and keep up to date with all the latest Cleveland sports news.