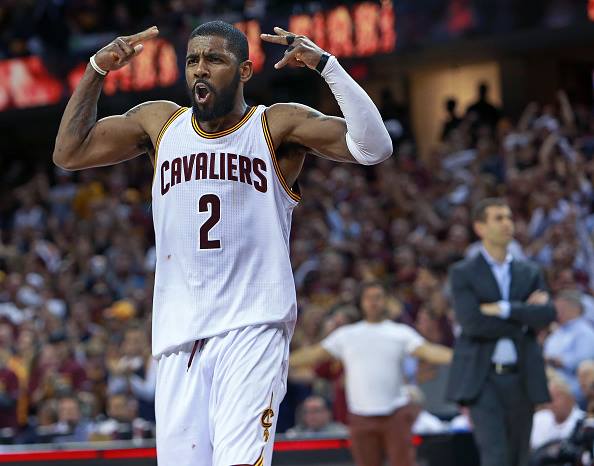 Kyrie Irving stayed faithful to Cleveland with no guarantee it would ever get better!
How quickly we all forget that Kyrie Irving signed a multi year deal to stay with the Cavaliers back in the Summer of 2014. He did so with little drama, little fan fare and almost instantly.  He was loyal to the city, loyal to the fans and loyal to Dan Gilbert.
At that time, the Cavaliers had just fired Mike Brown, were going to go with a NBA rookie head coach in David Blatt, and for the most part, had little to no supporting cast for Irving.  He could have went anywhere and made life pure hell for the Cavaliers to match an offer to keep him.  He didn't, he stayed.
At that time he was the face of the franchise, and their best player.  As mentioned, Kevin Love, LeBron James and pretty much no one else of note were around to help him.  How quickly we forget that?
Only a month later LeBron came back to the team with GIGANTIC fan fare.  Someone even wrote a book about James' return.  https://www.amazon.com/Redemption-King-LeBron-Returns-Cleveland/dp/1578605717/ref=sr_1_6?ie=UTF8&qid=1500686891&sr=8-6&keywords=Vince+McKee
And yet while LeBron seemed like a  Hero, no one seemed to remember that if Kyrie Irving didn't resign with the Cavs, there is absolutely no chance James would have returned to Cleveland.  Despite what has been said, no chance!
While LeBron James spit on the city with his disgraceful "decision" back in 2010.  Kyrie Irving lifted the city on his shoulders and was prepared to lead them out of the dungeon of dismay.  How quickly we all forget?

NEO Sports Insiders Newsletter
Sign up to receive our NEOSI newsletter, and keep up to date with all the latest Cleveland sports news.