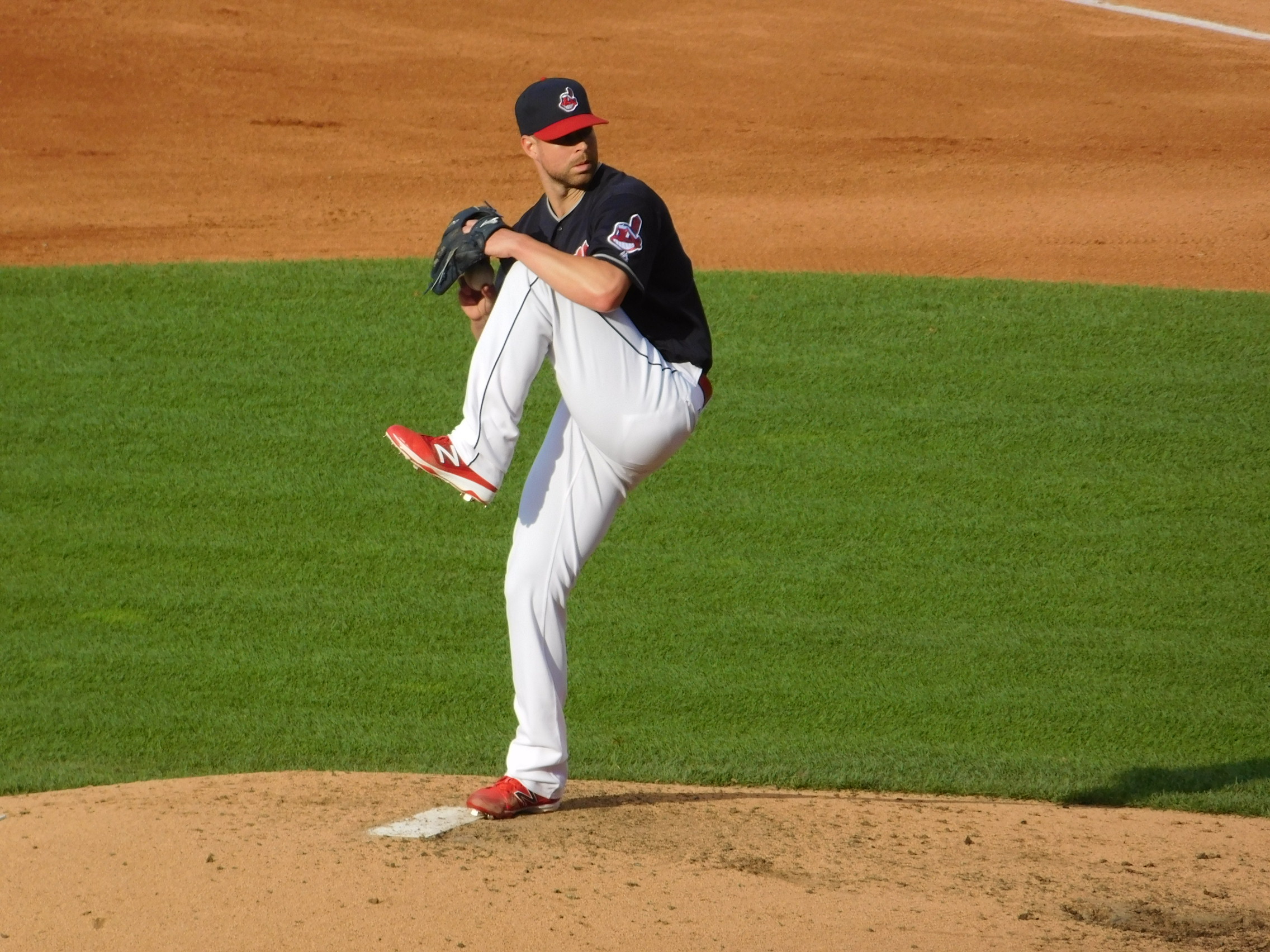 by Nick Broulis
CANTON, Ohio– We're almost a month away from pitchers and catchers reporting for spring training and less than three months away from the season opener in Seattle. So, that has the Broulis Beat Report thinking about, what looks to be, on paper, one the best starting rotations in baseball.
COREY KLUBER- As long as Kluber aka "Klubot" is healthy and has good control, he's one of the best pitchers in baseball. On Kluber's best day, he can compete with Clayton Kershaw, Max Scherzer or Chris Sale. You can name any other pitcher and I'll put him against them.
CARLOS CARRASCO- There were times last season that Carrasco looked unhittable. Carrasco can dial up a heater or paint the corners of the plate. When he's on, he's on. Carrasco is a great No. 2 starter.
LET THE FUN BEGIN-
That's obviously not the name of the Indians No. 3, 4 or 5 starters. Why? Because it's actually up for debate in my opinion.
As of now, Indians.com has Trevor Bauer listed as the third starter, Josh Tomlin fourth, Danny Salazar fifth, Mike Clevinger sixth and Cody Anderson. Keep in mind, Cody Anderson is recovering from Tommy John surgery.
Here are some stats on the other starting candidates.
TREVOR BAUER- Bauer went 17-9 with a 4.19 ERA in 31 starts. Bauer had an ERA of 5.44 against lefties and 3.07 ERA against righties. Before the All-Star game, he went 7-7 with a 5.24 ERA. After the mid-summer classic? A 10-2 record with an ERA of 3.01. Bauer's worst month of 2017 was April. He went 2-2 with a 6.26 ERA. When Bauer pitched at Progressive field, he was good. A 10-4 record, 3.93 ERA, 116 SO's compared to 25 BB's. My problem with Bauer? I still don't know what I'm getting from start to start. And yes, I still wonder how short of a memory he has when it comes to the opposing team getting on base, early, when he starts. Can he learn to consistently shake that off? Bauer, to me, is still better off knowing he only has to give you 2-3 solid innings and nothing more. Give him the green light to go out and not worry about preserving his energy and just throw heat to the plate for the most part.
JOSH TOMLIN- Perhaps the most aggressive pitcher on this roster. Tomlin went 10-9 in 2017 with an ERA of 4.65. Tomlin struck out 109, walked 14. He did, however, give up 23 home runs, the third most of his career (36 in 2016 and 24 in 2011). Last season, Tomlin was much better after the All-Star break. Before the break, Tomlin went 5-9 with a 5.90 ERA. After the break, Josh went 5-0 with a 3.19 ERA. From April-June, Tomlin compiled a record of 4-9. From July-October, Tomlin went 6-0. I really like Tomlin's aggressiveness, but that is what gets him into trouble. Tomlin will get hitters to swing, but sometimes, he'll leave a pitch out over the middle of the plate and the ball gets hit out of the park.
DANNY SALAZAR- Salazar dealt with a strained forearm. He never regained his form. Salazar, if he isn't traded, should be given a fair chance in spring training. I think if Danny can regain the control that he had before 2017, he can be a great No. 3 starter. Salazar, when he's on top of his game, can make hitters look like they should probably be down in the minors. IF he can stay healthy, I think Salazar can regain his control and return back to the Salazar that we're used to.
MIKE CLEVINGER- Clevinger had a pretty good 2017 season. Mike went 12-6 with a 3.11 ERA. He started 21 games. Clevinger had 137 K's to only 13 home runs given up. While Clevinger pitched well at Progressive Field with a 5-3 record and a 3.79 ERA. He actually pitched better on the road with a 7-3 record, 2.45 ERA and only gave up 3 home runs in 11 games started on the road. Clevinger was better against right-handed batters with an ERA of 2.47. Right-handed hitters also had an average of .180. But, left-handed hitters had more success off Mike. Clevinger's ERA was 4.20 and the left-handed hitters average was .257. I would replace Bauer with Clevinger or the next guy. Nice teaser, right?
RYAN MERRITT- Some, if not, a lot, may disagree with me on this considering Merritt's lack of games and games started. You can even throw his 31.2 innings pitched in my face. So, why would I like to see Merritt at least get a shot at being a starter? Let's go back to game five of the 2016 ALCS at Toronto. The Rogers Center was ready to rock knowing who was taking the mound for Cleveland. Ryan Merritt was supposed to be "shaking in his boots" according to Blue Jays slugger Jose Bautista. Merritt went four and one-third innings. At one point, Ryan retired 10 straight batters. Merritt also threw 67 percent of his 49 pitches for strikes. Merritt isn't going to blow anyone away with his arm. Merritt is actually a real pitcher, meaning, he relies on his control and where the ball is placed. All this, plus, I'm a bit biased to left-handed pitchers because I throw left handed. I think each pitching staff needs at least one LHP. Add that with the fact that he's been in a pressure situation, he doesn't have to worry about pacing himself and he has a great defense behind him. Merritt deserves a shot.
CODY ANDERSON- 2017 was not kind to Cody Anderson. After having a good showing in 2015 going 7-3 with a 3.05 ERA including one complete game, Anderson hit a bit of a wall in 2016. Anderson went 2-5 with a 6.68 ERA in 9 starts. Tommy John surgery is no joke and who knows if he'll ever be able to regain his 2015 form. Naturally, Cleveland would love for that to happen. I'm sure Anderson is looking forward to Spring training.
WHAT WE DO KNOW-
The bullpen did take a hit with the departures of Bryan Shaw (Signed three-year $27 million with Colorado Rockies) and Joe Smith (Signed two-year $15 million with Houston Astros).
With Shaw and Smith both gone, that now gives two pitchers a chance to earn a spot in the pen if they don't cut it for the rotation.
Andrew Miller and Cody Allen are the two main guns in the bullpen. Who might Cleveland turn to now, come the sixth or seventh inning if needed? My first guess is Dan Otero. After that, Nick Goody, Zach McAllister, Tyler Olson and Shawn Morimando are all options.

NEO Sports Insiders Newsletter
Sign up to receive our NEOSI newsletter, and keep up to date with all the latest Cleveland sports news.