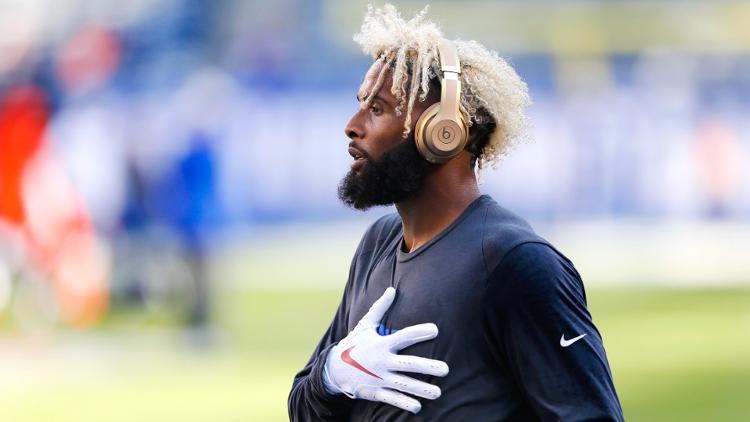 For better or for worse, Browns wide receiver Odell Beckham Jr. has always been himself and part of his polarizing yet controversial personality is that he always tells it like it is. True to form, OBJ does just that in a just released feature with GQ's Mark Anthony Green.
In the extremely candid Q&A published in the August edition of the magazine, featuring Beckham Jr. on the cover, the NFL star opens up on a number of topics from his reaction upon being traded to Cleveland, why he missed the team's voluntary OTA's a few months ago and how much longer he sees himself playing football and more.
Beckham also dives into some more personal discussions on his sexuality, his overall happiness at this new juncture of his career and constantly being under the national microscope.
It didn't take long for Beckham Jr. to face criticism here in Cleveland. The 26-year-old was scrutinized for not attending the Browns voluntary OTAs, adding to the narrative that he's a bad teammate. OBJ explained why he wasn't in attendance…
"You can literally ask any one of my teammates. My on-the-field football never gets talked about unless people are talking about antics. They don't talk about numbers. Where's the reel at? People only want to focus on one thing. I feel like I'm one of the only people in the NFL where my personal life and my brand are the only things that get talked about. They'll do a whole segment about the car that I have on ESPN. Why? I've never been arrested. Never have and never will be putting my hands on a woman. I've never done any crimes. I've never done anything but some little petty, dumb stuff that we keep harping on. They asked, how could I have changed if I didn't go to OTAs? I have to be the very best me to help my team. We don't get paid to be at OTAs. If you want players to be there, make it mandatory and pay them. I got traded to a new team, I already paid to live here in L.A. for the entire summer. Are the Giants or Cleveland going to reimburse me for what I've already paid? Are they going to reimburse my trainers, who I've already paid? Are they going to reimburse me for the dogs who I've had to put in kennels? There's a lot of expenses. Are they going to pay for the rehab I was doing? No. They don't do all of that. That stuff is all on our own. So when it gets time for us to have our own life outside of football, they say something. When the game is done with you, they chew you up, spit you out. You're done. You're done. I have to take care of myself and my family. Period. I talk to everybody in the locker room. When someone gives me free stuff, I ask them to send a hundred of them for my teammates. A hundred Sprayground bags… They put them in the locker room. I asked for them to send me Casper mattresses. They sent me 100 Casper mattresses for the staff and the team."
Beckham Jr. is used to the criticism by now. Green asked the wideout what he'd say to the critics…
"I get made out to be some rule breaker. I'm following your rules and your guidelines, but I'm just having fun doing it! It's crazy because you give us a voice and then you want to control how we use the voice. And I've been having questions about it recently, because it doesn't really make sense to me. It's like you create a monster, but then you don't know how to control it anymore, so then you want to tear it down. It's all backwards."
Green then inquired if OBJ thinks he's more scrutinized than other players…
"I watch other players in the NFL be able to go to Vegas and get wild and go onstage and be videotaped and chugging beer or whatever. Going crazy. And it's like, "Oh, man, look at how much fun he's having. Look at how he's having a blast! This is amazing."
Beckham Jr. has opened up about the night he was traded to Cleveland several times since the deal went down. This time he went a little further than before saying that he felt "disrespected" by the Giants…
"I was in Paris heading to dinner. I saw the calls and was like, "Wow, I wonder where I'm going." They had been talking about trading me. They could never get past my past. There's always that past that whatever happened, I would never be able to outgrow it. That's why I don't try to bring none of this to Cleveland. I don't even care. When I get there, this is a fresh start for me."
He continued in follow up question…
"My initial reaction was not disappointment.… I felt disrespected. Like, after everything I've done for them. This is me being honest: This team has not been good for the last six years. Period. Even the year we went to the playoffs and everyone was talking about this and that. And we went there, and I didn't have a great playoff game. Don't get me wrong, I had a terrible game. But I left the game with seven targets, and I'm supposed to be your number one receiver. I left the game with seven targets. We lost. They scored 40 points. It's just all bad. I felt disrespected, because I felt like I was a main reason at keeping that brand alive. They were getting prime-time games, still, as a 5-and-11 team. Why? Because people want to see the show. You want to see me play. That's just real rap. I'm not sitting here like, "It's because of me." But let's just be real. That's why we're still getting prime-time games. I felt disrespected they weren't even man enough to even sit me down to my face and tell me what's going on."
Now that he's had substantial time to process the life changing trade, OBJ says he's very at peace…
"I always say this: I wouldn't change anything for the world for where I'm at now. I also always say this: Be careful what you ask for and be careful what you speak."
Green followed up asking him why he feels that way…
"I didn't know that getting to that level—or being on the level, like, where a LeBron is at—that I would have to deal with certain things. Like, I really didn't know that when I was younger. People ask me what advice I would give, and I'm just like: Be careful what you ask for. Like I said, I wouldn't change anything for the world, but I wish the world would have more love than hate in it."
OBJ says he's never been happier…
At this moment? I'm happier than I've ever been. I've never been at this place. And it's because of the trials and tribulations, it's because of the mistakes, it's because of the failures, the successes. Everything that has got me to this point.
Toward the end of the piece, Beckham Jr. talks a lot about Cleveland being a fresh start and uses the word "legendary" to describe what he sees from his future with the Browns…
"I'm so excited about the opportunity that I have to be in Cleveland! I think it goes for everything I stand for when I talk about legendary. The Catch was cool. It was legendary, in a sense. But legendary is going to Cleveland and trying to win a championship. And I have to go back to this comment because I said something recently about being the Patriots: Who does not get into this game to be 11-and-5 or 12-and-4 every season, to win their conference, to win the championship, to go to the Super Bowl? What else would you do this for? Every year at the Giants, when they'd ask me, "What are your goals this year?" I would say to win a Super Bowl. There's no sugarcoating it. Even if you feel like your team can't do it, the goal is to win the Super Bowl. I don't understand what else I'm playing for. Playing to have a good season? No, bro. I'm trying to win the Super Bowl."
Green then questioned what he'll do differently in Cleveland than during his time in NY…
"I think I'm just going to stop worrying so much about the politics and all that. I'm still trying to navigate how I want to do that. If I'm going to be real and it's going to get turned and taken, then I'm just here to talk about football."
The star wideout also isn't worried about his brand being less recognizable in a smaller market…
"I forever will have love for the New York fans. They gave me my first home. But there's this sense of entitlement—like I was made there. And in my head, that was the first place I had the opportunity to show the world what God had set out for me to do. It didn't matter where I was at. Now, did it help that it was Sunday Night Football for the New York Giants versus the Dallas Cowboys? One thousand percent. But The Catch happened around the entire world. I feel like it wouldn't matter where I was at—once you got hooked onto who I was and what I was doing. And who knows? If I was in another place, you don't know if the numbers would've been more or less."
At one-point Green points out that the ____ could have played basketball, which leads to OBJ explaining that he actually contemplated retirement just years into his blossoming NFL career…
"I could've done any sport in the world. Not many people know, but I used to talk to my momma and I'd be like, "Ma, if I was done doing this now, would you still be proud of me?" And this was a couple of years ago, about two or three years ago."
Beckham Jr. explains why he considered hanging them up…
"Twenty-four years old. Just off it. To love something so much to a place where it is my everything, and to watch it be tainted, or all kinds of things be in the middle of it. Like, it hurt me to my soul. It be like loving someone and putting them on such a level to where life is about them and you love that person through anything. Through the good, the bad. And to watch them do something so heinous and vulgar. Something just so, like, almost unforgivable. You still love them, but it's, like, Wow."
On a more pers0nal level, Beckham Jr. has had his sexuality questioned nationally and opened up about how that felt…
"I've never had an opportunity to talk about this. Honestly wasn't offended. I've never once had no problem with anybody who has their own personal life that they live. I have friends who are gay. It was almost more funny to me. I almost messed with them even more. It's like when someone gives me an ultimatum, I'm usually always going to go to the opposite way of what you want me to go. So when they would say that, I would almost mess with them even more. I have no problem with anyone's sexual orientation."
He continued…
"Or because they're "close with other men." Even like little videos where they see me leaned back or something, they'll say that I'm looking at a guy's ass. And I'm like, "Bro! You don't even know where my mind is at." It was just a lose-lose. They'd see me with a white woman and be like, "Why don't you be with any sisters?" I have no problem with any race. Love is love. If you're attracted to somebody, you're attracted to somebody. There was such a stigma built up, [as though] I don't like my own women. It's like, no, I don't like anybody who annoys me. [laughs]"