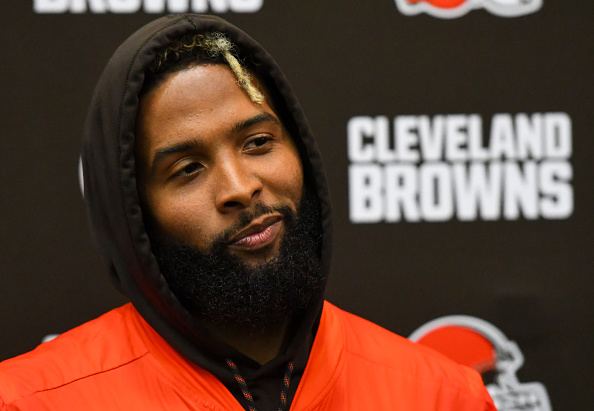 Earlier today, new Cleveland Browns receiver Odell Beckham Jr. was the centerpiece of a feature column with GQ. Among other subjects, the star wideout addresses many questions about the trade which sent him from the New York Giants to Cleveland.
It's quite a read. Beckham doesn't hold back when it comes to his feelings on his former team, as well as his new one.
I have no doubt some may view Beckham's comments in the feature as more proof he has character concerns the Browns need to worry about. Personally, I saw it as him providing simple explanations behind the laughably absurd scrutiny he's been facing on a daily basis.
Within the feature, Beckham shares his thoughts on several of the bigger stories he's been involved in over the past few months. He explains the disrespect he felt when the Giants informed him he'd been traded to Cleveland. He shares his thoughts on why he didn't attend OTA sessions with the Browns.
These stories, in retrospect, aren't terribly alarming. A player who was dealt by the team which drafted him was angry. Said player didn't participate in practice sessions which were voluntary.
However, that's not how Beckham was treated. Instead, many media outlets ran with these instances and used them as proof he'll be a problem child in Cleveland.
Beckham was upset when hearing the news he was traded. Well, that must mean he doesn't want to play for the Browns.
Beckham didn't show up to OTA sessions. Clearly this means he's a bad teammate who cares only about himself.
Sure, stories like this will get their fair share of clicks. At the same time, they also blatantly ignore the reality of the situation in order to make Beckham seem like a malcontent.
Yes, he felt disrespected when the Giants traded him, but only because he signed an extension literally months before being dealt. He then heard his GM say, word for word, "we didn't sign Odell to trade him."
Said quote was uttered just a few weeks before Beckham was sent to the Browns.
Yes, he didn't attend Cleveland's OTAs. Again, though, these weren't mandatory sessions. His attendance wasn't required, something he pointed out once again within the GQ feature.
Yet, this didn't stop many people from hammering Beckham's teammates and coaches with questions about his absence, seemingly as attempts to get someone to call him out for it.
This has essentially been Beckham's life since the trade to Cleveland went down. He's had to explain having the basic human reaction of being dismayed about his team lying to him. He's had to explain why he didn't show up to optional practice sessions.
What makes this even more outlandish is a key point Beckham makes when talking to GQ.
"I've never been arrested," he noted. "Never have and never will be putting my hands on a woman. I've never done any crimes. I've never done anything but some little petty, dumb stuff that we keep harping on."
This fact just makes the noise surrounding Beckham even more ludicrous.
There are many other players within the league who've had more off-field issues than he has. Some of them have been incredibly serious. Yet, Beckham's attendance record at optional practice sessions received an almost equal level of scrutiny.
This is how I felt when reading Beckham's GQ feature. The wideout has been made out to look like a bad teammate before playing a single down with Cleveland, and solely for, as he puts it, "following your rules and your guidelines, but I'm just having fun doing it."
If there's any key takeaway from the Beckham feature, it's that he's not going to stop speaking his mind, despite the fact doing so will result in numerous talking heads calling him out for it. If said pundits could take a step back and realize how petty the things they're griping about really are, I'd like to think the noise surrounding Beckham would eventually stop.
Here's hoping this GQ feature helps with that cause.

NEO Sports Insiders Newsletter
Sign up to receive our NEOSI newsletter, and keep up to date with all the latest Cleveland sports news.