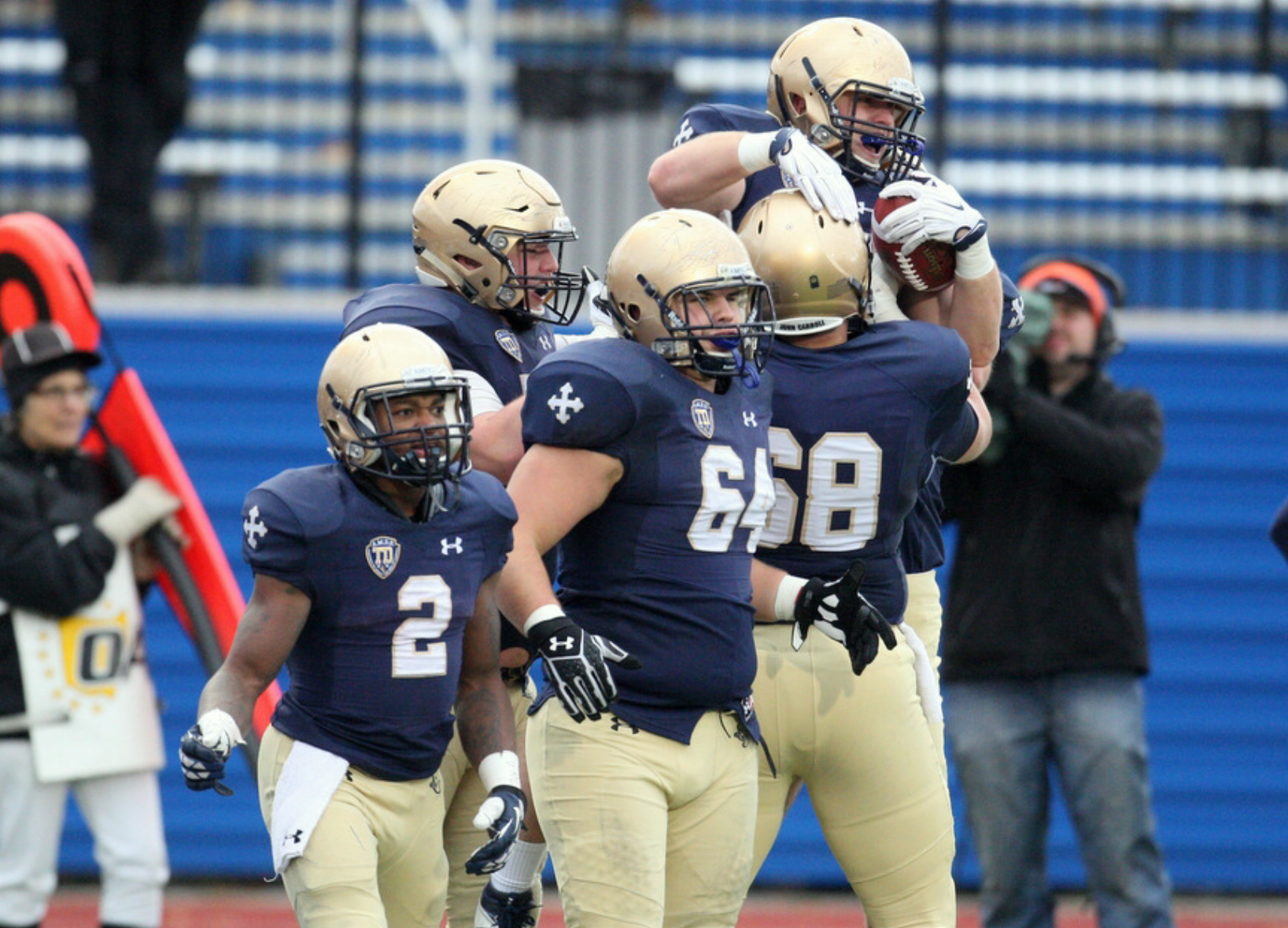 By Douglas S. Campbell
Local colleges have enjoyed some of the best football Northeast Ohio has seen in recent memory.  Boasting five nationally-ranked football teams this year in NCAA DII and DIII, arguably no other metro area in the U.S. is achieving this level of success in the small college ranks.
An hour south of Cleveland, 13-time national champion Mount Union maintains its dominance in NCAA DIII with a #1 ranking.  In Cuyahoga County, four teams—John Carroll, Case Western Reserve, Baldwin Wallace, and Notre Dame—are all nationally ranked in the NCAA DII and DIII Top 25 polls.  
These rankings are especially impressive as there are 250 teams in NCAA DIII and 169 teams in NCAA DII.
Nationally-ranked Northeast Ohio college football:

In NCAA Division III:  http://www.d3football.com/top25/2018/week10
#1 Mount Union (9-0) (Alliance)
#8 John Carroll (8-1) (University Heights)
#19 Case Western Reserve (8-1) (Cleveland)
#25 Baldwin Wallace (8-1) (Berea)

In NCAA Division II:  https://www.ncaa.com/rankings/football/d2/afca-coaches
#11 Notre Dame (10-0) (South Euclid)

NCAA DII Notre Dame College Falcons have arisen to national prominence this season.  For the first time in program history, Notre Dame went undefeated in MEC league play and posted 10 wins in a single season.  The Falcons will have a chance at an eleventh win when they travel to Greensburg, PA top face Seton Hill.  Keep an eye on the Falcons in the NCAA DII playoffs.  True Freshman RB Jaleel McLaughlin is second in the nation for NCAA DII with 1729 rushing yards on the season, and has already set the program record for rushing TDs and rushing years.
those interested in checking out the powerful local college football scene, this weekend's matchups do notdisappoint. Three home games for NEO fans to support their nationally-ranked teams this Saturday, November 10, 2018, include:

NEO Sports Insiders Newsletter
Sign up to receive our NEOSI newsletter, and keep up to date with all the latest Cleveland sports news.